Pride Bands for 2022
You can now purchase the new Pride Edition Apple Watch band, which as usual features the colors of the original rainbow flag, plus black and brown for the Black and Latinx community and to commemorate the deaths of HIV and AIDS. There are also the colors light blue, pink and white for transgender and nonbinary people. These are woven sports bands that close with Velcro in a light colorway for the regular version and a dark colorway for the Nike version. In the textile the text 'Pride' woven. They cost 49 euros each. Last year's more expensive model is also still available.
They are suitable for any Apple Watch, from the Series 0 to the Series 7. There are straps for the models with the small 41 mm case (also suitable for 38/40 mm) and the larger 45 mm case (also suitable for 42/44mm). Apple has used a new technique to ensure that threads have been removed from the double-layered textile. This is how the word 'pride' in a cursive font reminiscent of Apple's famous 'Hello' text. The Apple Watch team also designed a special gradient type that shows the original rainbow colors.
View: woven sport band Pride 2022 (49 euros)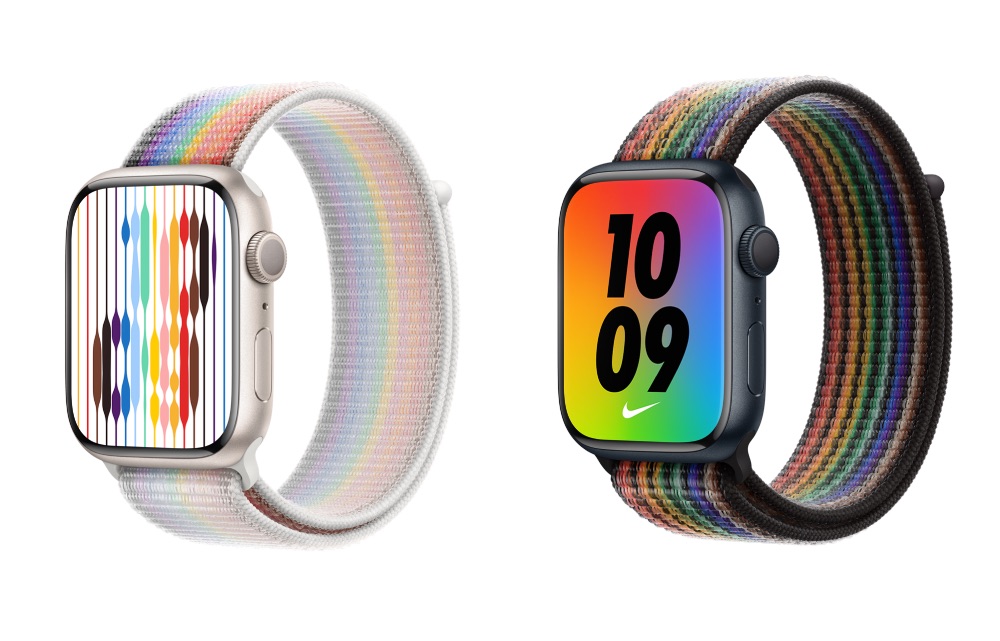 Nike 2022
There is also a new Pride Edition Nike strap, which is slightly darker in hues. It also shows the colors of the rainbow flag. This woven sport band is just as comfortable to wear and goes well with its watch face. It ties in with the Nike Be True collection, aimed at supporting the LGBTQ+ community.
View: Nike Pride Woven Strap ($49)
Since last year, Apple has added an App Clip to the packaging, so that you can easily find the corresponding watch face. That is the case again.
Pride 2022 watch face
In addition, there is also a matching Pride 'Wrips' dial that anyone can install. This Pride dial shows the different colors of the watch band. When you turn the Digital Crown or turn your wrist, you will see an animation of colors. You can read how to set up new watch faces in a separate tip.

Apple is combining these new bands with a Shot on iPhone campaign on Instagram, celebrating artists from the global LGBTQ+ community via the @apple account. There are, among other things, photos of the Homomonument in Amsterdam, by Meinke Klein. There are also photos from São Paulo, San Francisco, Madrid, New York and more. Places that have been important to the LBGTQ+ movement receive extra attention.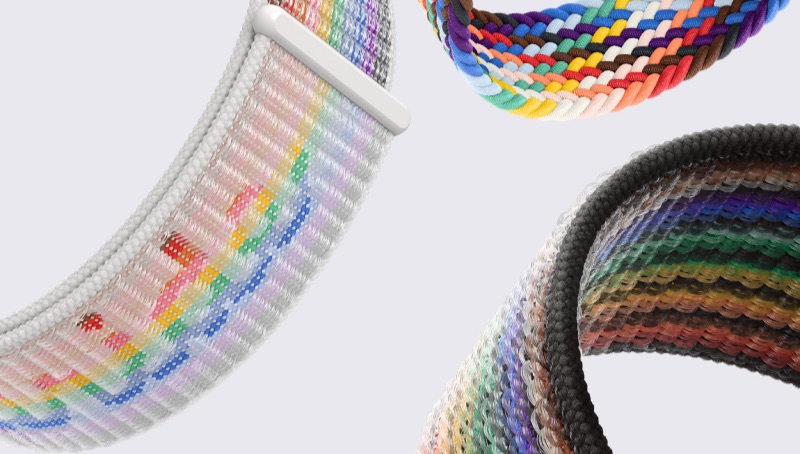 In addition, Apple supports various organizations, including Encircle and The Trevor Project.
View all previous Apple Watch Pride bands from previous years here: