Just in time for the presentation of AMD Ryzen 7000 based on Zen 4, the first mainboard manufacturers have already positioned their first AM5 boards for Computex 2022. The high-end models and the upper class with X670E and X670 chipsets make the start, while B650 boards are still a long way off.
AM5 mainboards from MSI
MSI is starting with the three series MEG, MPG and Pro, which initially have four AM5 motherboards with X670E and X670 chipsets. Once again, the absolute spearhead is the MSI MEG X670E Godlike, for which there are no product photos yet, unlike the lower-positioned models MSI MEG X670E Ace, MSI MPG X670E Carbon WIFI and MSI Pro X670-P WIFI.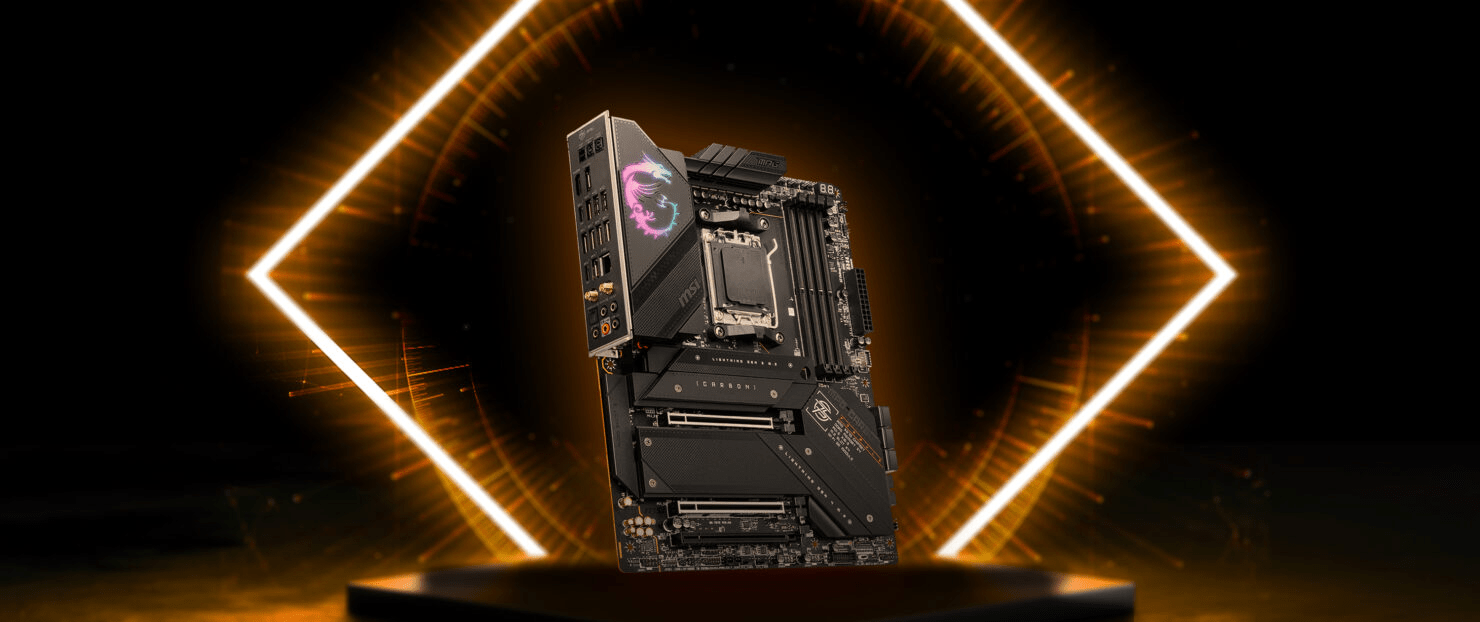 With the MSI Pro X670-P WIFI, the first AM5 mainboard is also part of the game, which lacks the optional PCIe 5.0 x16 for the GPU and "only" offers 3× PCIe 4.0 x16 for the graphics card.
In particular, the MEG series for Zen 4 with RDNA-2 iGPU has a particularly potent voltage modulation and competes with 24+2 ("Godlike") or 22+2 phases ("Ace"). All models also offer wireless connectivity via Wi-Fi 6E and USB 3.2 Gen 2×2 at 20 Gbps. LAN with 10 Gb/s and 2.5 Gb/s is on board.
AM5 motherboards from Asus
< p class="p text-width">Asus also has five mainboards with X670E and X670 chipsets ready for the presentation of AMD Ryzen 7000 ("Raphael"), which are divided into the ROG, ROG Strix, TUF Gaming, ProArt and Prime series.
Unlike MSI, Asus has not yet published individual product photos or technical specifications, but the editors will submit them in the next few days if they are available.
Only the product page for the Asus ROG Crosshair X670E Extreme top model, which will be launched with 20+2 phases and 110 amps as well as Wi-Fi 6E and LAN with 10 Gb/s and 2.5 Gb/s, is already online. USB 3.2 Gen 2×2 with 20 Gb/s and PCIe 5.0 for storage and GPU are also offered here.
Once again, the so-called Asus Teamed Power takes care of the voltages Stages where the PWM controller addresses two phases at the same time. According to Asus, the power supply should react even more directly to changing requirements and provide the required voltage even more stably.
ASRock AM5 motherboards
Before the start of Computex 2022, the first two ASRock AM5 motherboards were leaked, but no specifications are available for them at the moment. Both models rely on AMD's X670E chipset, which is not quite so "extreme" after all.
The ASRock X670E Taichi Carrara is said to be a special model to celebrate the 20th anniversary of ASRock's founding.
AM5 motherboards by Gigabyte
The four AM5 mainboards that Gigabyte would like to present at Computex 2022 have also been made public in advance. However, specifications are not yet available here either and will be submitted accordingly by the editors.
As soon as further technical specifications and product photos for the models already presented and other models as well as information about the AM5 mainboards with X670E, X670 and B650 chipsets from Gigabyte, Biostar and ASRock are available, the editors will update this article accordingly.