Whatsapp still supports all smartphones with at least Android 4.1 and iOS 10. On October 24th of this year, however, iOS 10 and iOS 11 will be removed from support, so that at least iOS 12 is required. to be able to use all new functions of WhatsApp in the future. Surprisingly few users are affected.
Only iPhone 5 and 5c are out
Above all, owners of the iPhone 5 (test) and iPhone 5c (test) are affected who cannot update to iOS 12. The astonishingly small number of end devices that still got iOS 10 or 11, but no longer iOS 12, can be explained by the fact that iOS 12 appeared on all iOS 11 end devices and iOS 11 only supported the 32-bit iPhones fell away – those were iPhone 5 and 5c with Apple A6. All users from the iPhone 5s (test), on the other hand, can update to iOS 12 or newer and continue to use WhatsApp without restrictions.
WABetaInfo has published a screenshot showing the warning in WhatsApp on iOS 10 and iOS 11. While the US website already only lists devices from iOS 12 as supported, the German FAQ still mentions "iPhones from iOS 10".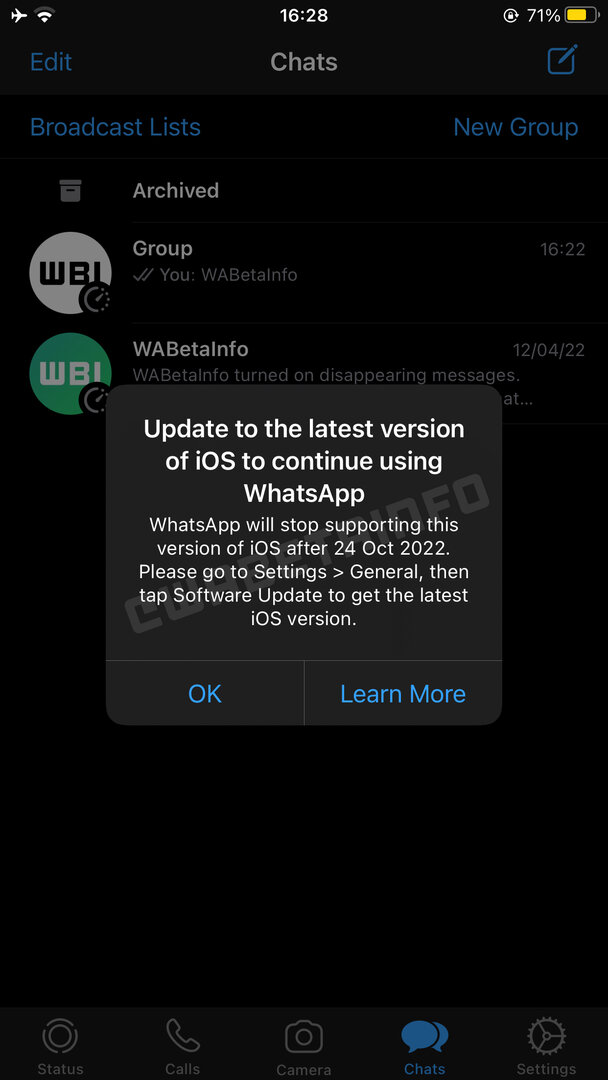 At the beginning of 2020, the iPhone 4 was no longer supported because iOS 8 was no longer supported. The iPhone 4s is also no longer officially supported, as it received an update to iOS 9, but no longer an update to iOS 10.
WhatsApp can then continue to be used
The fact that WhatsApp is removing official support for old platforms is a fact therefore by no means new and does not necessarily mean that WhatsApp can no longer be used on the devices that are then no longer supported. From October 24, 2022, however, new accounts can no longer be created under iOS 10 and iOS 11 and existing accounts can no longer be verified.
However, if you use WhatsApp on a iPhone 5 or iPhone 5C already installed and has a verified account can continue to use WhatsApp after this date. However, old functions can be restricted at any time and new functions may not be able to be used at all due to a lack of updates. Security gaps may not be closed either. This does not only apply to WhatsApp, but is also the case for the smartphone's operating system itself.