In the second leg of the relegation, Hertha BSC still has to turn back the 0-1 draw at Hamburger SV in order to stay in the Bundesliga. Can Berliners turn the tide? Or will HSV return to the upper house?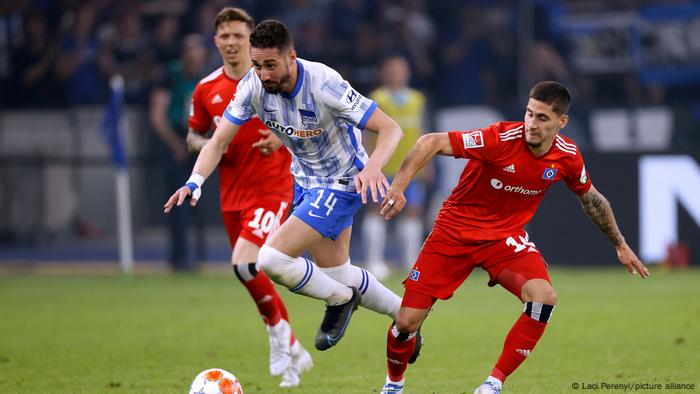 Will he win against HSV? Hertha striker Ishak Belfodil (left) has scored twice in the last five games
Starting position:
In Hamburg, the fans are preparing for the biggest football day in four years, in Berlin the critics are preparing for a merciless reckoning with the big city club Hertha BSC. Before the relegation second leg between the second division team Hamburger SV and the Bundesliga team Hertha BSC on Monday in Hamburg's Volksparkstadion (8:30 p.m. CEST), the roles seem to be clearly divided. The reason for this is not so much the close 1:0 of ​​Hamburg from the first leg, but rather the performances of the teams last Thursday. While HSV showed courage and the will to win, Hertha's performance was rather weak and unimaginative. Hertha trainer Felix Magath is therefore certainly fitting that he has a strong player at his disposal again in the form of the recently suspended Santiago Ascacibar. In addition, Kevin-Prince Boateng, who was banished to the bench in the first game, should slip into a kind of savior role in the second leg. However, Magath will probably have to do without his first-choice goalkeeper Marcel Lotka again "Now HSV is the one who has something to lose. Now the pressure is on HSV, on the players and no longer on us."
Tim Walter (coach Hamburger SV): "Pressure is a privilege. It feels like we've had finals for weeks. That's why we're going to do the same thing on Monday."
Fredi Bobic (Sports Director Hertha BSC): " I'm convinced that the boys will also go into this game with a certain amount of anger."
Statistics:
In the previous 23 duels between the third in the 2nd division and the Third from last in the Bundesliga, which took place from 1982 to 1991 and then again from 2009, the first division team usually had the better end. The Bundesliga side stayed in the top flight 17 times, the outsider only prevailed six times and was promoted. However: It only happened three times that the club that had won the first leg gave up overall victory due to a sufficiently large defeat in the second leg.