macOS 13 expectations
In recent years, Apple has been fully engaged in the transition from Intel to Apple Silicon. We are now gradually entering the final phase of this transition process, as a result of which Apple will increasingly focus on Macs with their own Apple chip. We saw that last year in macOS, the operating system of the Mac. Features that were only available for Apple Silicon models came along, while also making it easier for Apple to bring features to both the iPhone, iPad and Mac. Expectations for macOS 13 are that there will be even more focus on Apple Silicon models, although Intel users are really not left in the cold. These are our wishes and expectations for macOS 13.
Improved Focus and Notifications
Live Captioning
New and Improved Apps
Backup to iCloud
More and better widgets
Better clipboard
Possible name
Compatible devices
Countdown to WWDC 2022 In this article series, we look ahead to WWDC 2022 each week. Apple kicks off this year's WWDC on Monday, June 6, but before that, read the expectations of the most important announcements in this article series.

#1 Improved focus and notifications
iOS, iPadOS and macOS are increasingly interrelated. Features are no longer just coming to the iPhone or iPad, because as the operating systems have converged in recent years, you'll see improvements in system features and apps that sync between your devices. For iOS 16, improvements are expected in the area of ​​notifications and the Focus mode. There have already been indications that Focus is getting new features that are not suitable for previous versions of iOS. It would therefore only be logical if these new features also become available in macOS 13. It is not entirely clear what improvements these are in concrete terms. In any case, what we would like to see is the option to indicate which apps are allowed to send notifications during a Focus. Now it can only be done the other way around.
#2 Live captioning during conversations
This function has already been confirmed by Apple: with Live Captions, users of iPhone, iPad and Mac can see live subtitles, for example during conversations via FaceTime, among others. Apple has already revealed that this feature will be coming to iPhone, iPad, and Mac later this year as part of new accessibility features for 2022. What's unique about the Mac version of this feature is that you can also type back to reply. The typed messages are then sent again by voice to the other interlocutors. This feature requires a Mac with Apple Silicon, but unfortunately it will only be available in English for now.
#3 New and improved apps
#3 New and improved apps
It will come as no surprise that improved apps are on the way. Updated apps are a regular part of updates to iOS, iPadOS, watchOS, and also macOS. On the Mac, we find this really necessary for a number of apps. For example, we find the Mail app somewhat limited, just like on the iPhone and iPad. Another Mac-specific app that needs an update is the Home app. In its current state, this app is still an exact copy of the iPad version, a so-called Catalyst app. Such apps still don't feel quite Mac-like and we think it's really time to change that this year. Whether it will actually happen remains to be seen. Incidentally, we also hope for a new design for the iPhone and iPad versions of the Home app, so secretly we hope that Apple will take the opportunity to optimize the app for each of its devices. The Apple Watch version was already up for grabs last year, so this year the rest could just be up and running.

A new app we love see is the Weather app. We already mentioned this in our preview last year, but the wish still stands. Apple can immediately kill two birds with one stone by bringing the Weather app to the Mac and the iPad. In our opinion, these two versions may look quite similar, with or without platform-specific designs and functions.
#4 Our wish: better backups for your Mac
Apple's backup system for the Mac has basically been the same for years. While it still works fine basically, the Time Machine backups are still a hassle to create. You'll need an external drive for it (or Apple's older Time Capsule router). We prefer that a backup can be stored in iCloud, just like on the iPhone and iPad. Much of your Mac's content is already stored in iCloud (think Photos and the Documents and Desktop folders in iCloud), but things like installed apps, settings, and other saved data aren't included in an iCloud app. You still need a Time Machine backup for that, so with an external drive. If Apple is going to add this to iCloud, we may need a larger iCloud storage capacity. But that wouldn't bode well for Apple, because users would then be more likely to opt for this larger storage capacity and thus pay more each month for iCloud storage.
#5 Our wish : more and better widgets
Remember the old Mac Dashboard? Back in macOS Catalina, Apple discontinued the Mac Dashboard, where you could place interactive widgets anywhere on the screen. Nowadays we only find the widgets in the separate widget overview, under the notifications. They are copies of the iOS and iPadOS versions, with their limitations. This means that widgets may not be interactive and may not contain buttons with which you can perform actions directly, without opening the corresponding app. It's a shame that apps are so limited, simply because it puts them on par with the iPhone and iPad versions. We'd also like to put some widgets on the desktop so you don't have to open Notification Center every time.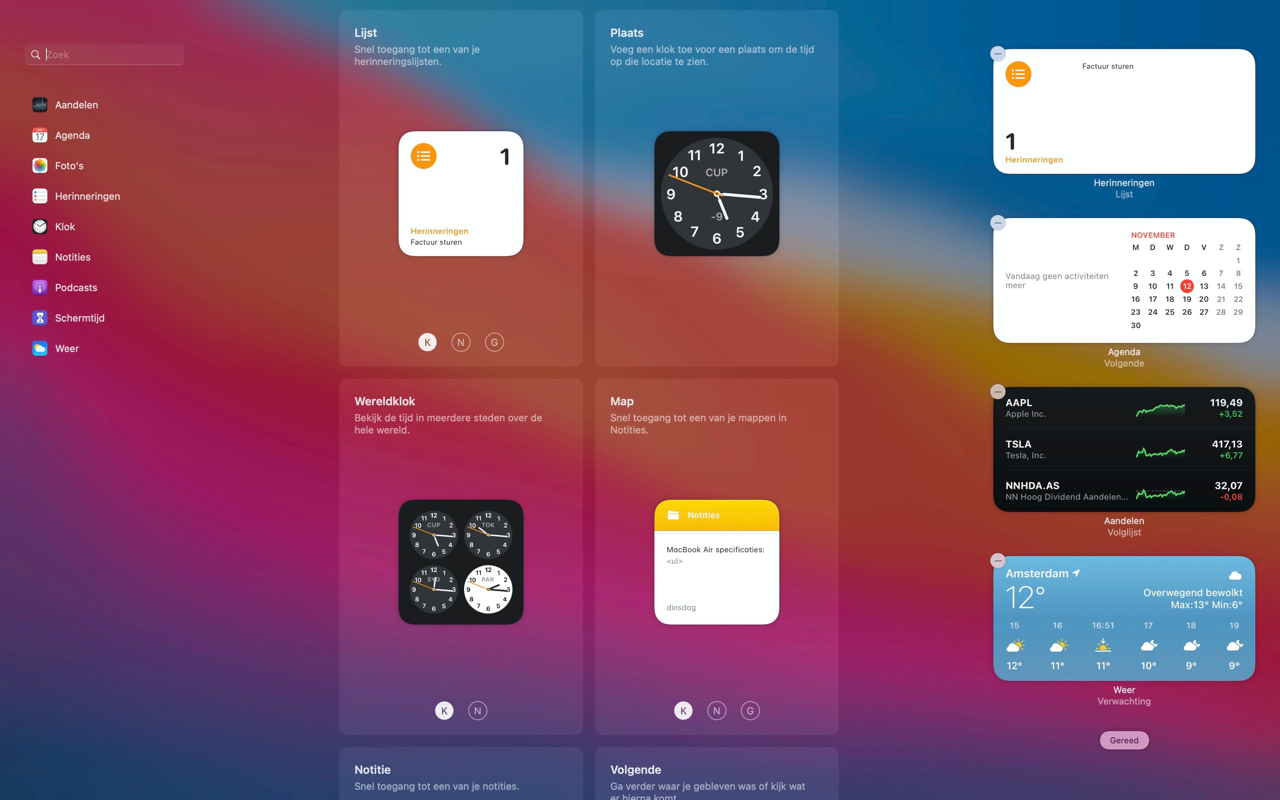 #6 Our wish: more extensive clipboard
On the Mac, Apple has a knack for building in popular features of third-party apps as standard. Sidecar is a good example of this, which is like a built-in version of Duet Display. And Universal Control is also a bit like Logitech Flow in some ways, although Apple's solution is much more comprehensive. We also see something similar happening with the clipboard. There are all kinds of advanced apps that allow you to consult a history of your clipboard, so that you can copy multiple links, texts, images and more and refer to it later.
We'd like to see this built in by default, and we think there's still plenty of room for other developers to add even more advanced capabilities. But if Apple builds this in as standard, it will become a lot more accessible for more people. This way more people experience how useful this actually is, which in turn increases the chance that users will look for more advanced possibilities in third-party apps.
#7 Possible name: macOS Mammoth< /h2>
What will macOS 13 be called? Apart from the version number, Apple also always uses a separate name, such as macOS Monterey and macOS Big Sur. It could just be that Apple opts for macOS Mammoth this year, because the name was recently redefined. There is a chance that macOS Mammoth will therefore be the name of macOS 13, although we would not mind if Apple from now on stops with the separate naming and simply opts for only a version number. After all, that is also the case on iOS, iPadOS, watchOS and tvOS.
#8 Suitable devices
macOS Monterey, the current version of macOS, is suitable for a wide range of devices. From the MacBook Air from the beginning of 2015 to the latest MacBook Pro from the end of 2021. But we wouldn't be surprised if more models drop out this year, especially models from 2013, 2014 and 2015. An exact list of suitable models is not yet available. , but a few models drop out almost every year. Especially now that the focus is increasingly on Apple Silicon models, Apple will make a little less effort to continue to support older Intel Macs with the latest software update for a long time to come. And if your Intel Mac does get the update to macOS 13, keep in mind that not all features will be available to you. Last year you already saw that you need an M1 Mac for some macOS Monterey functions.
macOS 13 will be unveiled on Monday June 6, 2022, during the WWDC 2022. Also read our in-depth article with expectations for the WWDC 2022, in which we look ahead to all possible announcements. In addition to software, we also expect new products. Also read our other preview:
iOS 16 preview
watchOS 9 preview
Expectations WWDC 2022 keynote