In the English Premier League, the decision between Liverpool and Manchester City is only made shortly before the end of the last day of the game. In Italy, AC Milan wins the championship duel against Inter.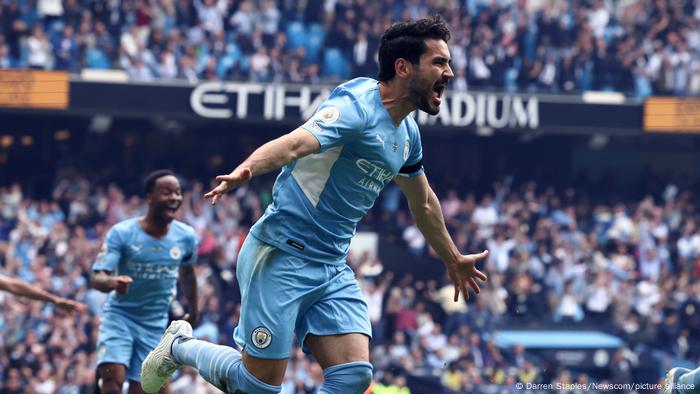 Double goalscorer Ilkay Gündogan was instrumental in Manchester City's decisive win
In a dramatic season finale, Manchester City once again secured the English Premier League title. Liverpool FC ended the season just beaten in second place. Coach Jürgen Klopp's team won their last game against Wolverhampton Wanderers 3-1 (1-1). But with the simultaneous 3:2 (0:1) after City was 0:2 behind, to which the German national player Ilkay Gündogan contributed two goals, the defending champion maintained his lead in the table. It's the eighth championship for Manchester.
Both championship contenders were initially behind. In Liverpool, Pedro Neto scored for Wolves (3rd minute). The Reds then turned the game around with goals from Sadio Mané (24'), Mohammed Salah (84') and Andy Robertson (89'). For a long time there was hope among the fans at Anfield Road that they could win the championship because City had problems. Matthew Cash (37th) ex-Liverpooler Philippe Coutinho (69th) scored for Aston Villa, which is coached by Liverpool icon Steven Gerrard. Then substitute Gündogan (76th and 81st) and Rodri scored (78.).
Klopp and Liverpool lost their historic chance of winning four titles in one season. After the League Cup and FA Cup, the LFC could still win the Champions League next Saturday. In Paris, the opponent is called Real Madrid.
Milan celebrates the Scudetto
A few hours after the championship for Manchester City, the decision was also made in Italy's Serie A: After eleven years, traditional club AC Milan secured the championship title there again. A sovereign 3-0 (3-0) on the last day of play at US Sassuolo was enough to keep local rivals and pursuers Inter Milan at bay. Olivier Giroud scored twice (17'/32'), Franck Kessie scored the third goal (36').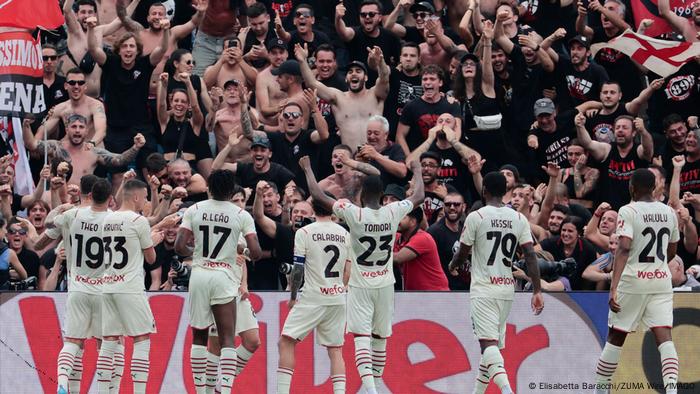 Finally master again! Milan fans and AC players celebrate victory in Sassuolo
Substitute Zlatan Ibrahimovic's header in what may be his last professional game was disallowed after video evidence. Ibrahimovic was also in the Milan squad in 2011 when the last championship was won so far. After that, the seven-time national cup and champions league winner slipped into mediocrity and even missed out on the European Cup for three years. Coach Stefano Pioli brought the red-blacks back into the Champions League and now to the top in Italy.