An interruption due to thunderstorms and lots of pyrotechnics: On Friday, in front of 40,000 fans in Leipzig, Rammstein started the Germany part of their stadium tour, which began in 2019.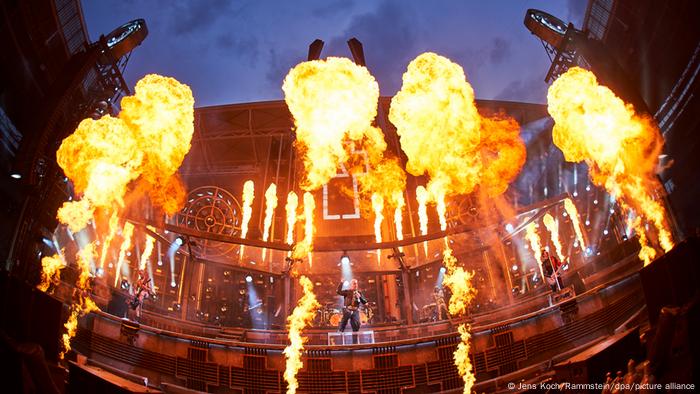 Rammstein in their element: With lots of pyrotechnics and 22 songs, the band in Leipzig inspired
Three years of Corona Rammstein had to take a break. But now the band is back on stage in the usual manner. In Leipzig, the band played their first Germany concert of their stadium tour that began in 2019 on Friday evening – and was enthusiastically celebrated.
The concert in front of 40,000 fans was a battle between forces of nature and pyrotechnics. Thick clouds hung over the Red Bull Arena. Lightning, thunder and downpours paralyzed the concert for half an hour. "This is the first time in Rammstein history that we have to interrupt the show because of rain," joked guitarist Richard Kruspe backstage.
View this post on Instagram
But as soon as the thunderstorm was over, the hard Rammstein riffs dominated the stadium again. Soaking wet, the fans – most of them in Rammstein shirts – celebrated their idols and sang along in a chorus of thousands. Lindemann, guitarists Kruspe (54) and Paul Landers (57), bassist Oliver Riedel (51), keyboardist Christian "Flake" Lorenz (55) and drummer Christoph Schneider (56) had a total of 22 songs for the two-hour show ;in the luggage. Including classics like "Sonne", "Du hast" or "Ich will", which – of course – caused ecstatic outbursts in the stands.
Watch video 06:19
Germany's biggest pop export
Typical Rammstein: fire and provocation
And Rammstein wouldn't be Rammstein without bang-bang and provocation. With the song "Pussy", for example, Lindemann covered the first rows of fans in front of the stage with foam, and with the cannibalism song "Mein Teil" he maltreated keyboardist Lorenz, who was squatting in a cauldron, with flamethrowers. The fire element is an integral part of Rammstein.
But in the meantime, the band has largely dispensed with light domes that make one think of Nazi aesthetics à la Leni Riefenstahl. Such parallels had previously brought the band into disrepute. The musicians responded to this on Friday evening in Leipzig with the song "Links 2-3-4" – in the song that's where the heart beats.
Dueful departure – "It was nice with you "
After two encore sets, the band said goodbye to the Leipzig fans with their song "Adieu". During the final applause, Lindemann and Co. were driven up into the stage tower, which almost reaches the stadium roof – and disappeared there behind the Rammstein logo. Lindemann had previously converted a song line into the plural form: "The time with you was beautiful!"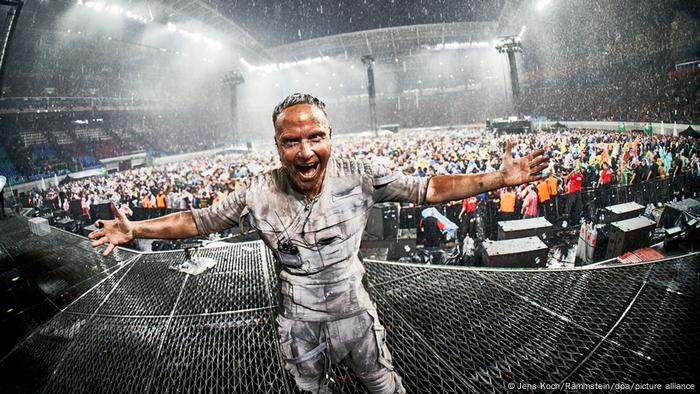 Guitarist Paul Landers celebrates the rain
Rammstein now want to show the show 42 times at concerts in Europe and North America on the tour, which has been postponed twice due to corona. In the first part, more than a million fans attended the 30 concerts in 2019, ten of which were in Germany.
bb/ack (dpa)