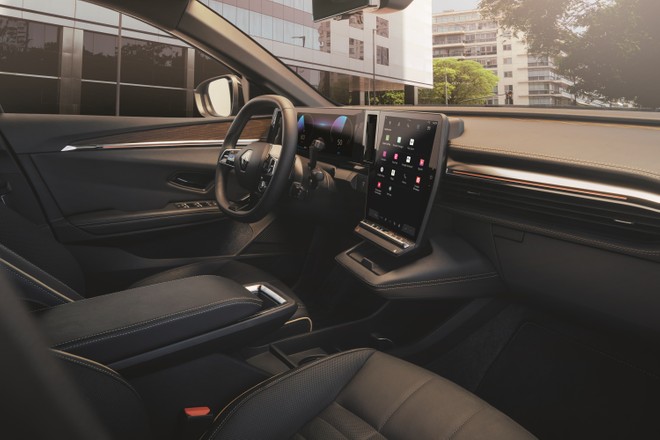 Infotainment systems are getting more and more; important in modern passenger cars. It is not for nothing that today we talk more and more; often of computers on 4 wheels. Car manufacturers, therefore, are investing heavily in this area with the aim of offering customers digital services more and more; advanced. On the subject comes the news that Renault has entered into a series of agreements for enrich the number of apps available within the new OpenR Link infotainment system, to improve the user experience.
NEW APPS
The new apps will be downloadable on OpenR Link for all those who buy the new Megane E-Tech Electric. Specifically, the applications EasyPark, Radioplayer for Renault, Sybel and Vivaldi will be available. The manufacturer makes it known that the Sybel app will be; initially available only in French and accessible from France, Luxembourg, Switzerland, Belgium and the Principality of Monaco.
Going into the details, EasyPark allows you to manage and pay for parking without needing of physical devices or even smartphones. Through Radioplayer for Renault, on the other hand, users will have access to thousands of radio stations , web radios and podcasts from the countries covered by Radioplayer in Europe.
Radioplayer allows you to easily access all content in the mode & agrave; live or replay, as well as & eacute; associated data. With Radioplayer, users can take advantage of many features, such as facilitated and personalized listening to the radio, viewing the titles during broadcasts and the possibility; to find all the programs in the form of podcasts. Other services designed specifically for Renault will also be available soon.
Sybel which, as previously mentioned, will initially be & agrave; available only for some European countries, it offers a & rsquo; wide audio offering consisting of thousands of hours of podcasts , unpublished fiction and documentaries, audio books and stories for children. In addition to the offer that brings together free audio programs, customers will also be entitled to 6 months of free subscription to Sybel +, the paid offer that offers original and exclusive content.
Finally, through Vivaldi people they will be able to browse the Web directly from their car. You can also make video calls and access streaming services. For security reasons, browsing the Internet is; granted only when the vehicle is; parked. Fr & eacute; d & eacute; ric Vincent , Executive Vice President Information and Digital Systems, on these news & agrave; commented:
We are particularly excited about the idea of ​​bringing these Apps to all Renault vehicles equipped with the OpenR Link multimedia system such as New Megane E-Tech Electric and, soon, New Austral. These collaborations with our various partners, which are EasyPark, RadioPlayer, Sybel and the Vivaldi browser, concretize our will & agrave; to offer customers more and more; services, comfort, safety and entertainment on board our vehicles.
The best Apple Smartphone? Apple iPhone 12, buy it at the best price from eBay at 645 euros .