Qualcomm shows the reference design for AR glasses that enable co-processing on a wirelessly connected smartphone. The computing power of the smartphone or PC is used via WiFi 6 for the demanding rendering tasks, while the chip in the glasses takes care of the 6DoF tracking locally.
Reference design with Micro-OLED
The reference design presented by Qualcomm is aimed at OEMs who can use this as a basis to develop their own cost-effective AR solutions. The solution developed by Qualcomm together with Goertek relies on two micro-OLED displays, each with full HD resolution for each eye and a refresh rate of 90 Hertz.
The tracking remains local
To track head movements, the Snapdragon XR2 in the AR glasses uses image data from two monochrome cameras and a classic RGB camera. According to Qualcomm, this should ensure reliable 6DoF tracking as well as hand and gesture control. To date, most competing products have not been able to do this 100 percent reliably, even with more cameras, especially in poor lighting conditions.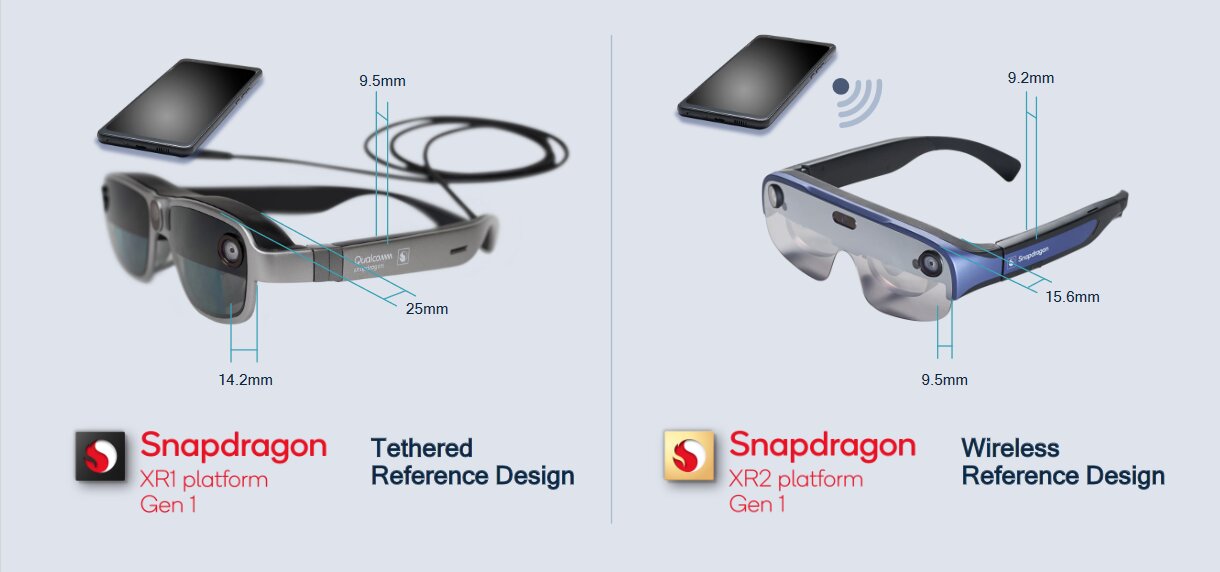 "remote" is rendered via WiFi
With the position data calculated from the tracking, however, it then comes to the actual innovation. These can be sent wirelessly to a smartphone, for example, in order to carry out the complex scene calculation there. The result is then sent back to the glasses, adjusted to the current position data and displayed.
This division of labor enables a slim and light design without depending on a permanent cable connection like the Vive Flow. According to Qualcomm, there shouldn't be a noticeable delay between movement and image adjustment. Qualcomm calls the approach Motion to Render to Photon or M2R2P for short and specifies a maximum delay of 3 milliseconds. If so, current wired or standalone headsets wouldn't be faster either.
No information on availability and price
< p class="p text-width">Since Qualcomm is not targeting the end customer market with the reference design, there is neither an exact price specification nor a statement as to when products based on this technological basis can be expected.< /p>
ComputerBase has received information about this article from Qualcomm under NDA. The only requirement was the earliest possible publication date.