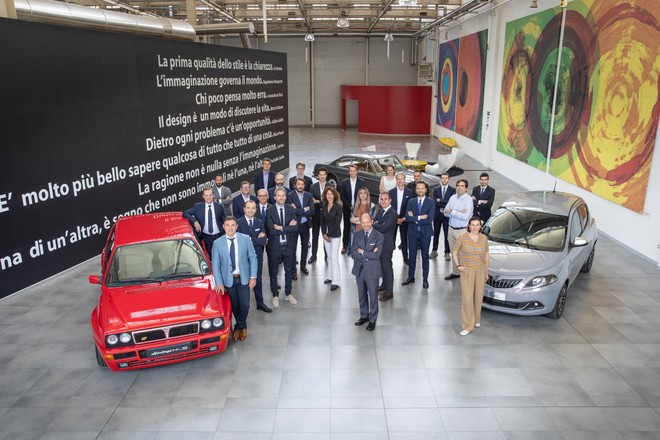 Lancia shared new details of its strategic plan for the next 10 years of part of which was already; been anticipated in the past. Starting from 2024, 3 new models will arrive, one every two years to have a range capable of covering 50% of the market. Furthermore, from 2026 only 100% electric vehicles will debut and from 2028 only 100% electric cars will be sold. Luca Napolitano , CEO Lancia, commented:
Today it is; an important day. Lancia & egrave; ready for Europe, taking yet another step forward with the goal of becoming a credible and respected brand in the premium market. Our 10-year strategic plan, approved last September, is being implemented very quickly, one step after another. Our & egrave; the Italian brand of elegance and this is; our Renaissance. Timeless innovation and design have always been our values ​​and to these we want to add sustainability, centrality; of the customer and responsibility; because & eacute; we look to the future with great ambition.
THE NEW MODELS
So, let's go! from 2024 when it will debut the new launch Ypsilon that will be & agrave; a model with 100% electrified engine (both hybrid and electric model). Napolitano states that the car will be & agrave; of segment B and will be; almost 4 meters long. Two years later and precisely in 2026 , it will be & agrave; the turn of the new flagship, the new Aurelia , which will be 4.6 meters long. Since Lancia will launch from 2026; only new electric models, it seems clear that this model will be; proposed only with an electric powertrain.
In 2028 will arrive, however, probably the most; expected. On that date, in fact, Lancia will report & agrave; in life the Delta which will be 4.4 meters long. The CEO talks about a car with geometric lines, sculpted and muscular and that will do & agrave; beat the heart of fans across Europe '. Obviously, the new Delta will also be; electric.
For its relaunch strategy, Lancia prester & agrave; a lot of attention also to the use of innovative materials , which will make it the brand of Stellantis with the most; high percentage of recycled materials, with 50% of the surfaces that touch, made with eco-sustainable materials.
Furthermore, inside, all future new models will offer a welcoming environment with lots of technology. Speaking of innovation, Lancia will propose & agrave; Sound Air Light Augmented which will be a virtual interface, essential and intelligent, with which the customer, with the use of a single button, will have; total control of the passenger compartment, from the audio system to the air conditioning system, up to the lighting.
As before; announced in the past, Lancia will return in the future; also in Europe. We will leave always with the new Ypsilon, which will disembark; also in France, Holland, Belgium, Germany and Spain, in the first half & agrave; of 2024. The brand will be; present in Europe in 60 major cities, with a network of 100 dealers, with 50% of online sales. For this, the brand has appointed new managers for France, Germany, Spain, Belgium and the Netherlands.
The Samsung pi? balanced? Samsung Galaxy A52 5G, on offer today by Tecnosell for 330 euros or by Amazon for 415 euros .