In the DFB Cup final, SC Freiburg and RB Leipzig meet two clubs that have never won a title. The philosophy of the clubs is very different. There is no clear favorite.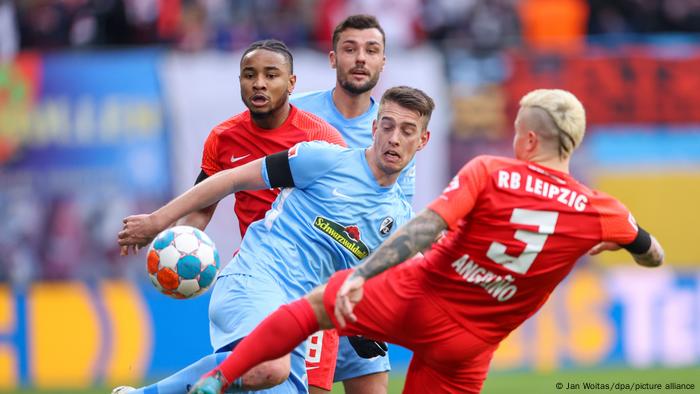 < p>There is no clear favorite in the DFB Cup final between Freiburg and Leipzig
Starting position:
No matter how it ends: After the DFB Cup final on Saturday (kick-off 8 p.m. CEST), a team that hasn't previously won a title will celebrate the cup victory. The final in Berlin between SC Freiburg and RB Leipzig comes at the end of a long season for both clubs. While Leipzig moved up to fourth place in the Bundesliga season finale and are in the Champions League, SC slipped down to sixth place due to two defeats on the last two match days. They missed the chance to be in the premier class for the first time.
The duel between the "small" SC Freiburg and the Leipzigers, who are financially strong thanks to Red Bull, is hyped up as a kind of "clash of cultures". How different the two clubs are was expressed in the run-up to the final in the "scarf dispute" between the two clubs. The people of Freiburg were strictly against a joint fan scarf being made for the final with the emblems of both clubs. : "I love the DFB Cup. It's pure football."
Willi Orban (RB Leipzig): "Everyone is now hot for the cup final. We can write history with this title."
Philipp Lienhart (SC Freiburg): "We know that Leipzig has a lot of quality and that we need an almost perfect day to win the game. But we want to do everything to make the club's greatest success possible."
Statistics:
Put the two together Based on the games of the past Bundesliga season, it will be an equal match. Both games ended 1:1. An advantage for Leipzig could be that, unlike Freiburg, they already have final experience. RB had been in the final twice before, but lost to FC Bayern in 2019 and Borussia Dortmund in 2021. However, Christian Streich and some of his players know how to win the cup in Berlin. Streich won the DFB Junior Cup as a youth coach with Freiburg youth in 2006, 2009 and 2011. His three current pros, Christian Günter, Nicolas Höfler and Jonathan Schmid, also took part in the last success.