The Turkish head of state Recep Tayyib Erdogan is critical of the NATO accession of Finland and Sweden and even threatens the alliance with a veto. What's behind it?
Watch video 02:02
Debate on NATO's northern expansion
In times of crisis, one expects the NATO Unity and Solidarity of Partners. It is the case this time too. All alliance members take part, only one does not: Turkish President Recep Tayyip Erdogan.
While the West wants to stand up to Putin with a united front, the Turkish President is currently objecting to Finland and Sweden joining NATO. He is even threatening the military alliance with a veto.
"We see it not positive," said Erdogan last Friday. Finland and Sweden are inns for terrorists. These were calculated messages he sent both to his followers and to the West after Friday prayers outside a mosque.
He then sent his Foreign Minister Mevlut Cavusoglu to Berlin for the informal meeting of NATO foreign ministers, while the Turkish daily newspapers continued to heat up the mood: "Finland and Sweden in panic", "President Erdogan's veto in the world press", "Fear in NATO", that was the title of the newspapers loyal to the government.
Since then, they have been backing up Erdogan's claims with articles explaining why Ankara is actually opposed to Scandinavians joining NATO. Finland and Sweden are breeding grounds for terrorists, maintain contacts with the banned Kurdish Workers' Party PKK, the Kurdish militia YPG in Syria and the supporters of the US-based preacher Fethullah Gülen. Erdogan suspects the latter to be behind the 2016 coup attempt.
US Secretary of State Blinken and NATO Secretary General Stoltenberg at the meeting of NATO foreign ministers in Brussels.
Turkish media also report that Turkey has submitted requests for the extradition of "33 PKK and Gülen terrorists" to Finland and Sweden in recent years, so far unsuccessful.
Erdogan's adviser spreads confidence
Then came the optimistic statement from Erdogan's adviser Ibrahim Kalin on Saturday. Turkey has not closed the doors to Scandinavian membership. But it is about Turkey's national security. And there is a need for action. As a result, US Secretary of State Blinken and NATO Secretary General Stoltenberg also expressed their confidence.
That confidence vanished on Sunday with Turkish Foreign Minister Cavusoglu's press conference, who then said a crucial phrase that revealed what the real issue is: "These two (Finland and Sweden) and other NATO members who have been in contact with the PKK and YPG maintain and support them, and impose export restrictions on armaments to Turkey, they should stop doing that." Cavusoglu underlined several times that Finland and Sweden do not export armaments to Turkey. Otherwise, his country is not actually against NATO expansion.
What does the AKP government really want?
So it's about getting the NATO members, as well as Finland and Sweden, to make concessions to force. This is how Erdogan wants to score points domestically.
Because Turkey is in a very serious economic crisis. Annual inflation was 69.97 percent in April. The trade deficit recently climbed to $24.5 billion. The population is suffering from the spiral of inflation. Erdogan's approval ratings are falling. With nationalistic tones he can rally his followers behind him again. Attacks on the West, Finland and Sweden are always well received by the Islamist-nationalist clientele.
And Erdogan needs this clientele in the super elections of 2023 at the latest. Then Turkey will not only celebrate the 100th anniversary of the founding of the Turkish Republic. Presidential and parliamentary elections are also taking place in the country, both of which Erdogan wants to win. However, he is currently losing favor with voters, mainly because of the extreme inflation. So he needs successes and needs to score.
Therefore, Erdogan sees the accession plans of Finland and Sweden as the moment of opportunity. With the Ukraine war, his country on the Black Sea regained importance. Visits by UN Secretary-General António Guterres, EU Commission President Ursula von der Leyen or Federal Chancellor Olaf Scholz are now part of day-to-day business, as are telephone calls to Brussels and Washington.
Turkish Foreign Minister Mevlut Cavusoglu in Berlin
So Erdogan wants to drive up the price. He hopes that the export restrictions on armaments will be relaxed again. After the Turkish army invaded northern Syria in 2019, Finland, Sweden, Germany and other European countries announced that they would initially no longer export weapons to Turkey that could be used in Syria.
Ankara's involvement in Libya and Nagorno-Karabakh caused upsets in Europe. After the gas drilling in the Mediterranean there were also concerns about armaments in the maritime sector.
Ankara also took a hit from Washington. After Turkey bought the Russian S-400 anti-aircraft system, the United States excluded it from the F-35 fighter jet program. Ankara is now hoping for concessions from the USA and has signaled that it will even be satisfied with the delivery of the F-16.
Erdogan is currently sitting on a political lever that he is using with relish. For days he has been reminding the Turkish public of Greece's readmission to NATO in 1980. His country will not make the same mistake as it did then. At that time, Greece's readmission to the military alliance was unconditionally approved, and he promises that it won't happen again.
After Turkish troops invaded Cyprus in 1974, Athens left NATO. The country only wanted to join again after six years and needed Turkey's consent to do so. At that time, Turkey gave in to pressure, saying that this was one of the biggest mistakes of the recent past – that is the prevailing opinion in Ankara.
What are Turkey's conditions?
Ankara's conditions for the accession of Sweden and Finland have not yet been officially presented. According to statements from the Turkish government, it could be statements by Finland and Sweden to fight against PKK, YPG and Gülenists, as well as concessions on arms export restrictions.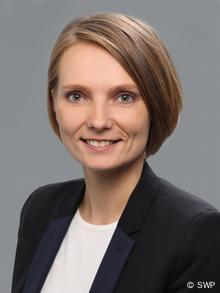 Daria Isachenko
For the Turkey expert of the Stiftung Wissenschaft und Politik (SWP), Dr. Daria Isachenko, Turkey's attitude is no surprise. The experienced scientist has been observing Ankara for years and notes that Turkey fundamentally supports the expansion of NATO and has been very active not only in the case of Ukraine and Georgia, but also in the admission of Bulgaria and Romania.
But Turkey also has a long list of concerns that it deals with when the opportunity arises, says the expert. She recalls that this is not the first time the terror card has been drawn. In 2020, Ankara blocked NATO's defense plan for Poland and the Baltic States, also at the time because of alleged support for the PKK and YPG. Now you see the chance again to get some things off the list, says Isachenko. These include the purchase and modernization of F-16 fighter jets from the USA and the lifting of sanctions in Turkey's defense sector.
But Turkey has also been making demands on Germany for a number of years. Berlin no longer delivers armaments to Turkey. There is even talk of a "disguised arms embargo". Ankara was not impressed by the attempts by then Defense Minister Annegret Kramp-Karrenbauer, former Foreign Minister Heiko Maas or Olaf Scholz to explain that Germany was pursuing a restrictive export policy for armaments. The subject came up again during the Chancellor's visit to Ankara in mid-March.
How far Turkey wants to go in this conflict with threats against its partners and what concessions the NATO members, Finland, are making and Sweden would be willing is currently unclear. The willingness of the Turkish side to negotiate and the confidence of the alliance members indicate that negotiations behind closed doors have already begun. It is currently uncertain whether there will actually be haggling like in a Turkish bazaar, as the Luxembourg Foreign Minister Jean Asselborn indicated.
Watch video 00:44
Finland wants to apply for NATO membership