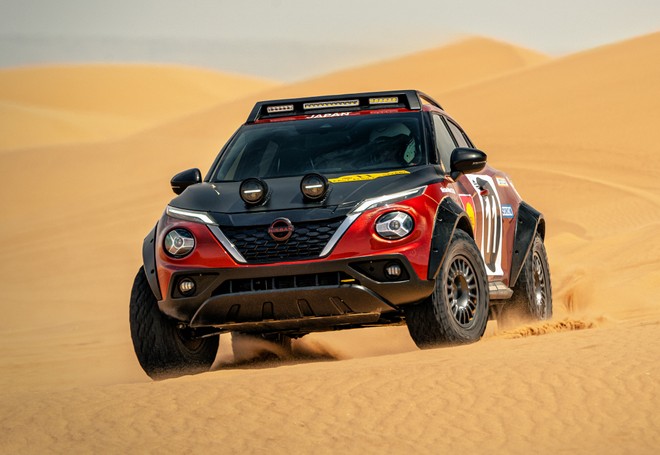 Nissan has decided to really put the JUKE Hybrid Rally Tribute on the road, a very special concept unveiled last year for celebrate 50 years of the Japanese car manufacturer's participation in the East African Rally. The debut comes in conjunction with the arrival on the market of the first electrified version of the JUKE.
Let's go into detail and see all the main features of this car.
SERIES HYBRID ENGINE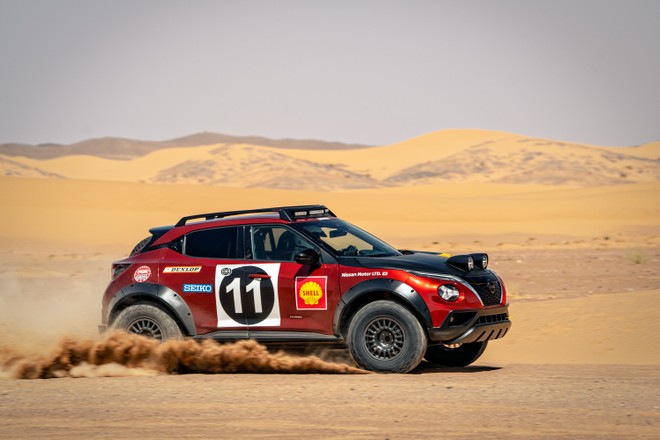 Speaking of the JUKE Hybrid design, the modifications relevant to the series model concern the oversized wheel arches that allow to accommodate specific off-road tires. In addition, we find additional lights mounted on the hood and on the roof. The livery of the car is; a precise homage to the 240Z of 1971 , engaged in the East African Rally. Nissan reports that reinforced plates have been introduced under the front and rear skirts to reinforce the bottom body.
The car can also count on reinforced long-stroke suspension and 265/70 R16 tires. Speaking of the passenger compartment, the Japanese manufacturer has integrated a roll-bar to give greater rigidity; to the car body and protect the driver and co-driver. The front seats are of the sports type with four-point seat belts. To make room for the spare wheel, the rear seats of the Nissan JUKE have been removed.
For the engine, Nissan has chosen to adopt the hybrid powertrain of the production model. So, we have a 94 bhp (69 kW) 1.6-liter naturally aspirated 4-cylinder petrol engine with 148 Nm of torque paired with a unit & agrave; 49 hp (36 kW) electric and 205 Nm of torque. The engine also consists of a starter/generator, i.e. a small 15 kW electric motor and a 1.2 kWh liquid-cooled battery. The overall power of the system is of 143 hp (105 kW). The performances have not been communicated.
The gearbox is also; that of series: we find, therefore, a multi-mode transmission. The ratios are in all 6, the first 2 gears in electric and the following 4 in mode; thermal. The change & egrave; controlled by an advanced algorithm that manages the shift points in an optimal way. Too bad there is no four-wheel drive that would really allow you to have fun in the most off-road routes; difficult.
A computer inside a smartphone? Motorola Moto G100, buy it at the best price from eBay at 334 euros .