In addition to the immediate launch of the Eve MotionBlinds motors for Apple HomeKit, Eve also presented the new Eve Outdoor Cam escape light camera at CES 2022, which supports Apple HomeKit Secure Video and will be available from April.
No own cloud, but everything about iCloud
The Eve Outdoor Cam is the first outdoor floodlight camera designed exclusively for Apple HomeKit Secure Video. Since Eve does not use its own manufacturer cloud to store the recordings, as is usually the case, and relies on iCloud via HomeKit, all access is end-to-end encrypted and can only be accessed by the user himself via his devices. The user can access a ten-day recording history in iCloud, then recordings are automatically deleted unless the user actively saves them permanently. If a live image from the Eve Outdoor Cam is displayed, it is not first routed through an external server, but is transmitted directly. Eve Systems would like to offer such a smart security camera with data protection, data security and privacy "by design", which follows its own motto "Your home. Your data" follows.
1080p videos with object recognition
The Eve Outdoor Cam can send a notification to the user's iPhone as soon as it detects activity. It can differentiate between people, vehicles, animals and parcels and provide appropriate information. If desired, a recording can be started whenever a movement is detected. The camera records videos in 1080p with 24 FPS and H.264 and offers a night vision function. The field of view is 157 degrees. The infrared motion detection covers up to 9 meters with 100 degrees at an installation height of 2.5 meters. If desired, the floodlight switches on automatically when movement is detected. The hardware is housed in a matte black metal case that attaches to a wall mount with a three-axis joint that allows the camera to be aimed. The housing is protected according to IP55, i.e. it offers protection against jets of water (nozzle) from any angle and against dust in damaging quantities. The dimensions are 170 × 65 × 76 mm (H × W × D).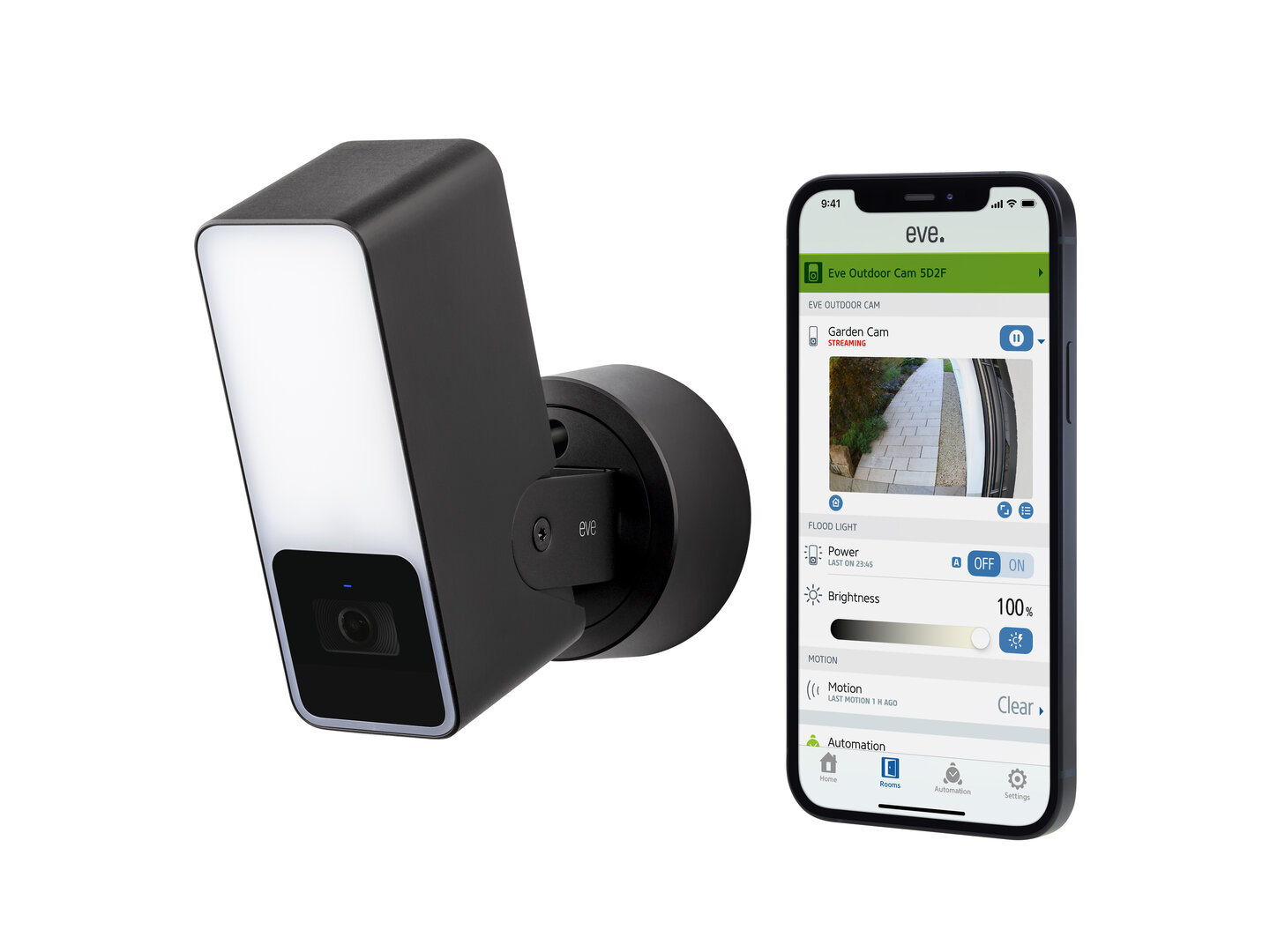 Eve Outdoor Cam requires a wired installation for the power supply and uses WLAN (2nd generation) for data transmission ,4/5 GHz, 802.11a/b/g/n), which must therefore be available with sufficient signal strength at the location where the camera is used.
Two-way communication and automation
A built-in microphone and speaker enable two-way Way communication via the camera and the connected iPhone, so that people in front of the camera can also be spoken to in real time.
Through sensor-based automation, the Eve Outdoor Cam can control HomeKit-compatible lamps, switches and sockets, regardless of whether they come from the Eve range or from third-party manufacturers, as long as they can be addressed via HomeKit.
iPhone and iCloud+ are mandatory
In order to be able to use the Eve Outdoor Cam with Apple HomeKit Secure Video, you not only need an iPhone or iPad with iOS or iPadOS 15, but also an iCloud+ storage plan with at least 50 GB of storage space, since only this supports HomeKit Secure Video for a camera provides. If multiple cameras are to be used, the storage plan must be completed with 200 GB, which allows for five cameras. Unlimited cameras can be used with the 2 TB iCloud+ storage plan. The camera recordings are generally not counted towards the iCloud+ storage limit. For automations and controlling the camera on the go, a HomePod (mini) or an Apple TV (4th generation or newer) is also required as the control center for the Home app.