Wdgts for iOS and macOS widgets
Unfortunately, the Wdgts app is not yet able to show interactive widgets on the iPhone, as this is not yet allowed. But you can (partly) add and use interactive widgets in the menu bar of macOS. The app was rebuilt last year, with new widgets for your iOS home screen and a macOS version for the menu bar. The latter widgets have been interactive for a few days now. But what can you do with it?
First off: Wdgts is a paid app. You can try three widgets (Calculator, Converter and Today) but if you want to get the most out of the app you will have to pay. For a tenner you can use the app 'lifelong' use. There are also shorter options, if you don't want to commit that long. Paying users get a few extra widgets: Clips, On This Day, ScratchPad, Zones and Music. In total you then have 8 widgets to put in your Mac menu bar; it is not very much.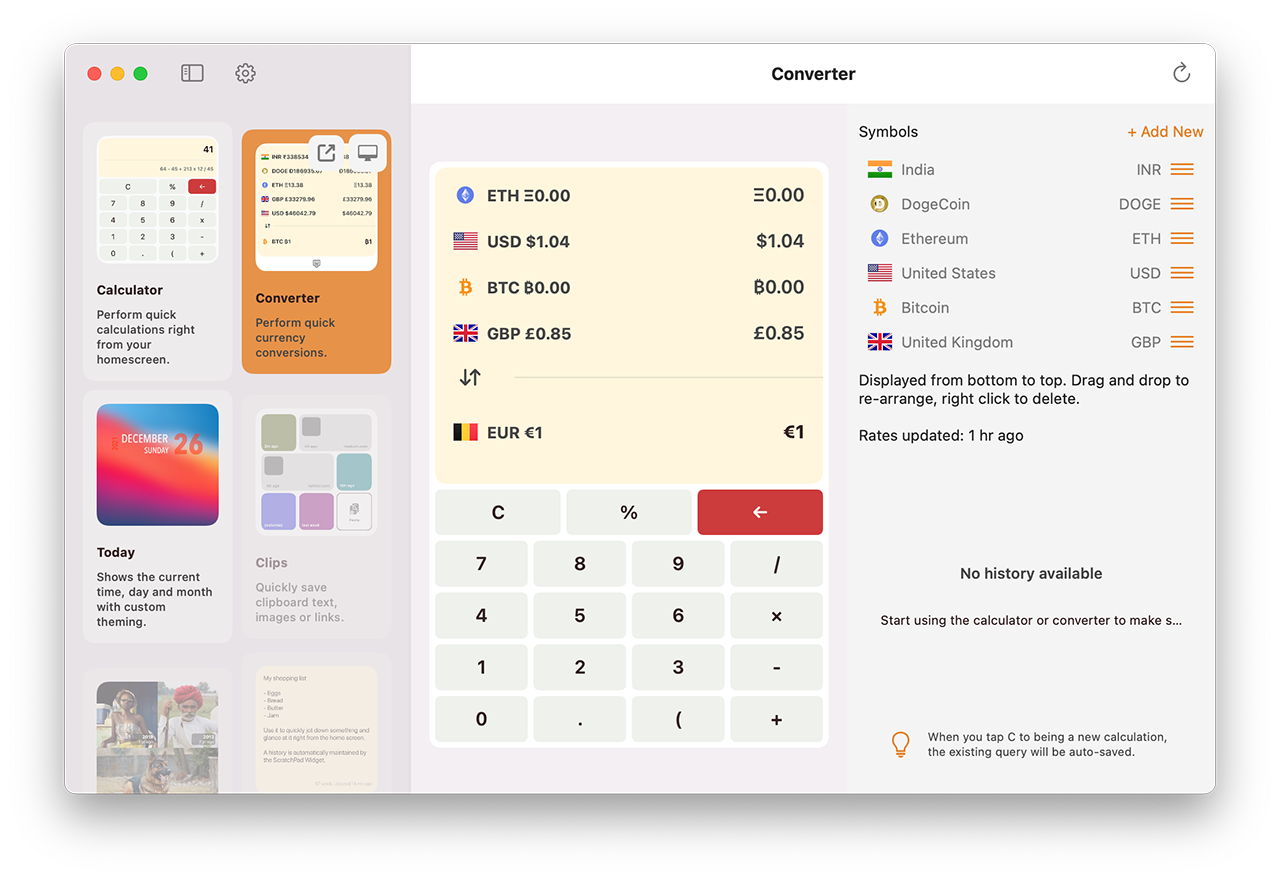 The widgets show real-time information and are interactive. You can perform actions by moving the cursor over the widget. However, those options are still somewhat limited. So you really have to open the calculator to be able to calculate properly. A pop-up will then appear that goes over your current window. The promised "perform actions inside the menu bar app without losing your context" was not fully realized in our view. The currency converter can be useful if you want to keep an eye on Bitcoin or the rate of other (crypto) currencies. You can of course also just keep an eye on the euro or dollar exchange rate and see the value change without having to click on it. Of course, this only works if the items in your menu bar are constantly visible. If they are automatically collapsed, you will not see them. A plus is that you can also add the widgets to Notification Center and to the desktop, or open them with a shortcut of your choice.
You can try Widgts for free for 3 days. An annual subscription costs €6.99 and a 'lifetime' subscription costs €9.99. It is to be hoped that improvements in macOS and iOS will make apps like this one out of order (or at least more functional). Find out what new features are coming during the WWDC 2022 keynote!