And suddenly everything was different. When Russia attacked Ukraine on February 24, it killed tourism in the country. Here are five reports from tourism professionals – their experiences, fears and hopes.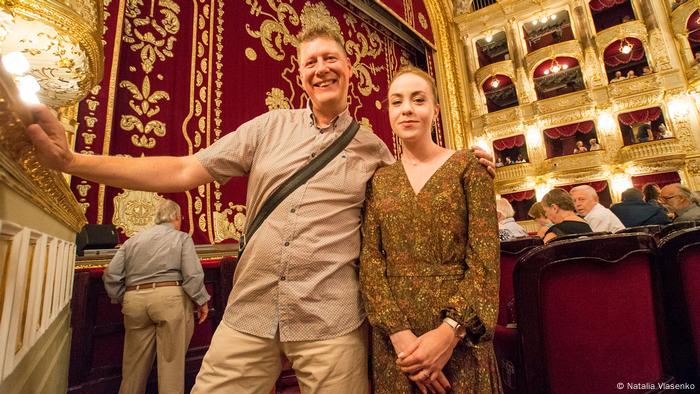 Tour guide Natalia Vlasenko (right) with a colleague from Belgium
Natalia Vlasenko loved showing her city of Odessa and its environs to tourists from all over the world. Then the war came and her life was turned upside down. Instead of showing tourists around, she helps refugees and translates for foreign media that come to Odessa. Not only Natalia's life has changed completely, but also that of her colleagues in the Ukrainian tourism industry. She tells us her story and that of four other tourism professionals.
No time for travelogues
Natalia Vlasenko, tourist guide in Odessa:
"I had so many expectations and plans for 2022 after the Corona measures were gradually lifted. I used to work with many visitor groups, they came from the UK, the USA, Germany, France, Poland, Belgium and the Netherlands. I have so many good memories from that time!I was able to do what I love – showing my city to tourists and introducing them to Odessa's history, culture and cuisine.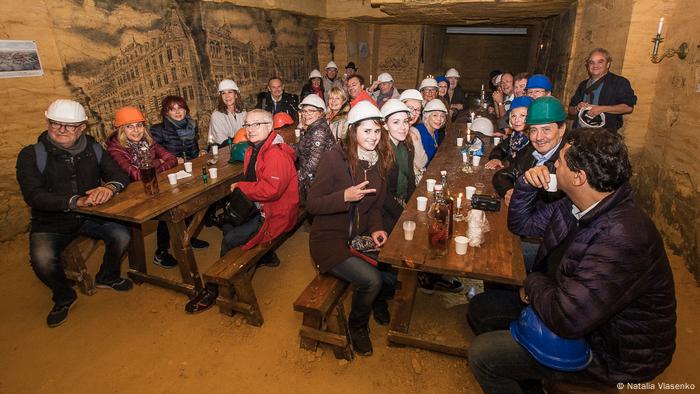 Before the outbreak of war, Natalia Vlasenko guided international guests through Odessa
But when the war started on February 24, my plans collapsed like a house of cards. I can no longer do tours and my second mainstay has also collapsed – as a travel journalist I wrote about Odessa for an online site. But now is just not the time for travelogues.
I had to look for new job opportunities to make a living. At the moment I'm working as a translator and assistant for foreign media traveling to Odessa to report on the current situation. My language skills come in handy – in addition to Ukrainian, I can speak English, French and Polish. I also do volunteer work for the English-language news portal "We are Ukraine".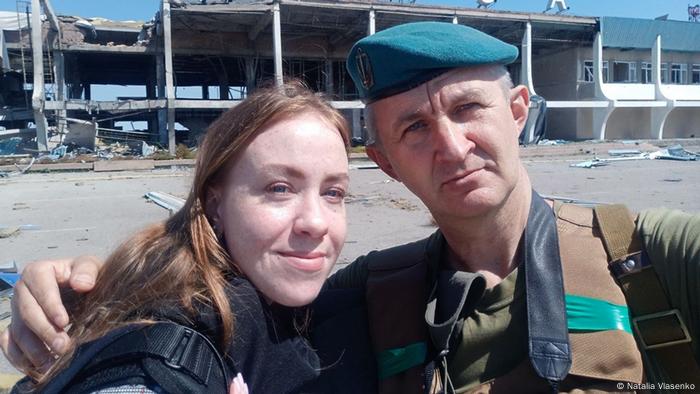 Instead of tourists Guide sights, Natalia Vlasenko (left) accompanies journalists. Here a soldier shows the press the destroyed airport in Mykolaiv
Some of my colleagues have decided to stay in Ukraine, while others have left the country temporarily. I spoke to four of them and translated their stories. With our experiences, we want to give an impression of how the war changed everything in our country – also in the tourism industry."
The important role of the tourism industry in wartime
Ivan Liptuga, President of the National Tourism Organization of Ukraine:
"Shortly before the Russian invasion of Ukraine, when the international press was already openly speculating about a possible war, the vast majority of people here did not yet believe in a war. During this time we received many questions from foreign media and decided together to organize a Zoom meeting with the World Tourism Network (WTN). Tour operators and hoteliers were present to reassure our international partners.
Ivan Liptuga (right) at the 26th International Trade Fair for Travel and Tourism in Kyiv
Then, twelve days later, everything changed – the war began. We launched the "Scream for Ukraine" campaign to draw attention to the terrible situation. Tour operators, hoteliers and restaurateurs have supported the military from the start. They feed the troops or house refugees and help them to travel on.
All of this shows how important the tourism industry is – not only in times of peace to market Ukraine as a holiday destination, but also in times of crisis to help."
There are many sights in Kyiv, but because of the war there is no tourism
Tourists will come back to Ukraine
Julia Kulik, founder and managing director of the tour operator JC Travel:
"It is clear that the war destroyed the entire tourism business. At the end of 2021 there were some bookings for 2022, we even expected a good year and were happy that the numbers recovered after Corona. But already at the beginning of the year, when "The tensions between Ukraine and Russia increased, we received more and more cancellations. And then the war started, the tourism industry suddenly collapsed. I went to the Netherlands with my daughter. For me and my husband, her life, her health and their future is absolute priority. And yes, I found a job here, also in tourism.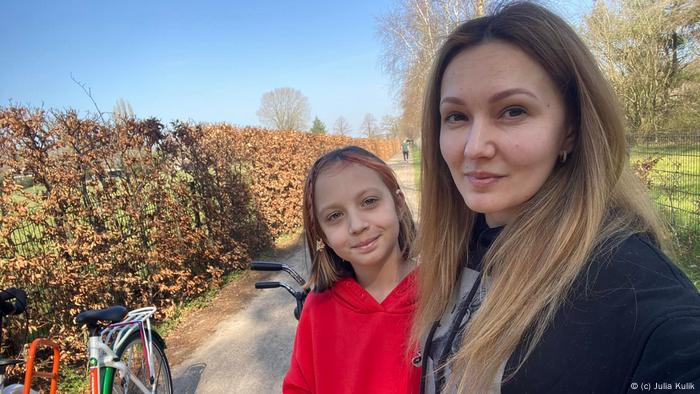 Julia Kulik with her daughter in the Netherlands
When the war is over and the troops have left, tourism in Ukraine will certainly recover quite quickly. Tourists will return as soon as it is completely safe. New places of interest to visitors will be added, as interest in cities such as Bucha, Irpin, Borodyanka and Mariupol will certainly increase. The only problem is: all this will take time. A year at best, I'm very optimistic."
"I hope the war will be over soon"
Anna Nikolaieva, tour guide:
"Lviv (Lemberg) was the most popular city in Ukraine among tourists. In 2021, 1.5 million guests came. The tour guides were preparing for the new spring-summer season of 2022. I myself worked on a website and new routes around Lviv designed during off-season. But war ruined all my plans. So I left Ukraine and now live in Warsaw.
Anna Nikolajeva's Ukraine Virtual Tour
When the pandemic started, I advertised an online experience on Airbnb called "Cultural Tour of Ukraine". Now I'm running this virtual tour on Zoom. And since the war began, I've talked about Ukraine with Google, Intel, LinkedIn, Pfizer, Airbnb, Pinterest, KPMG Canada, Amazon Studios, Salesforce, and others around the world. People realize they know little or nothing about our country and I can help them learn more. I hope that the war will end soon and I can return to Lviv."
The war is crippling the economy
Maria Yukhnovets, travel expert and employee of Sputnik Kyiv DMC:
"International tourism has always been very sensitive to all kinds of world events – whether it's a pandemic or a political crisis in any destination country. In January 2022, with increasing media coverage of a possible Russian invasion, many decided governments to issue travel advisories for Ukraine. As much as we understood and respected these decisions, we also recognized that this will have a strong impact on the 2022 tourism season.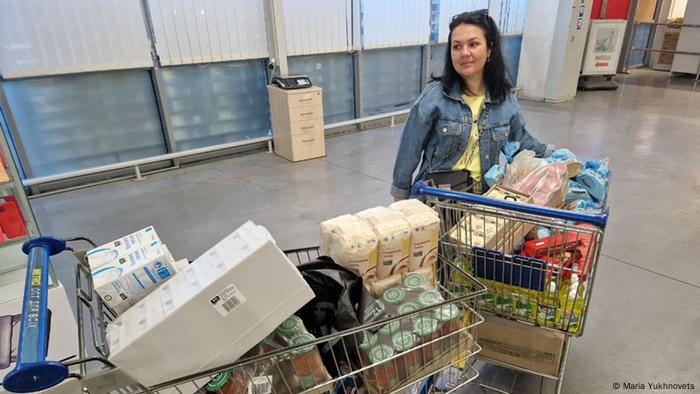 Maria Yukhnovets collecting and distributing relief supplies to the needy in Kyiv and the region
The country's economy, almost all branches of industry are There is no more tourism – domestic or foreign – the skies are closed to air travel, Ukraine is at war.
We are aware that tourism will be one of the last industries in Ukraine to recover after the end of the war. The infrastructure has to be rebuilt and flights have to be offered. And tourists must be able to regain confidence in our country – we very much hope that this will be possible in 2023.
At the moment we are trying to help our country and are volunteering. We distribute food, help people who have lost their homes, stand by refugees, support the Ukrainian soldiers and help with evacuations. This is the new everyday life of almost all Ukrainians, and that's how my life looks right now.
We hope that Ukraine will rise like a phoenix from the ashes after these difficult times. And yes, we are sure that after this war, millions of people will never ask again: Ukraine? Where is this country?"
Natalia Vlasenko's declaration of love to Ukraine


My beloved Odessa

My heart belongs all to Ukraine, my homeland. I love to travel and discover new places, but I'm always happy to come back home. I live in Odessa, an elegant city with a European face. Particularly beautiful are the Primorski Boulevard and the magnificent Opera House (picture), designed by Viennese architects and opened in 1887.

Natalia Vlasenko's declaration of love to Ukraine


Time out at the Black Sea

I love Odessa because of the proximity to the sea and the many hours of sunshine. Before the war, I loved going to the sea to meet up with friends for picnics or to enjoy the sunrise – it's really magical! There is a saying in Odessa: the sea can drive away any sadness, ease the pain and brighten the mood. And in my experience, that's true!

Natalia Vlasenko's declaration of love to Ukraine


My work as a tour guide

I love architecture and history and studied tourism, so I have the best qualifications to work as a tour guide. In 2016 I started showing my hometown Odessa and the surrounding area to people from many different countries. It was very nice to introduce them to my country and to get to know so many different cultures.

Natalia Vlasenko's declaration of love to Ukraine


The architecture of Ukraine

If someone asked me what my heart is most attached to, my answer would be: go for a walk and photograph architecture. I love old buildings, wooden doors and marble stairs. In Odessa I offered a tour through the less touristy part of the city, where you can discover the old courtyards with their special charm.

Natalia Vlasenko's declaration of love to Ukraine


Lviv: coffee and culture

Odessa is my favorite city, closely followed by Lviv (Lemberg). It is known for its big book fair, festivals, coffee culture and beautiful architecture. A real gem! I really hope that after the war I can meet my friends again for a coffee in the marketplace.

Natalia Vlasenko's declaration of love to Ukraine


In search of that special detail

I often walked around the city with my friend Iryna from Lviv to explore old courtyards and buildings and discover architectural features. Very often we were lucky and found detailed ceiling paintings or mosaic floors. Lviv was my last trip before the war, so remembering it is particularly important to me.

Natalia Vlasenko's declaration of love to Ukraine


Mountain idyll in the Carpathians

Ukraine is lucky to have both sea and mountains. The Carpathians are worth a trip at any time of the year! Here you can climb or hike, taste the local cuisine and learn more about the culture and traditions of the region. I once celebrated my birthday in the village of Pylypets and rode a cable car for the first time – one of my fondest memories!

Natalia Vlasenko's declaration of love to Ukraine


Chernihiv: a city steeped in history

When I worked as a tour guide, I organized weekend tours to Chernihiv, a city with many old churches, some of which date back to the 13th century. It hurt my heart to hear on the news that Chernihiv was under attack. I feel so sorry for the people and pained by the loss of the city's architectural heritage.

Natalia Vlasenko's declaration of love to Ukraine


The beauty of Ukraine is under threat

I have described some places that I love and that show how beautiful Ukraine is. Each region offers its own attractions: from the Kherson region with the Askaniya-Nova nature reserve, the pink lakes and tulip fields, to the monumental architecture in Kharkiv and the parks in the Mykolaiv region. Unfortunately, the war destroyed many of these special places.

Natalia Vlasenko's declaration of love to Ukraine


We are Ukraine!

I have never appreciated Ukraine and its courageous, freedom-loving people as much as I do now. We are fighting for our lives and our country, but also for the right to call ourselves a nation. We protect the Ukrainian language and culture and fight against Russian aggression and propaganda. We live in our country. We are independent. We are Ukraine.