With biting humor, the 20-year-old TikToker showed her perseverance in a bunker in Ukraine. The whole world was watching on social media. how is she today Valeria Shashenok in an interview with DW.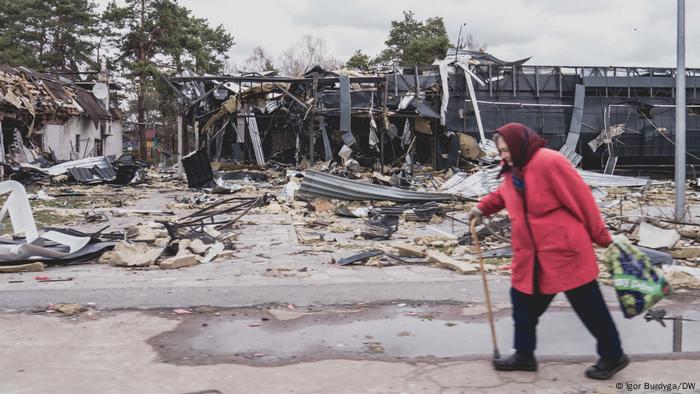 < p>Destruction and despair in Chernihiv (the photo shows a bombed supermarket on April 10, 2022)
The connection to Milan, Italy, is up. In a hoody that says "Future," Valeria Shashenok waves to the zoom camera. She came here a few weeks ago – an Italian family took her in. Before fleeing Ukraine, she hid with her parents in a basement in Chernihiv, a city in northern Ukraine near the borders with Belarus and Russia.
Fear and boredom
< p>"My mother came into my room (on February 24, editor's note) and just said: 'Valeria! A bomb fell in Kyiv and destroyed a building!'" says Valeria Shashenok. She and her parents reacted quickly: they packed up the most important things and went to their father's old basement office. At that time he ran a restaurant in the building, and only recently had he renovated the basement – there was a shower, toilets and even a fitness machine. Valeria spent 17 days there: "It was very boring," the 20-year-old remembers. Fortunately, she had WiFi and her cell phone with her.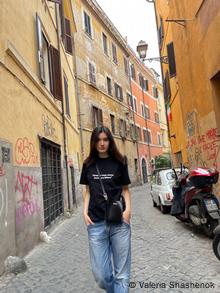 Valeria Shashenok found refuge in Italy, her parents stayed in Chernihiv
TikTok and the world outside
Valeria Shashenok is a digital native, Generation Z, who grew up on Instagram and TikTok. For them, social media was the window to the world, but now it was the other way around: the world now wanted to know what was happening in their country. At that time, there was a trend running on TikTok, "Things that just make sense in…", where people showed unusual things in their homes or cities that only made sense to them.
Valeria picked up the trend and showed everyday life in the basement. With biting humor, she showed things that make sense in a shelter. How to blow-dry your hair with a hot air blower, what breakfast looks like underground or how you can prepare traditional dishes like Syrniki without a kitchen. This was well received: the 20-year-old now has 1.1 million followers; her most successful video was clicked more than 48 million times.
The subtle, black humor not only plays a central role in Valeria's videos; Memes from Ukrainian channels have become popular during the war:
"I like black humor, it helps you get through absurd times," says Valeria. "Humour is part of our Ukrainian culture. People in Ukraine really believe that the war will end soon, that we will win, they want to remain optimistic, they have no choice." And so Valeria jokes that life in the basement also has positive sides: Due to the lack of cow's milk, they would have eaten very healthily with oat milk.
The humor is visible not only in the digital world, but also in the real world: billboards with the inscription "русский военный корабль иди нахуй" (translation: "Russian warship, f*** you") adorn the streets of some cities . This announcement goes back to the first days of the war, when the Ukrainian border guards stationed on the small island of Snakes were ordered to surrender by Russia.
Little Valeria with her mother in her hometown Chernihiv
Escape from the shelter
After 17 days in the shelter and the intensification of the Russian attacks, Valeria decides to flee – alone. Her parents stay in Chernihiv. She comes to Italy via Poland and Germany. She has been living with a family for a few weeks now.
She keeps in touch with friends and family at home: Valeria calls her parents every day – more with her mother, less with her father: "He's so nervous, he has nothing to do all day, yells at me on the phone, not because he wants to scold me, but because his nerves are at his wit's end. He's going crazy."
She is also in regular contact with Anton, a friend. He also wanted to flee, but he didn't succeed. A law prohibits men between the ages of 18 and 60 from leaving the country. Anton reported to the army and is on guard duty at a military unit, says Valeria.
At the end of March, she learned from her mother that her cousin was hit by a bomb and died as a result of the injuries: "What is Russia doing in my country, I ask myself that every day. Putin says he wants us protect us from the Ukrainian government. Please what? We had a perfect life, we don't want to be protected by Russia," says Valeria, who grew up speaking Russian herself.
The photo of Valeria Shashenok shows a destroyed residential building in Chernihiv
Plans for the future
Like all her compatriots, she hopes that the war will end soon. One day she wants to return: "I miss my country," she says. "When the war is over, I want to go back."
As of this week, Valeria Shashenok is on a reading tour: In the book "24. February … and the sky wasn't blue anymore" she summarizes her photos and experiences after the invasion of the Russian army.
"I dedicate the book to the Russians in the hope that they will understand what they did to us," she says. But she doesn't really believe in it. Some didn't want to understand it, others were afraid to speak out against it. But she wanted to continue – not just on TikTok and Instagram: Valeria Shashenok works with aid organizations from Tschernihiv and wants to collect money for the reconstruction of their city through their level of awareness.