For Europe, one of the priorities & egrave; that of decreasing dependence on China as regards batteries for electric cars, creating an all-European industrial chain. This is why the European Battery Innovation (EuBatIn) project was born, which involved Austria, Belgium, Croatia, Finland, France, Greece, Germany, Italy, Poland, Slovakia, Spain and Sweden and which is; been financed with 2.9 billion euros.
We already had some; talked about in the past and we have also seen that realities participate in Italy; such as ENEA and Istituto Bruno Kessler on the research front, as well as 12 companies: Endurance Spa, Enel X Srl, ENGITEC Technologies Spa, FIAMM Energy Technology, Fiat Chrysler Automobiles, Fluorsid Alkeemia Spa, FPT Industrial, Green Energy Storage Srl, Italmatch Chemicals Spa, Italy Srl, MIDAC Spa and Solvay.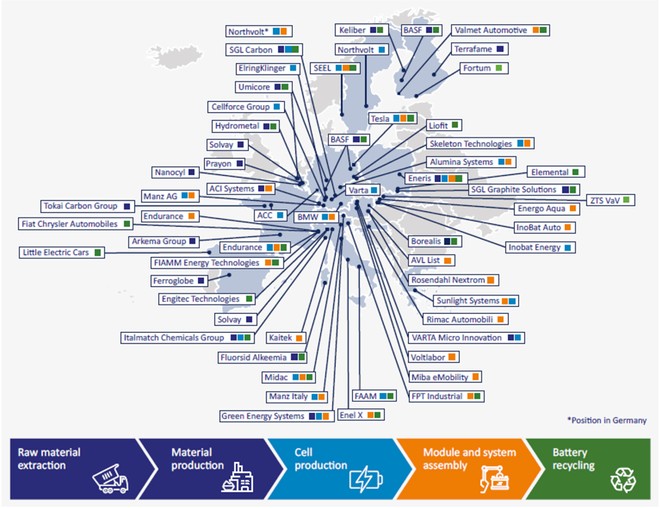 European Battery Innovation Project (EuBatIn)
And just ENEA (National Agency for New Technologies, Energy and Sustainable Economic Development) announced that its activities will start from this month of May; of research within this project, which will last 5 years.
THE ACTIVITIES
Specifically, ENEA, in collaboration with a multidisciplinary team of experts and researchers, will deal with; to develop solutions to be transferred to businesses with particular reference to durability, innovative and high-efficiency materials, the improvement of environmental, economic and safety performances and to optimize the value chain and sustainability, to the implementation of reuse procedures and methodologies and to recover materials end-of-life critics.
But it's not; everything, because & eacute; as part of the ENEA project & egrave; the construction within the ENEA Casaccia Research Center (Rome) of the Advanced Battery Laboratory (AB-Lab) . It is a laboratory that will serve; to provide a test bed to enterprises during the first industrial implementation phase.
In particular, inside this laboratory will be It is possible to carry out the entire production process: from the creation of new-concept batteries to the optimized management of the end of life, from the aspects related to the circular economy to advanced materials to the development of innovative electrodes, cells and modules, from recycling to disposal up to the closure of the cycle. For its realization, ENEA says, approximately 27 million euros will be invested.
L & rsquo; AB-Lab will supply; consultancy, analysis of materials, components and systems, macroscopic, microscopic or thermal images through computerized axial tomography and three-dimensional surveys. Furthermore, innovative skills and equipment can be used by the community; scientific and university students as well as by operators in the sector.
Therefore, this laboratory will do & agrave; as a bridge between activities; of research and industrial production , giving impetus to the technology transfer and industrialization of laboratory prototypes as explained by the ENEA project manager, Pier Paolo Prosini .
5G without compromise ? Oppo Reno 4 Z, buy it at the best price from eBay at 249 euros .