Relegation games are nerve-wracking enough. But Hertha BSC coach Felix Magath now also has to face his heart club, Hamburger SV – a difficult mission.
Felix Magath has some dramatic days ahead
Weeks ago he predicted a relegation duel between his club Hertha BSC and Hamburger SV. Nevertheless, coach Felix Magath traveled to Darmstadt for the second division game on Sunday, while his assistant coach Mark Fotheringham observed the HSV side. Both teams went into the last second division match day with the same number of points, but Hamburg had and kept the better goal difference. Since both teams won, Hertha now has to play against HSV to stay in the Bundesliga.
Did Magath have the wrong feeling or did he deliberately not watch the Hanseatic game? "I've seen HSV play many times this season, so nothing can surprise us," says Magath.
German champion and European Cup winner with HSV
After all, he knows the club very well: for ten years, from 1976 onwards, Magath celebrated his greatest success as a player-maker there until he retired in 1986. With HSV he celebrated the German championship three times and even won the European Cup twice. He then worked for two years as a manager with the North Germans and in this capacity celebrated the DFB Cup victory in 1987.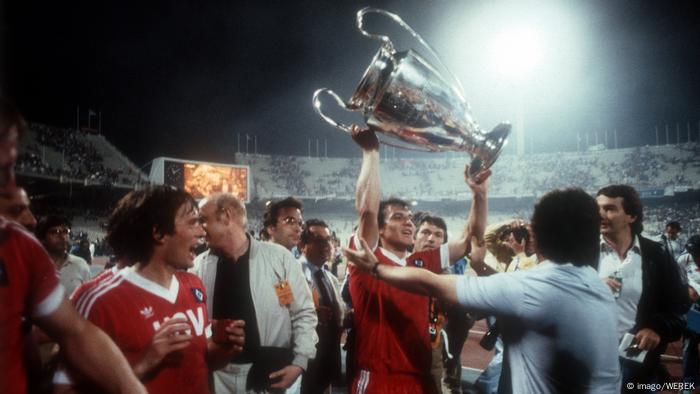 Felix Magath winning the European Cup in 1983
Magath returned to HSV five years later and initially took over the training of the second team. Two years later he was promoted back to first-team head coach and a year later guided the side to the UEFA Cup Round of 16. When some players complained about what they considered to be too hard training and poor communication with the coach and the club was also in a relegation battle, Magath was suspended in May 1997, two games before the end of the season.
25 years later, Magath works on the sidelines as a Hertha coach and tries to be optimistic: "The worst case scenario didn't happen. We managed to move up from 17th to 16th place. That's why we achieved our minimum goal and that avoid direct relegation", he summed up his two months in Berlin.
Hertha's traumatic relegation ten years ago
The problem: while at HSV the euphoria after reaching the relegation place is great, there is great frustration in Berlin. For the fans, but also for the players. "One or the other dropped their heads," reported Magath about the atmosphere in the dressing room. Many Hertha fans may still remember the last relegation ten years ago: After the 2-1 first leg against Fortuna Düsseldorf, the second leg, which was overshadowed by riots, ended in injury time at 2-2 with a rush by Düsseldorf fans. The referee declared the game over and was attacked by angry Hertha players. There were objections and negotiations before the DFB courts. Hertha were relegated.
Hopefully there won't be scenes like this again in the two games on May 19th and 23rd. However, it could still be a drama for Magath: Either his heart club has to spend at least another year in the second division or he and his team have to cope with relegation.