SteelSeries is relaunching the Aerox 3, which was released in 2020 and is based on the Rival 3 (test). Changes are rare in the standard version and are based on the newer Aerox 5, but what is new is a custom version that can be adapted in terms of color, cable, connectivity and mouse feet.
New edition goes with recent new ideas
When SteelSeries introduced the Aerox 5 and Aerox 9 about a month ago, new microswitches from TTC and mouse feet made of pure PTFE were included for the first time. The Aerox 3 is now also undergoing these two changes – probably for the purpose of standardization. The shooter mouse for fingertip grip players, which is now two grams heavier but still very light, again relies on PixArts PMW-3331 and a flexibly wrapped cable .
The IP54 certification of the perforated input device is also retained, although SteelSeries now also separately refers to the IP54-certified Golden Micro buttons. On paper, the lifespan of the mechanical switches is 80 million clicks. According to SteelSeries, unwanted double clicks are avoided; However, the manufacturer does not reveal exactly how this is done.
Custom edition with some options
A completely new feature is a custom version of the Aerox 3 that can be adapted via the SteelSeries website. Basically, interested parties can choose between the wired and wireless versions, and the colors black and white are still available. Meanwhile, violet, jade green and a transparent white are new.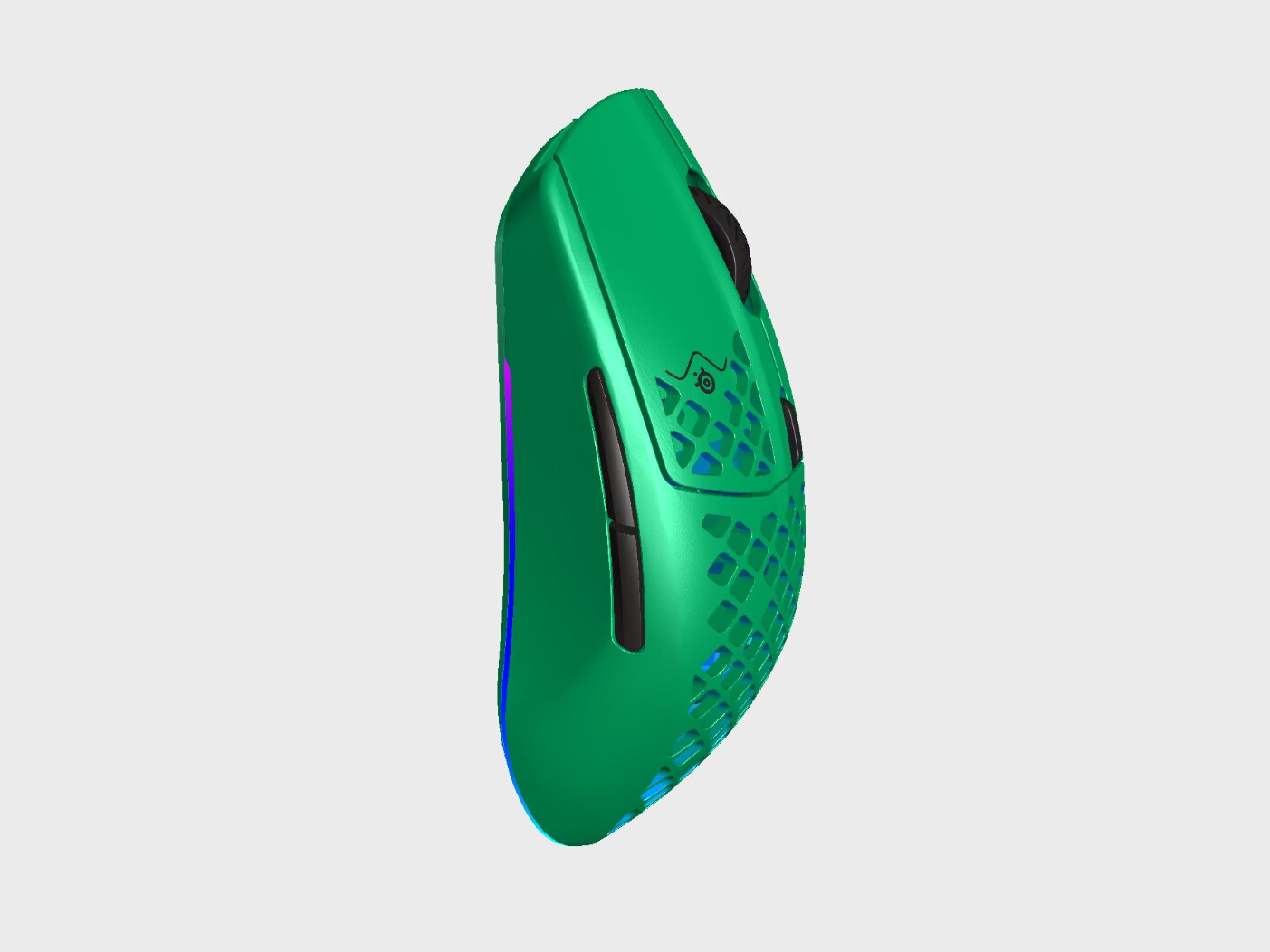 And there is also a choice of cable colour. Black, white, grey, orange, pink, violet, green and turquoise are available. In addition, buyers can choose between a cable length of 180 or 100 cm. As an alternative to the usual fabric wrapping, a more robust Kevlar wrapping is also available, but this is most likely associated with a loss of flexibility. Finally, the connection can also be changed: While the Aerox 3 always has a USB-C connection, you can choose between USB-A and USB-C at the other end of the cable. However, it is worth mentioning that some combinations are not possible.
The new edition already anticipates a possible adjustment to the mouse feet of the Aerox 3 Custom: In addition to the well-known black lacquered PTFE feet, SteelSeries now also offers sliding elements made of pure PTFE. In addition, extremely smooth ceramic mouse feet are available for a surcharge of 6 euros.
cheaper than the RRP available
Speaking of price: the suggested retail price for the Aerox 3 is still the same before 70 euros, in free trade and even in SteelSeries' Store costs the mouse but only around 50 euros. The new edition and the custom edition are available now.
SteelSeries Aerox 3 (2022 Edition) SteelSeries Aerox 3 SteelSeries Aerox 3 Wireless Ergonomics: Right-handed Sensor: PixArt PMW-3331
Optical PixArt PAW-3335
Optical Resolution: 200-8,500 CPI
5 levels 200-18,000 CPI
5 levels Speed: 7.6 m/s 10.2 m/s Acceleration: 343 m/s² 392 m/s² USB polling rate: 1,000 Hz Primary button: TTC Gold Micro, 80 million Clicks Zippy DF3, 60 million Clicks Number of Keys: 6
Top: 2
Left side: 2 special keys: mouse wheel
cpi switch software: fully programmable
Macro recording
Internal memory Lighting: Color: RGB, 3 addressable zones
Modes: Breathing, Waves, Color Loop
Reactive Body: 121×67×38mm
Hard Plastic
Sliding Feet: PTFE (Pure) 121×67×38mm
Hard Plastic
Sliding Feet: PTFE- Base (painted) 121 × 67 × 38 mm
Hard plastic
Sliding feet: PTFE (pure) Weight: 59 grams (without cable) 57 grams (without cable) 66 grams (without cable) Connection: USB A to USB-C cable, 1.80m, braided USB-A cable, 1.80m, braided USB-A to USB-C cable, 1.80m, braided
Radio: 2.4 GHz
Bluetooth
proprietary battery, 200 hrs runtime
Charging: cable Price: from €48 from €55 from €90