Media professionals around the world are increasingly exposed to violence. Shirin Abu Akle, a journalist with Al-Jazeera, was shot dead on Wednesday while working. Not an isolated case.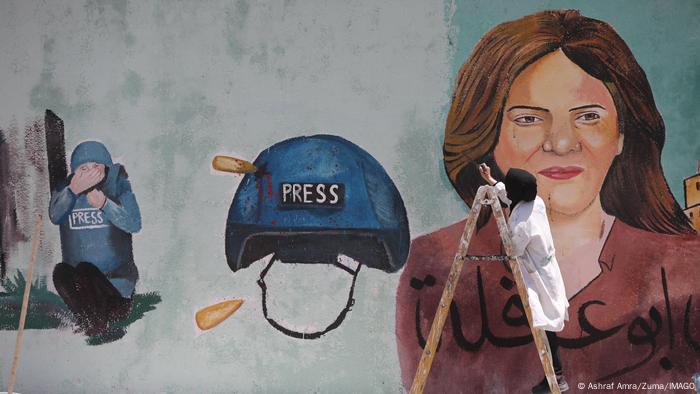 Mourning Shirin Abu Akle: Murals in Gaza City
According to experts, media professionals worldwide are increasingly exposed to dangers, including death. The most recent shocking example: Shirin Abu Akle, a journalist with the Qatari news channel Al-Jazeera, was shot dead on Wednesday while she was working. A colleague of hers was shot in the back, according to Al-Jazeera. The circumstances are unclear.
According to the International Press Institute, Abu Akle's death is the 28th murder of a journalist this year alone. The professional group is suffering from "increasing attacks all over the world, including crisis areas," says Scott Griffen, deputy director of the "International Press Institute" based in the Austrian capital Vienna. In 2021, the organization counted 45 homicides. Since the beginning of 2022, it has recorded an increase in violent attacks against press representatives.
What protection is there for journalists?
Griffen makes it clear that human rights naturally also apply to journalists. "They – like civilians – are never legitimate targets in a conflict, an attack on members of the press is always a violation of international law and those responsible must be held accountable." Pauline Ades-Mevel, spokeswoman for Reporters Without Borders, an organization that campaigns for journalists around the world, adds: "We condemn the killing of Shirin Abu Akles because part of the Geneva Convention is being violated here, as is Resolution 2022 of the UN Security Council to protect journalists."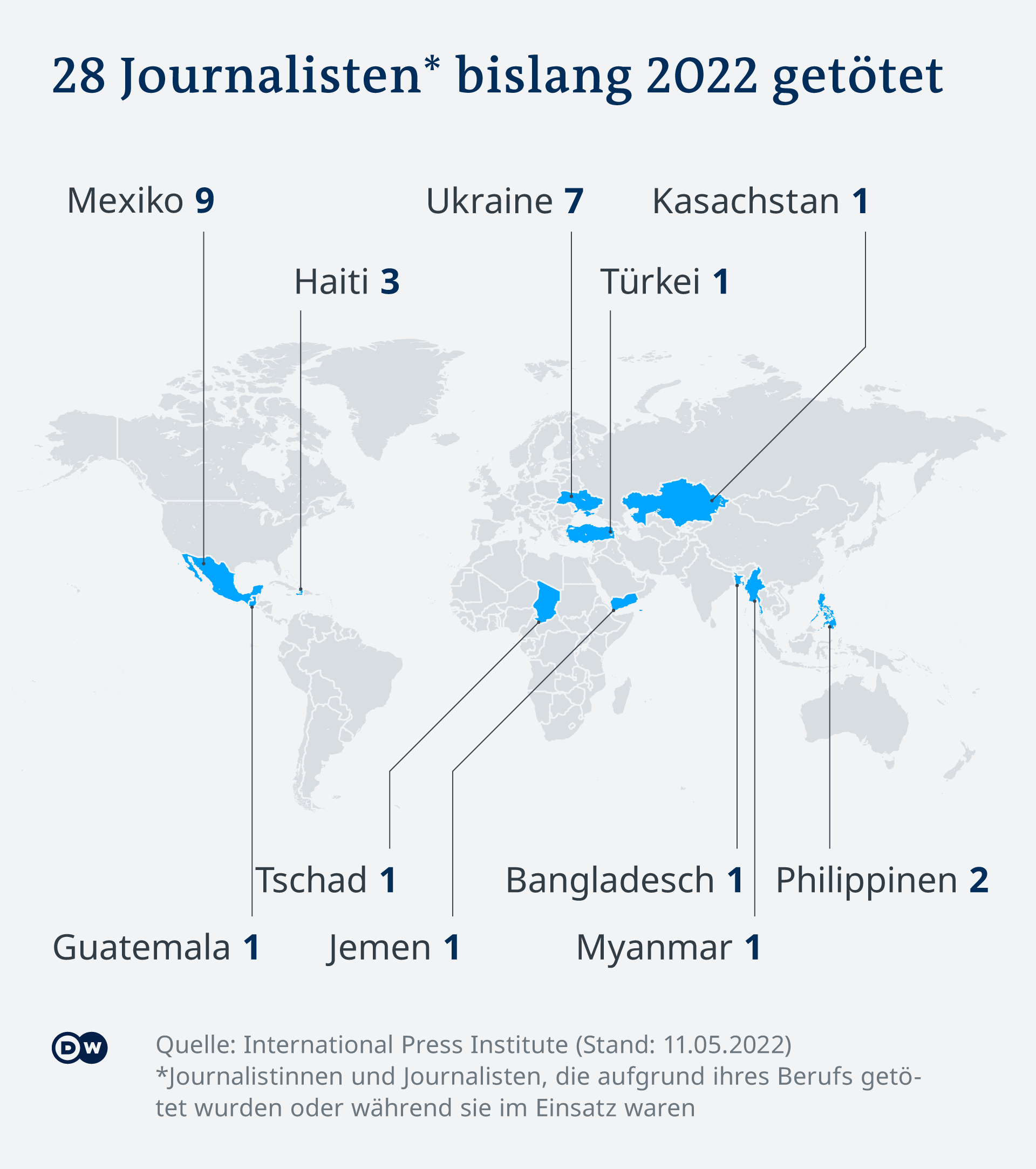 Various UN institutions have already passed resolutions and treaties to protect members of the press, such as the International Covenant on Civil and Political Rights, which came into force in 1976. But whether an attack on a journalist will actually lead to prosecution is another question.
End impunity
The most important thing to stop violence against media workers end, would be consistent enlightenment. "It sounds simple," says Griffen, "but we know that in about 90 percent of all cases, those responsible are not caught. This leads to a vicious circle of violence, a circle of impunity where those responsible feel like they can get away -&nbsp ;so almost an invitation for further actions".
Crimes are prosecuted at national level, but also by the International Criminal Court. "International pressure is important if the judiciary does not act," said Ades-Mevel. "International pressure can raise awareness of the issue worldwide and force other states to act." However, according to Griffen, the pressure must be maintained in the long term – "otherwise it's all just talk".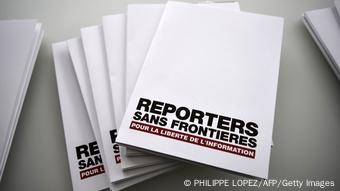 In its regular reports, "Reporters Without Borders" draws attention to violence against media workers
Since Russia's invasion of Ukraine, media freedom in the region has declined significantly and violence against journalists has increased. "The situation in Ukraine is worrying," said Ades-Mevel from "Reporters Without Borders". The organization assumes that six of the seven journalists killed so far in the war were "deliberately targeted by Russian military forces" – the victims were international, Ukrainian and Russian journalists.
Griffen also opens at the same time the situation in Mexico carefully. Journalists are killed particularly frequently in the Central American country – eleven so far in 2022 alone. That is "shocking" and a "bloodbath against journalists". Many homicides are centered around reporting on drug cartels. "It is unacceptable that the Mexican authorities are not getting this under control".
How can journalists protect themselves?
Media professionals must try to protect themselves, for example through training and briefings, especially when they work in conflict areas. Media houses would have to provide the means to carry out appropriate training measures. "In Ukraine, for example, media workers have to be equipped with helmets and bulletproof vests," says Ades-Mevel, pointing out that "Reporters Without Borders" also provides exactly this equipment.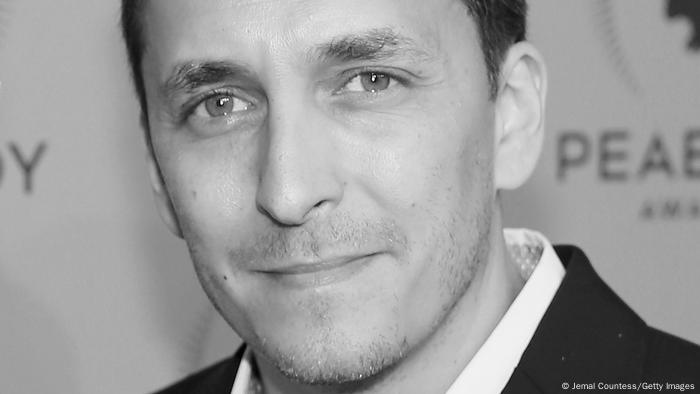 US journalist Brent Renaud was killed in Ukraine in March
Unfortunately, that probably didn't protect Abu Akle adequately – according to her broadcaster Al-Jazeera, she was wearing both a protective helmet and a bulletproof vest when the fatal attack occurred. "She was an icon, a very famous journalist," says Ades-Mevel. "She is a symbol for journalists worldwide – not just in the Middle East, but everywhere. The entire media world is mourning."
Editor: Stephanie Burnett
Friedel Taube translated this text from English Translated.
Mourning for Al-Jazeera -Reporter Schirin Abu Akle


A seasoned reporter

Shirin Abu Akle has worked for the Qatari news channel Al-Jazeera for more than 25 years. A Christian Palestinian herself, she lived and worked in East Jerusalem. As a journalist, she dealt primarily with the Middle East conflict between Palestinians and Israelis. She had often reported from critical situations, but was considered level-headed and cautious.

Mourning for Al Jazeera reporter Shirin Abu Akle


Killed in action

On the morning of May 11, 2022, Abu Akle and three colleagues wanted to report on an operation by the Israeli military against suspected terrorists in Jenin in the West Bank. As video recordings show, all four wore helmets and protective vests, which identified them as reporters. Still, a bullet hit Abu Akle in the head. It is not yet clear who fired it and for what purpose.

Mourning for Al Jazeera reporter Shirin Abu Akle


Exact circumstances unclear

A local hospital was only able to confirm Abu Akle's death. According to Palestinian doctors, the deadly projectile came from a cartridge used by both sides. The Palestinians have so far rejected Israel's proposal for joint investigations.

Mourning for Al Jazeera reporter Shirin Abu Akle < h2>Blame at commemoration

The day after the fatal shot, thousands gathered in Ramallah for an official memorial service for the journalist who was killed. Palestinian President Abbas called her death a "crime" and blamed it on the "Israeli occupation authorities." Israel denied the allegation.

Mourning for Al-Jazeera -Reporter Shirin Abu Akle


Mourning in Many Countries

Abu Akle was recognized far beyond Israel and the Palestinian Territories. According to the New York Times, she was one of the best-known journalists in the Arab world and inspired many people, especially women, to take up this profession. Like this Lebanese journalist, people in numerous other Arab countries mourned the reporter.

Mourning for Al Jazeera reporter Shirin Abu Akle


Death of a pioneer

Born in Jerusalem, Shirin Abu Akle lived for a time in the USA. She was able to acquire US citizenship through family members. Shortly after Al-Jazeera was founded in 1996, she became one of the channel's first reporters.

Mourning for Al Jazeera reporter Shirin Abu Akle < h2>Unrest before the funeral

This Friday, Shirin Abu Akle will be buried in a Christian Orthodox cemetery near the Old City of Jerusalem. As her body is carried out of the hospital in a coffin, violence erupts between Israeli security forces and grieving Palestinians. Both sides accuse the other of provoking and escalating.

Mourning for Al Jazeera reporter Shirin Abu Akle


Press freedom under fire

This artistic homage to Shirin Abu Akle in Gaza City also symbolizes the danger that many journalists are willing to accept. According to Reporters Without Borders, Shirin Abu Akle is the 26th journalist to be killed this year because of or at work, plus two media workers. In 2021, 44 media workers worldwide were killed in the exercise of their profession.