Ookla Speedtest shows map
The maps of the Speedtest app give you a more realistic picture of what speed you can expect. You can see where the coverage of 5G is not so good and where you are dependent on 4G/LTE or even 2G/3G, if your provider still supports it. Ookla says the app can be used in three ways: to see if your vacation destination has good 5G coverage, if you're having connectivity issues where you currently live, and if you're planning to switch provider. exchange and want to know if there is good coverage in your area.
That holiday story is a bit undermined by the fact that you only get to see the coverage of your Dutch provider. If you want to go on holiday to Germany, you will already have to be in the country itself. You can tap at the bottom of the screen to go from your own provider to a list of other (Dutch) providers, for example KPN or Ziggo. However, the app can come in handy if you want to prove to your provider that you really don't have good coverage, so you might be able to get rid of your current contract, or get your provider to improve coverage in your area.
To give an impression: these are the values ​​we measured with T-Mobile and Vodafone near the Apple Store in Amsterdam.
These are the measurements at T-Mobile:

And these are the measurements at Vodafone: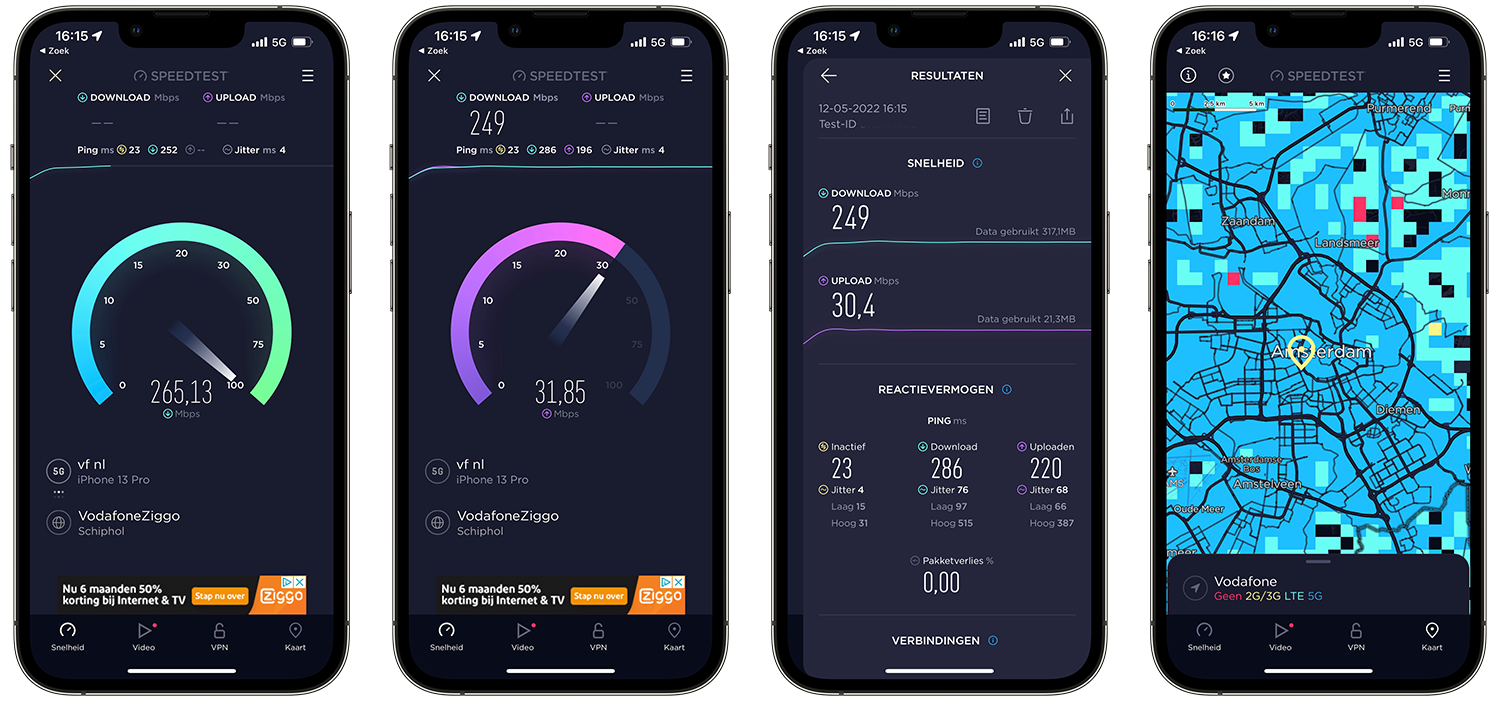 Better latency values
p>It is also interesting to see which networks are used the most. For example, Amsterdam is almost completely blue (5G) for the three major Dutch providers when it comes to the fastest connection. But if you look at the most used, you will see that green (4G) is still the most dominant connection. This is undoubtedly because by no means everyone has a 5G device and because devices do not always need 5G speeds and then fall back to 4G.
There is even more improvement in this app. To better measure the latency, the app now shows three values: Idle Ping, Download Ping and Upload Ping. The first value shows the latency when your network is not in use, the other two during upload and download respectively.
You can read more about checking the speed of your provider in our tip.