Once again, the rumors are growing that world footballer Robert Lewandowski wants to leave the German serial champion Bayern Munich – possibly in the direction of Barcelona.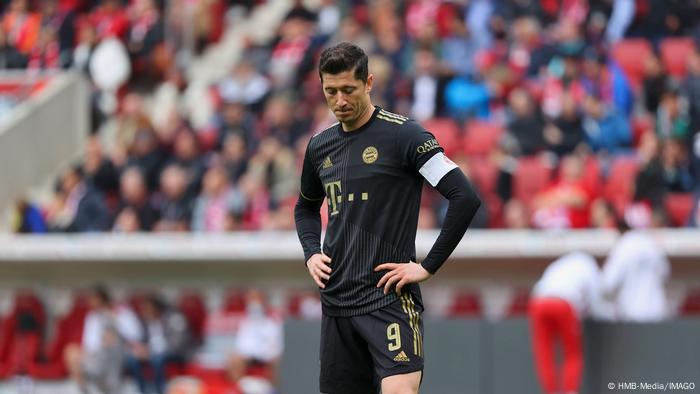 Robert Lewandowski is already wearing in a different jersey next season?
Robert Lewandowski definitely wants to leave German champions FC Bayern Munich this summer. As the magazine "Kicker" reports, the world footballer is said to have not only informed the club bosses that he does not want to extend his contract, which expires in 2023. The striker reportedly no longer wants to play for the German record champions after this season. The Pole may be leaving after twelve years – from 2010 to 2014 he was chasing goals for Borussia Dortmund, since then for Bayern – also leaving the Bundesliga: According to Spanish media reports, FC Barcelona is said to have offered the 33-year-old a three-year contract have.
Lewandowski on Barça?
The financially hit Spanish traditional club just took 20 million euros for the sale of the Brazilian Philippe Coutinho to the Premier League club Aston Villa. More money could flow to Barça if Manchester United sign Dutchman Frenkie de Jong from the Catalans. But signing Lewandowski would be expensive, not only because of the term and the salary for the two-time world footballer.
A transfer fee for Bayern would also be due, around 40 million euros are in the room for the Pole, who celebrates his 34th birthday in August. The "Bild" newspaper reported on Thursday that Lewandowski did not want to extend his contract with FC Bayern. He informed those responsible for the club last week.
Wooed for Haaland
According to information from the TV broadcaster "Sport1", Bayern Lewandowski has not yet submitted a contract offer that is ready for signature. A new one-year contract like the recent one for Thomas Müller would be unacceptable for the star striker, who is clearly leading the scorer list again this Bundesliga season. He also wanted to play somewhere else again, it was said. In recent years there has been repeated speculation that Lewandowski would be drawn to one of the other top European clubs, such as Real Madrid.
Bayern sports director Hasan Salihamidzic had ruled out a premature farewell to the attacker this summer in an interview with the "Bild" newspaper. After his contract expires, however, Lewandowski could go on a free transfer in 2023, which would not necessarily be in Munich's interest either. Allegedly, Bayern had advertised Dortmund's Norwegian star striker Erling Haaland as a possible Lewandowski replacement. However, it was Manchester City that won the race for the 21-year-old top talent.
sn/asz (dpa, sid)
Robert Lewandowski – accurate in all colors


Don't feel like going to Munich anymore?

Is Robert Lewandowski drawn to new shores at the end of his career? According to media reports, the exceptional Polish striker does not want to extend his contract with FC Bayern. He would then be free of charge in 2023 and therefore a candidate for sale with immediate effect. FC Barcelona is mentioned again and again as the new address.

Robert Lewandowski – accurate in all colors


Bayern striker

Lewandowski has been under contract with Bayern since 2014 and has become an institution of the club and the Bundesliga in the Munich jersey. With over 300 goals, he is the second-best Bundesliga goalscorer of all time and has collected numerous titles, awards and records. But he started his football career – very unglamorously – in the third Polish league at Znicz Pruszkow club.

Robert Lewandowski – accurate in all colors


Star at Lech Poznan

After becoming top scorer in the second Polish league, Lewandowski moved to the Polish Ekstraklasa to Lech Poznan in 2008 and led the team to the championship a year later . International scouts will soon notice him as well.

Robert Lewandowski – accurate in all colors


Dortmund as a gateway to German dominance

Lewandowski spent four seasons at BVB, in which he led the Black and Yellows, then coached by Jürgen Klopp, to two championship titles. In the 2011/12 season he wins the double and reaches the final of the Champions League. In his last season in Dortmund, he was top scorer in the Bundesliga for the first time.

Robert Lewandowski – accurate in all suits


Magical years in Munich

After moving to Bayern Munich on a free transfer in 2014, Lewandowski really got going: In his first season he scored 25 goals in the Bundesliga and won the first of eight championships in a row. In 2020 he won the treble with Munich and became top scorer in all three competitions.

Robert Lewandowski – accurate in all colors


Better than Gerd Müller

On May 22, 2021, Lewandowski bettered Gerd Müller's record for most goals in a Bundesliga season. His 5-2 goal against Augsburg is his 41st of the season – it didn't come until the 90th minute. Lewandowski also wins the Golden Boot as Europe's top scorer for the first time in 2021. FIFA named him World Footballer of the Year in 2021 and 2022.

Robert Lewandowski – accurate in all colors of


Poland Record scorer

Lewandowski's top stats at club are also in line with his performances with the Polish national team. Since making his debut in 2008, he has made 129 appearances, scoring 75 goals for his country, and is now captain of Poland. In 2018 he qualified with the "Bialo-Czerwoni", the white-red, for the World Cup in Russia.