TV reporter Shirin Abu Akle was shot dead during clashes between Israel's military and Palestinians. A bitter argument rages over who is responsible for her death.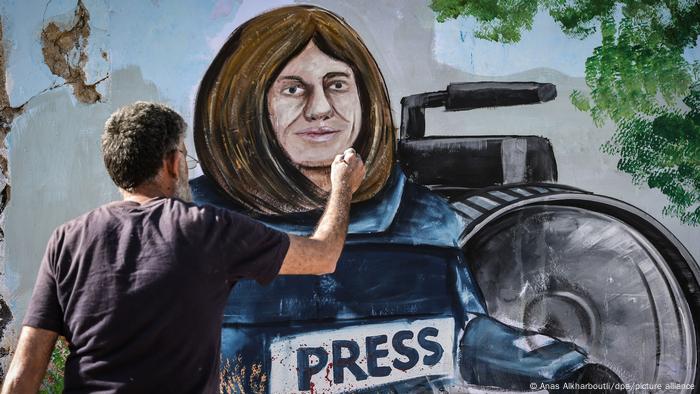 Mural of the killed Al- Jazeera journalist Shirin Abu Akle
Shirin Abu Akle was only 51 years old. The veteran reporter for TV channel Al-Jazeera was shot dead on Wednesday morning in Jenin in the West Bank, a city believed to be a stronghold of militant Palestinians. Abu Akle wanted to report there on a raid by the Israeli military. She wore a helmet and body armor that clearly identified her as a representative of the press.
The Israeli government and the Palestinian Authority agree that her death is a tragedy. But this is where the unity ends. In the past few days, there have been fierce allegations against the Israeli government, both from the Palestinian side and from the headquarters of al-Jazeera in Qatar. At a memorial service in Ramallah on Thursday, Palestinian President Abbas said: "We hold the Israeli occupation authorities fully responsible for the murder and it will not be possible to hide the truth about this crime."
Palestinian President Mahmoud Abbas (centre) on Thursday at the official funeral service in Ramallah
Israeli Prime Minister Naftali Bennett had already dismissed allegations of this kind the previous day: 'Based on the initial information we have, there is a high probability that the journalist was shot dead by armed Palestinians. To find out the truth, there must be a proper investigation."
No joint investigation
The Palestinian Authority, however, rejects a joint investigation with Israeli authorities because of "lack of trust" and instead wants to turn to the International Criminal Court, it said. The Palestinian Authority also refuses to hand over the bullet that shot Abu Akle to Israel for forensic examination. As the Israeli newspaper Haaretz reports, Abu Akle was apparently killed by a 5.56 millimeter bullet, probably fired from an M16 rifle. The newspaper goes on to say that such weapons are used by both the Israeli army and Palestinian militants.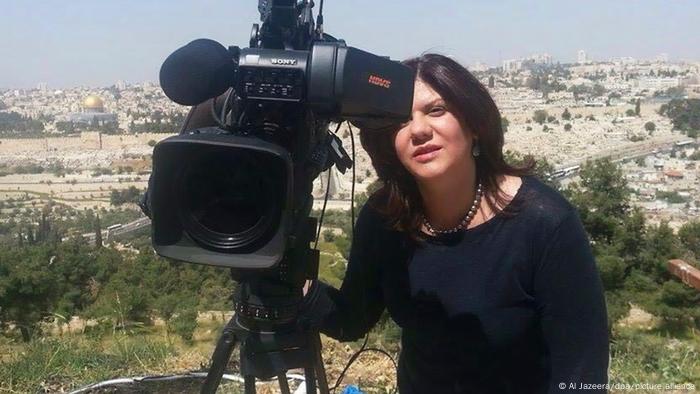 Shirin Abu Akle at work (undated archive image)
Abu Akle was accompanied by several journalists, including a Palestinian reporter, Ali Al-Samoudi, who was shot. He makes serious allegations against the Israeli army, saying that there were no Palestinian fighters around when the journalists were shot at. Al-Samoudi told Al-Jazeera TV: "We were going to film an Israeli military operation and suddenly we were shot at without being asked to leave the area or stop filming."
< h2>Contradictory representations
The Israeli military disagrees with this account. According to a statement published on Twitter, the operation in Jenin was an anti-terrorist operation and the soldiers came under heavy fire from armed Palestinians. And further: "The Israeli army never intentionally targets persons who are not involved in combat. We respect freedom of the press and the right to integrity."
On Wednesday, just hours after Abu Akle's death, the Israeli Foreign Ministry released a video clip suggesting that Palestinians fired the fatal shot. The ministry tweeted: "This morning in Jenin, terrorists could be heard saying, 'They got you, they got a soldier, he's down.' But no IDF soldier was injured. Palestinians shooting indiscriminately may have hit al-Jazeera journalist Abu Akle." Several Israeli embassies, including those in the US and Germany, translated and published the tweet as well.
The anti-government Israeli non-governmental organization B'Tselem has examined the video and claims to have recognized that the video released by the Israeli Ministry of Foreign Affairs shows a scene that took place too far from where Abu Akle was shot.
< p>B'Tselem's Dror Sadot told DW that the organization determined the exact GPS data of the armed man and the crime scene: "We have video footage from both locations and we can show that it's not one and the same incident can act." Of course, that still doesn't explain who shot Shirin Abu Akle instead.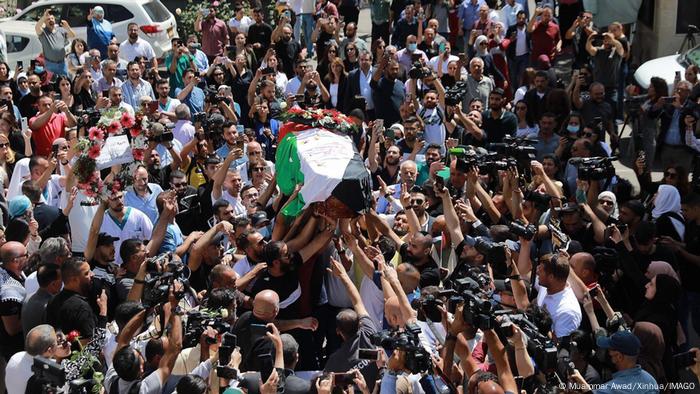 Funeral march for Shirin Abu Akle on Thursday in Jerusalem
In a statement published on Friday afternoon, the Israeli military says it has not yet been possible to clarify the matter conclusively. There are two possibilities, it says: either armed Palestinians accidentally shot them while firing at Israeli soldiers. Or the Israeli military accidentally hit them while firing at a gunman nearby.