Expensive cases either try to draw attention to themselves with an eye-catching design or special materials. The newcomer Geometric Future chooses the second variant: Depending on the model, the E-ATX case Model 8 can be purchased with leather strips that are used as decorative elements.
At its core, the Model 8 is a simple box with two glass side windows. Other parts of the case are made of aluminum, the body is made of steel. The manufacturer advertises with a special material thickness of two or one millimeters – but common in the premium segment. What the Model 8 looks like depends on the design variant. As "Dharma" the front and side accents are silver, the "Lohan" is black except for a yellow LED ring, the "Celluloid" uses blue and yellow surfaces to break up its dark base tone. The "CowBoy" becomes eccentric, where the accent surfaces are provided with brown leather.
Also unusual in structure
The manufacturer also takes an unusual approach to the layout: it is rotated 90 degrees so that the mainboard and graphics card connections point to the top. They are covered by a screen, and cables are routed out of the tower to the rear. In front of the main circuit board, directly behind the front, is the power supply unit, which draws fresh air from the interior and releases it upwards. Hard drives sit behind the mainboard on brackets for the 2.5″ and 3.5″ form factor. Four trays are included, two can be bought later.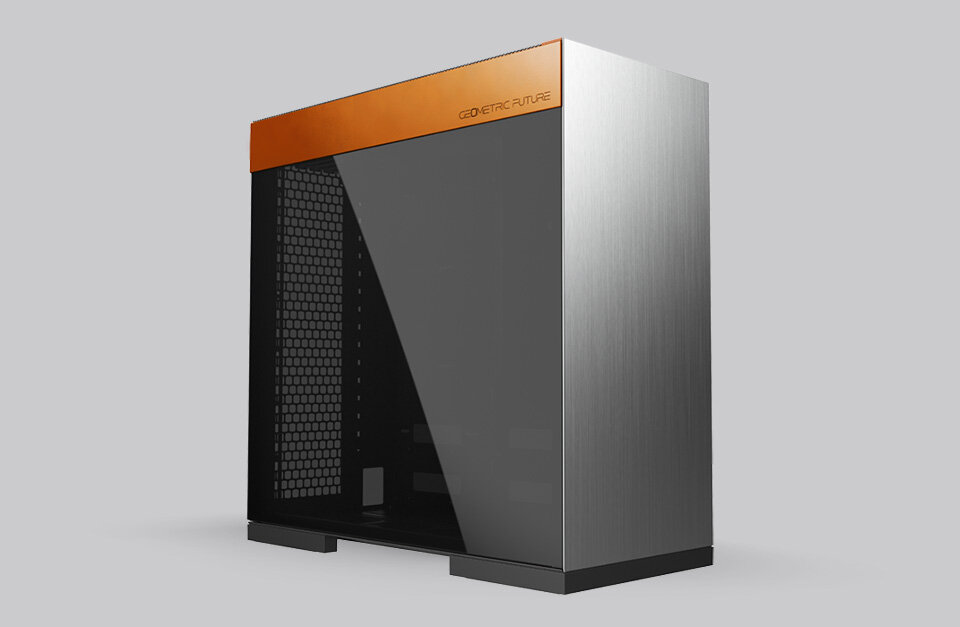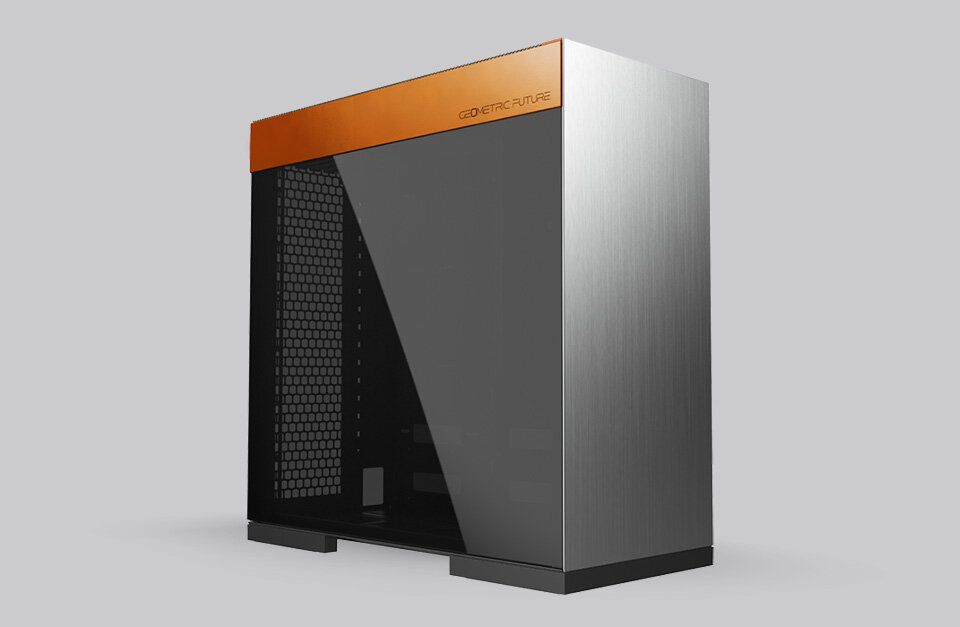 The unusual arrangement of the components allows fans and radiators to be placed on the bottom and rear. There is room for three fans (120 or 140 mm) or a correspondingly large heat exchanger. A 120mm fan can also be placed on top of the Model 8.
First test positive
The cases are currently being sold in four different designs on the Amazon marketplace . The price is between around 180 and 200 euros. A first test report by KitGuru confirms that there is substance behind it. Properly configured, the case can convince there.
Geometric Future Model 8 Dharma Mainboard format: E-ATX, ATX, Micro-ATX Chassis (L × W × H): 500 × 230 × 500 mm (57.50 liters )
Side window Material: steel, aluminum, glass Net weight: ? I/O ports: 1 × USB 3.1 (USB 3.2 Gen 2) Type C, 2 × USB 3.0 (USB 3.2 Gen 1), 2 × USB 2.0, HD audio slots: 4 × 3.5″/2.5″. ; (internal) expansion slots: 7 fans: rear: 3 × 140/120 mm (optional)
top: 1 × 120 mm (optional)
bottom: 3 × 140/120 mm (optional) dust filter: bottom compatibility: CPU cooler: 170 mm
GPU: 400 mm
Power supply unit: 220 mm Price: from €200/from €180/from €200