The Xperia 1 IV will be available from mid-June as Sony's new top-of-the-range smartphone. For the first time, a manufacturer has installed a real zoom lens in a smartphone that offers a variably adjustable focal length of 85 to 125 mm without having to digitally zoom in between. The new technology has its price: 1,399 euros.
So-called zoom lenses in smartphones have so far only been installed as fixed focal lengths between which the camera's algorithms carry out a digital zoom. This can either be between a wide-angle and a single telephoto or between two telephoto lenses. A Samsung Galaxy S22 Ultra (test) offers, for example, cameras with a focal length of 69 and 230 mm for the long range. In this case, if you want to use magnification in the intermediate range, you must digitally enlarge it with the 69 mm lens up to 229 mm.
As early as last year, Sony made initial efforts to cover two focal lengths with just one camera. On the Xperia 1 III, the telephoto's aperture can be adjusted to f/2.3 or f/2.8 to get 70 and 105mm primes with the same camera. However, you still had to digitally zoom between these two values.
Xperia 1 IV zooms optically from 85 to 125 mm
< p class="p text-width">The Xperia 1 IV is now the world's first smartphone to use a true zoom lens that can be freely adjusted between 85 and 125mm. For the movable optics, Sony relies on the so-called periscope structure, because the movable lenses are tilted to the side in the chassis and the incident light is deflected via a prism. For the image quality, it should not matter whether you work with 85, 97, 102 or other focal lengths in the range mentioned, since optical magnification is always used. As with the Xperia 1 III, the aperture varies between f/2.3 (85mm) and f/2.8 (125mm). Sony has again worked with Zeiss to calibrate the lenses of all cameras and their anti-reflective coating.
Each of the three cameras offers 12 megapixels
Sony continues to use digital zoom between the focal lengths of the 16mm ultra wide-angle camera and the 24mm wide-angle camera, in the range of 25 to 84 mm and 126 to 375 mm. The manufacturer also promises to be able to switch between all cameras without recognizable transitions or jumps, for example when recording videos. Sony again uses three of its own Exmor RS sensors, each with 12 megapixels, but they have different sizes. The primary camera is 1/1.7″, the ultra wide-angle camera is 1/2.5″. and the tele only to 1/3.5″. A time-of-flight sensor is installed as the fourth "sensor", which collects depth information for portrait shots even in poor lighting conditions.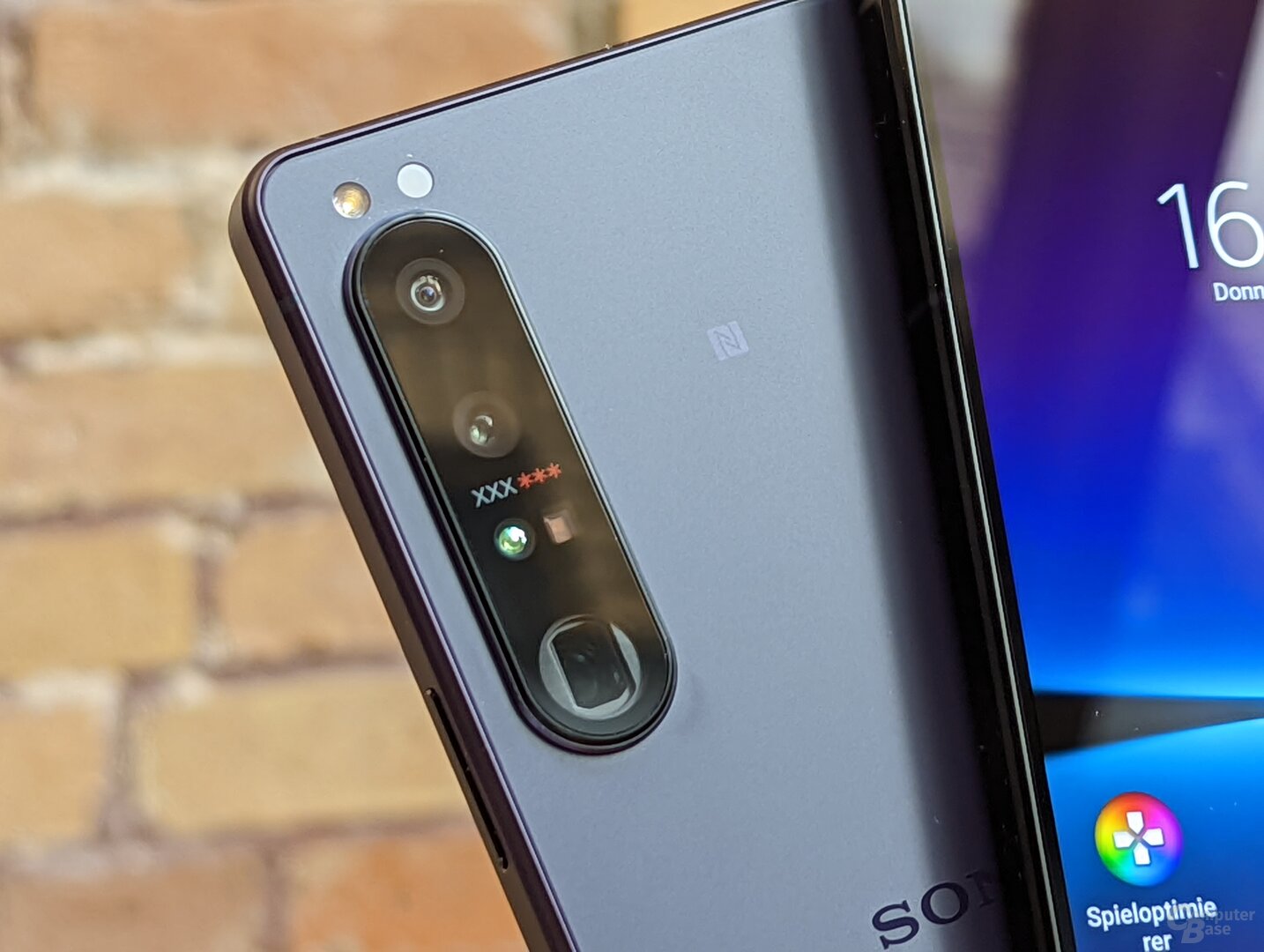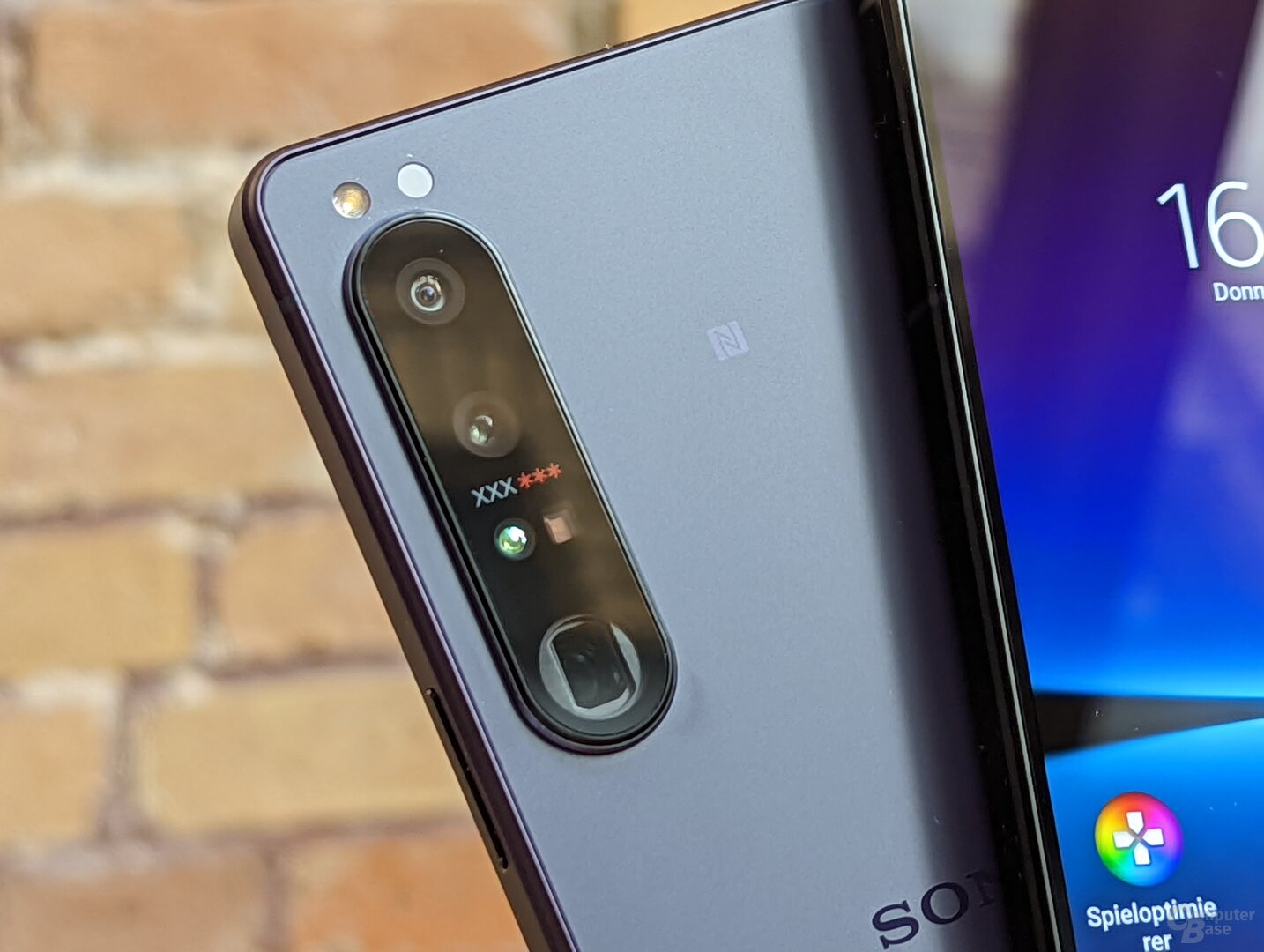 Video recordings in 4K120 HDR
Despite these different sensor sizes, Sony is committed to offering the same capabilities with each sensor. For photos, for example, this includes the burst mode with 20 frames per second including 60 calculations (3 per frame) for autofocus (AF) and exposure (AE). Sony's eye recognition (Eye-AF), which works for humans and animals, is used again. In addition, Sony enables video recording in up to 4K with 120 FPS and HDR on all cameras. In the normal camera app, the smartphone stops at 4K30, but additional settings are available in the Video Pro app. The 4K120 mode can be used for smooth recording or a 5x slow motion when reduced to 24 FPS.
4K video also for the front camera< /h3>
The front camera has also been upgraded, which now has 12 instead of 8 megapixels on a 1/2.9" instead of only 1/4" large sensor offers. For the first time, the smartphone also supports 4K video recordings including HDR (30 FPS) on the front. Sony again accommodates the camera in the frame of the display and is one of the last manufacturers to do without a notch or recess in the screen. Sony uses the symmetrical edges again to accommodate a status LED and two identical, front-facing stereo speakers, which are said to be better than the Xperia 1 III over the entire frequency spectrum, but especially in the low frequency range.
< figure class="text-asset text-asset--with-border-bottom text-width">
Sony Xperia 1 IV
Image 1 of 5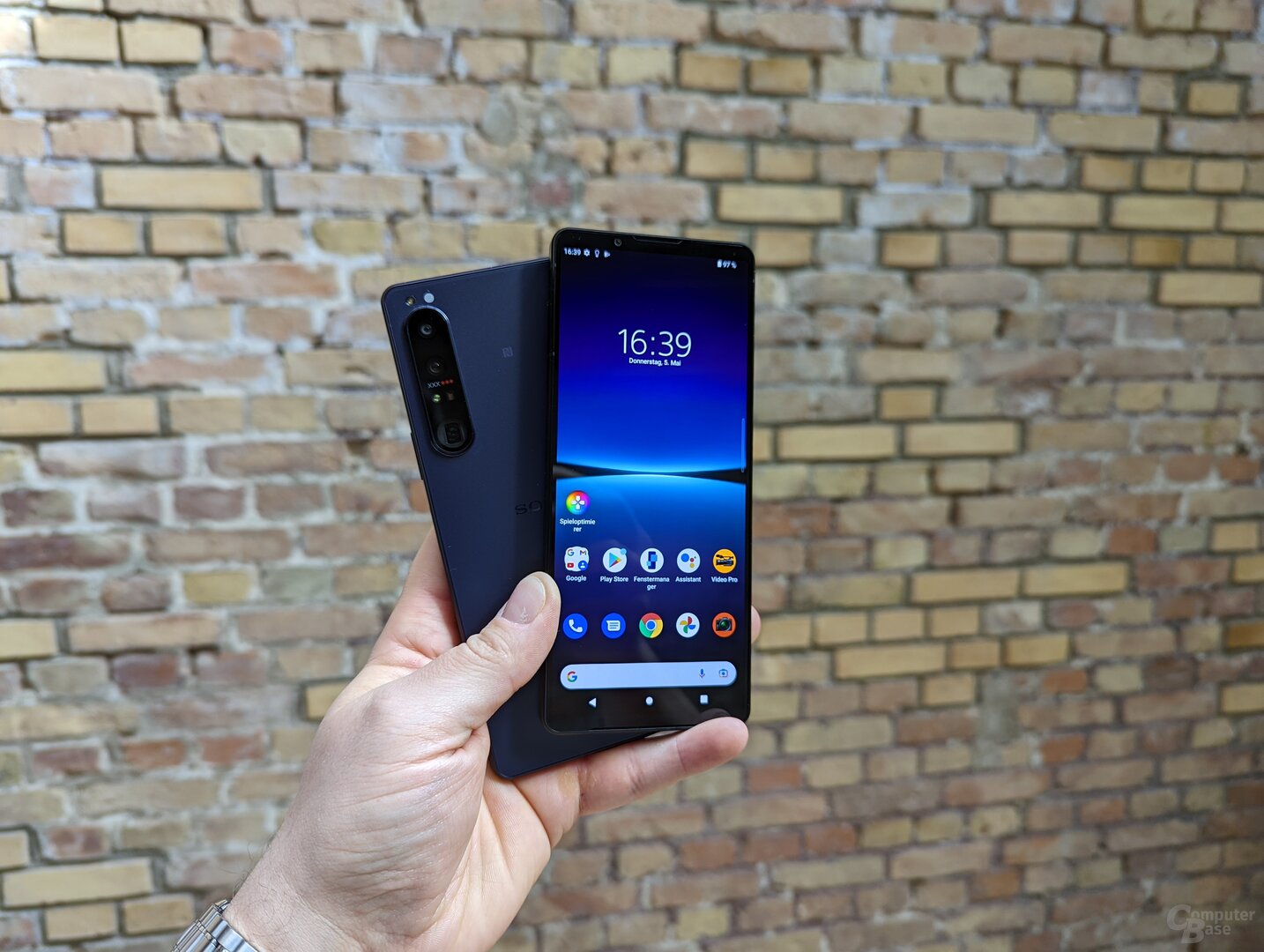 Sound recordings are optimized in the cloud
Speaking of sound: The Xperia 1 IV should also enable better sound recordings via the lower microphone than the quality you are normally used to from smartphones. With "Music Pro", Sony now also offers a professional audio editing app to go with the Photo and Video Pro app. However, the better quality is not generated directly on the smartphone, but via a fee-based service from Sony in the cloud. The app itself works without a subscription, but if you want to record instruments and vocals in better quality, you have to pay just under 5 euros a month. Sony promises to be able to use AI to emulate its own C-800G condenser microphone, which costs around 10,000 euros, and an official "Sony Music Entertainment Studio" in the cloud – doubts are justified.
OLED display in 21:9 format
The visual part is handled by a 6.5-inch OLED screen in 21:9 format with the matching 4K resolution of 3,840 × 1,644 pixels. Again, the panel can operate at up to 120 Hz and offers a touch sample rate of 240 Hz. This year the display is said to offer a 50 percent increase in brightness, which would mean 840 cd/m² this time compared to 560 cd/m² last year. The peak brightness should reach up to 1,000 cd/m² in small image areas, as Sony explained in a preliminary talk.
Bravia Core starts for smartphones
Appropriate content can be provided, among other things, by its own streaming service, Bravia Core, which Sony is expanding to include smartphones with the Xperia 1 IV. Bravia Core offers films from its own studio in 4K and HDR with a particularly high data rate of 80 Mbit/s, which should improve the quality. However, Sony has reduced the bit rate to 40 Mbit/s especially for smartphones. Bravia Core comes with the Xperia 1 IV for free for a year and five films can be downloaded for free and watched offline permanently even after this free period. There are no prices for Bravia Core yet, because the young service has so far been offered for 12 or 24 months with 5 or 10 films bundled with televisions. The various free periods can be added up when purchasing multiple products, Sony explained.
Snapdragon 8 Gen 1, 12 GB RAM, 256 GB
The Xperia 1 IV is powered by the Snapdragon 8 Gen 1 from Qualcomm, which Sony combines with 12 GB LPDDR5 and 256 GB UFS 3.1, which can be expanded by up to 1 TB using a microSD card. In the European model, there is space in the SIM slot for a nano-SIM and the microSD card, and another SIM can be stored on the integrated eSIM.
Battery grows to 5,000 mAh
Although the smartphone remains the same dimensions at 71.0 × 165.0 × 8.20 mm and is 2 g lighter, the battery this year is around 11 percent larger at 5,000 mAh. 50 percent should be able to be restored within 30 minutes using 30-watt fast charging, but Sony is no longer including a power supply unit with the smartphone this year either. Buyers will no longer even find a USB-C cable in the box. The Xperia 1 IV still comes with IP68 certification and is protected by Gorilla Glass Victus on the front and back.
3.5 mm jack and additional functions for streaming
Additional functions of the Xperia 1 IV are a 3.5 mm jack, a "Low Gamma Raiser", audio equalizer and voice chat optimization especially for games and for this area the "Heat Suppression Power Control", which is activated when gaming on the charging cable ensures that the device is supplied with power directly instead of charging the battery, which is intended to reduce the thermal load. Players also get a record feature to keep the last 30 seconds of screen capture in memory for sharing. In addition, live streaming directly from games is supported. With Sony, vloggers can access live streaming from YouTube via the Video Pro app without having to meet the 1,000 subscribers that are usually required.
Pre-order will receive WH-1000XM4 ANC headphones
Following the presentation, Sony is already starting pre-sales of the Xperia 1 IV at a price of 1,399 euros in black, white and purple. As part of the pre-order that will officially start until mid-June, buyers will receive the WH-1000XM4 over-ear headphones (test) worth 299 euros (RRP) for free. The Xperia 1 IV comes with Android 12 and will be updated for three years.
Sony Xperia 1 IV Sony Xperia 1 III Software:
(at release) Android 12.0 Android 11.0 Display: 6.50 inches, 1,644 × 3,840
643 ppi, 120 Hz
OLED, HDR, Gorilla Glass Victus Controls: Touch, fingerprint sensor, status LED SoC: Qualcomm Snapdragon 8 Gen 1
1 × Cortex-X2 3.00GHz
3 × Cortex-A710 2.50GHz
4 × Cortex-A510 1.80GHz
4nm 64-bit Qualcomm Snapdragon 888
1 × Kryo 680 Prime, 2.84GHz
3 × Kryo 680 Gold, 2.42GHz
4 × Kryo 680 Silver, 1.80GHz
5nm, 64- Bit GPU: Adreno 730
818MHz Adreno 660
840MHz RAM: 12,288MB
LPDDR5 Storage: 256GB (expandable) 1st Camera: 12.0MP, 2160p
LED, f/1.7, AF, OIS 2nd Camera: 12.0MP, f/2.2 3rd Camera: 12.0 MP, f/2.3, AF, OIS 4 Camera: No 12.0 MP, f/2.8, AF, OIS 5 Camera: No 1 Front Camera: 12.0 MP, 2160p >Display flash 8.0 MP, 1080p
Display flash, f/2.0 2. Front camera: No GSM: GPRS + EDGE UMTS: HSPA+
↓42.2 ↑5.76 Mbit/s LTE : Advanced Pro Advanced Pro
↓1,200 ↑150Mbps 5G: NSA/SA NSA/SA
↓4.00 ↑0.54Gbps WiFi: 802.11 a/b/g/n/ac/ax
Wi-Fi Direct Bluetooth: 5.2 Positioning: A-GPS, GLONASS, BeiDou, Galileo, QZSS Other standards: USB 3.1 Type C, NFC, 3.5 mm jack SIM card: Nano-SIM, dual -SIM battery: 5,000 mAh, 30.0 W
permanently installed, wireless charging 4,500 mAh, 30.0 W
permanently installed, wireless charging Size (W×H×D): 71.0 × 165.0 × 8.20mm Ingress Protection: IP68 Weight: 185g 187g Price: €1,399 from €981
ComputerBase has received information about this item from Sony under NDA. The only requirement was the earliest possible publication date.