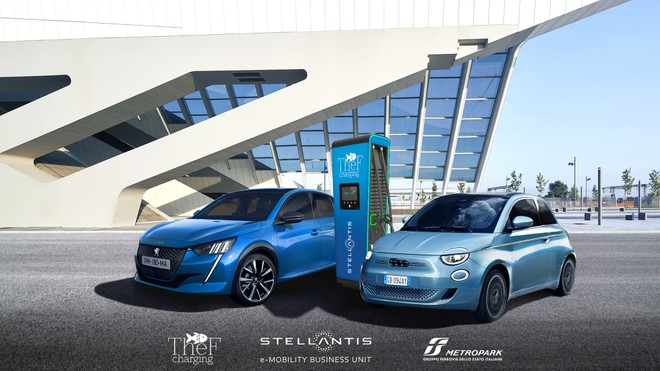 Facilitate access to charging infrastructures & egrave; important to push the spread of electric cars. The problem of availability of charging points & egrave; often seen by people as a possible obstacle to using electric cars. On this important issue which we have discussed more & ugrave; times, interesting news comes. Stellantis and TheF Charging have decided to extend their partnership thanks to the agreement with the FS Italiane Group via Metropark , the company & agrave; subsidiary that manages the car parks in the main Italian railway stations.
CHARGING IN THE PARKING LOTS OF THE STATIONS
Specifically, the agreement provides for the installation of 600 charging points for electric vehicles in 50 Metropark car parks at railway stations spread throughout the Italian territory. These columns will be available to all electric cars. However, Stellantis models will have access to a number of exclusive benefits. Furthermore, another important aspect, all these charging points will be powered only by 100% renewable energy.
This agreement adds a new strategic element to the partnership signed between Stellantis and TheF Charging for the creation of a public charging network in Europe, as announced in October 2021. The two companies have identified over 1,000 owners or managers of resorts able to offer public charging solutions to electric vehicle owners. Charging stations are located by giving priority; to city centers, structures dedicated to basic needs (hospitals, schools), transport (airports, railway stations, ports), leisure (shopping centers, sports centers, hotels, restaurants) and large-scale distribution, for a total potential of over 15,000 locations in Europe and two million parking spaces.
The collaboration between Stellantis and TheF Charging must be seen as a completion of the Atlante project which involves the creation of a fast charging network in Southern Europe. A network that will become the preferential one for the electric ones of the Stellantis Group even if it will be; accessible by all other cars. About this new project of creating columns in the parking lots of railway stations, Anne-Lise Richard , Global Head of Stellantis' e-Mobility Business Unit, commented:
This agreement supports our decarbonisation strategy announced with the long-term strategic plan Dare Forward 2030. In this context, the possibility; to offer our customers solutions for public recharging and intermodal road/rail transport, will facilitate; the spread of the Stellantis range of electric vehicles with a positive impact on the reduction of polluting emissions to protect the environment.
Federico Fea , CEO of TheF Charging, added:
& Egrave; We are very proud to welcome Metropark and the FS Group within the charging network and ecosystem we are developing. We are confident that railway stations will play a key role in facilitating the transition towards mobility; more and more; sustainable in our country. This is why we decided, together with Stellantis and Gruppo FS, to start the collaboration starting from the electrification of Metropark car parks located at railway stations throughout Italy. In parallel we will explore further areas of collaboration, both geographic and services, aimed at further accelerating the energy transition in the country, focusing on the customer experience.
little? Samsung Galaxy S21, buy it at the best price from eBay at 587 euros .