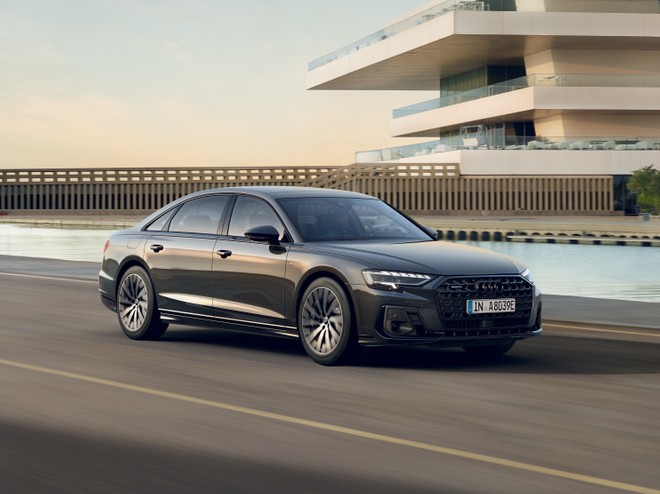 Audi has opened orders in Italy of the restyling of its A8 TFSI is , that is; the Plug-in model of its flagship A8. By the end of December 2021, the German manufacturer already had; started accepting orders for the other versions of this car, the restyling of which was presented in November 2021. Therefore, now Italian customers will be able to order the PHEV variant which will arrive. in dealerships during the month of March 2022.
Speaking of prices for the Italian market , we start from 115,500 euros for the 3.0 variant (60 ) TFSI and quattro tiptronic and from 122,800 euros for the equivalent long wheelbase version.
CUORE PLUG-IN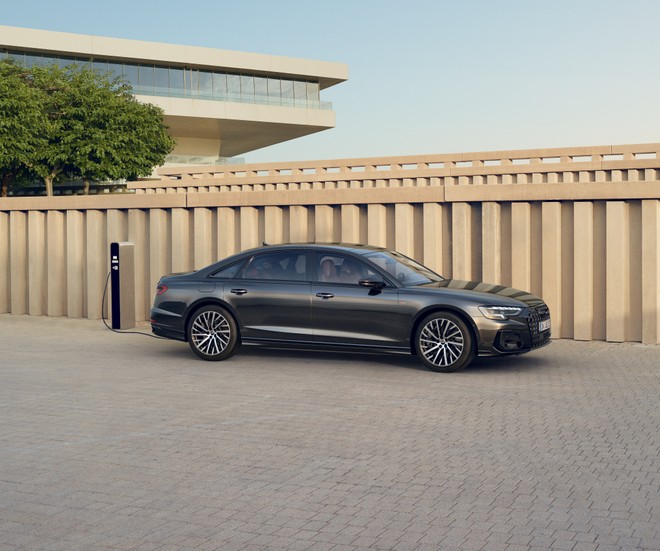 The new Audi A8 TFSI is & egrave; therefore also available in the long wheelbase L version. The powertrain & egrave; consisting of a V6 3.0 TFSI turbocharged direct injection with 340 hp (250 kW) and 500 Nm of torque, combined with a permanent magnet synchronous motor of 136 hp (100 kW). The unit electric & egrave; integrated, together with the clutch, in the eight-speed tiptronic transmission with torque converter. Four-wheel drive is also present.
Overall, there are 462 hp (340 kW) with 700 Nm of torque available. Performance is very good. The speed maximum , electronically limited, reaches 250 km/h . It takes 4.9 seconds to go from 0 to 100 km/h. The electric motor is; powered by a 17.9 kWh battery (14.4 kWh usable) that allows you to travel in mode & agrave; electric only up to 49 km according to the WLTP cycle. The accumulator can be recharge only in alternating current up to a power of 7.4 kW.
As a basic setting, the car starts in mode; electric (EV) and travels with zero emissions until the driver presses the accelerator pedal firmly. The driving programs & ldquo; EV & rdquo;, & ldquo; Hybrid & rdquo; are available. and & ldquo; Hold & rdquo; which respectively give priority; to electric traction, to the mode & agrave; automatic hybrid and energy saving for the benefit of a subsequent travel phase or recharging the battery. There is then also the mode & agrave; & ldquo; Charge & rdquo; which sees the thermal engine not only transmitting motion to the wheels, but also contributing to the activation of the electric motor in the regenerative phase.
On the design front, the Plug-in model is recognized by the presence of the flap the charging socket at the rear left wheel arch. For the rest, the look is; identical to that of the other restyled models. In terms of safety, the new Audi A8 can & ograve; rely on up to 40 driver assistance systems . The technologies on request are divided into the City, Tour and Parking Assistance packages.
The Samsung pi? balanced? Samsung Galaxy A52 5G, on offer today from Evoluxion for 335 euros or from Amazon for 415 euros .