Published January 20, 2022 at 10:29
Domestic. The government is now proposing a model for so-called electricity price compensation for households affected by high electricity prices. In total, almost SEK 7 billion is intended for grants that reach approximately two million households throughout Sweden.
Like the article p & aring; Facebook
On January 12, the government announced a proposal for compensation for those households that have high electricity bills due to the electricity shortage.
The compensation covers three months: December 2021 to February 2022.
At a press conference today, a proposal was presented for a model for the subsidy that is designed as a staircase where the lowest step is at a consumption level of 700 kWh per month and where the customer receives compensation of SEK 300 for three months.
The highest step is at a consumption level from 2,000 kWh per month and upwards where the customer will receive SEK 2,000 per month, ie a total of SEK 6,000.
– This is an important support that reaches around two million households, that is, more than every third household in Sweden. We are now putting a fully feasible and more accurate proposal on the Riksdag's table, said Minister of Finance Mikael Damberg.
The Government will appoint the Chamber of Deputies as the authority that manages the funds and is responsible for contact with the electricity network companies. It is the electricity network companies that decide how the money is distributed to households.
The government plans to submit a proposal for a grant for this purpose in an extra amending budget in early February. The Riksdag is then expected to be able to make a decision on the amending budget at the end of February.
Following a Riksdag decision on the amending budget, the money will be available for the electricity network companies to apply for. Thereafter, the first payments to customers will come as soon as the electricity network companies can administer the support, often as a credit on the electricity network invoice. According to the government, the electricity network companies will also be reimbursed for the administrative costs involved in handling the payments to affected customers.
the support, partly on how the customer has chosen to handle their electricity bill.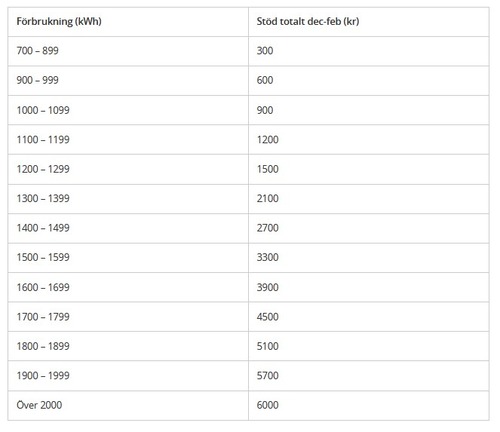 & copy; & nbsp; Government