Published January 20, 2022 at 12.53
Domestic. Social Democrat Joakim Cederberg-Hake has been removed from the Social Democrats' list to the City Council in Partille ahead of the election. This after he praised the left-wing extremist AFA, reports Exakt24.
Like the article p & aring; Facebook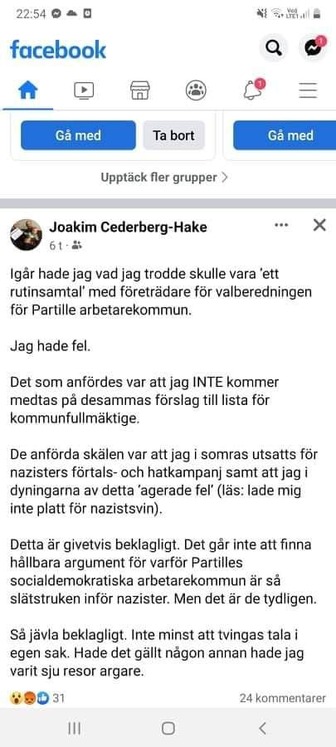 & copy; & nbsp; Screenshot
Joakim Cederberg-Hake ( S), who sits on the City Council in Partille, has among other things posed in an AFA shirt.
On Facebook, he has shared a link to the terrorist organization's website and written that AFA is engaged in "factual and important mapping of socially dangerous elements".
But when Exakt24 visited Cederberg-Hake in his home last year, he quickly slammed closed the door when he was asked about his relationship with the left-wing extremists.
– He refuses to answer our questions, stated the reporter Christian Peterson, who himself has been subjected to AFA attacks.
Now Joakim Cederberg-Hake himself announces on Facebook that he has been informed by the nomination committee that he will not be on the ballot for the City Council this autumn.
hate campaign and that I in the swells of this 'acted wrong' (read: did not lay flat for Nazi pigs) ", writes the S-politician.
" So fucking regrettable ", he continues.
< h2 class = "section-default"> The AFA attacks
The principal's panic when confronted
Sweeping AFA woman new city architect
Reporters Without Borders & quot; do not have time & quot; to condemn left-wing terror against Christian Peterson
Video: Here the left-wing extremist throws in a smoke bomb in the girl's bedroom
This is where the AFA leader lives – in the middle of the idyll
Show all