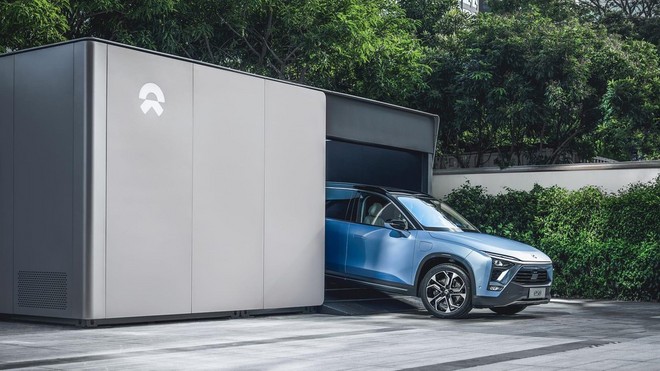 NIO officially inaugurated the first battery swap station in Norway . As we know, the Chinese manufacturer intends to install 20 battery exchange stations within the country by the end of 2022. NIO has an ambitious expansion plan for the Old Continent that goes beyond the simple marketing of its electric cars. In fact, the brand also intends to introduce its infrastructure for battery swap which is having a good success in China.
Thanks to the battery exchange stations, NIO & egrave; able to offer cars with the Battery as a Service (BaaS) sales model , which means that customers buy a battery-less car at a lower price and pay a monthly subscription to rent the battery and to be able to use the stations for battery swap. According to the company, 92% of the first customers in Norway opted for this formula. Over the next few months we will be able to better understand the real satisfaction of European customers for this technology.
In the course of 2022 we will probably see the NIO battery swap stations rise also in other countries such as Germany where the Chinese manufacturer intends to debut during the year. Returning to the inauguration, we can see that the inaugurated station is; the second generation Power Swap Station which had been introduced on the market in the mid & agrave; of 2021 and allows the replacement of the discharged accumulator with a charged one in a matter of minutes. In Norway, this station will be; used, for the moment, to offer the battery swap service to ES8 electric SUV that recently & egrave; landed on that market.
This first station is; opened in Lier, a few kilometers north of Drammen. The installation was already it was carried out a couple of months ago as Florian Otto, the new head of NIO Europe, had communicated. The aim of the Chinese manufacturer is that of reaching around 4,000 stations by 2025, of which a thousand outside China, probably almost all in Europe.
Only time will tell us; if this technology has a future as its implementation costs are very high and battery technology is making rapid progress. In China, however, more and more; reality are interested in battery swap. Recently, even CATL announced that it will begin & agrave; to offer a complete package for a battery exchange service.
Best hardware at a low price? Little X3 Pro, buy it at the best price from eBay at 249 euros .