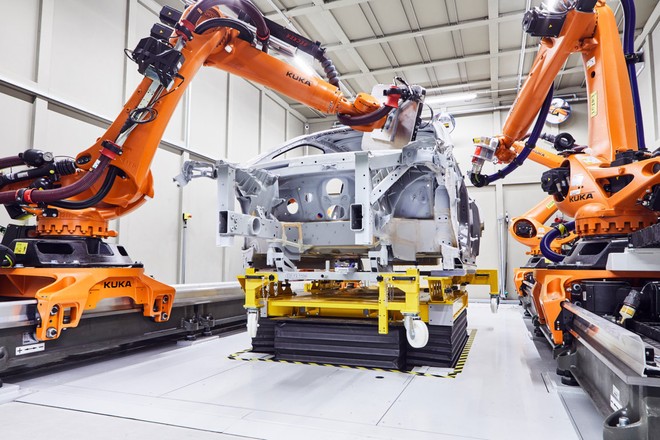 2020 & egrave; It was an extremely difficult year for the European automotive market due to the pandemic that paralyzed entire economic sectors for several months. 2021 is; was just as complex . In addition to still dealing with the effects of the crisis caused by the health emergency, the auto market has also had to face the problem of the supply of semiconductors which has had an important impact on production and therefore on availability; of new cars.
The numbers provided by ACEA are a precise snapshot of the situation in which the automotive market of the Old Continent finds itself. Wanting to consider the European Union, the United Kingdom and the EFTA countries , in the whole of 2021 they were 11,774,885 cars registered equal to a contraction of 1.5% compared to a 2020 already difficult.
Comparing registrations with 2019, the year before the outbreak of the pandemic, it turns out that the European auto market & egrave; collapsed by 25.5% . In fact, in 2019, a total of 15,805,658 cars had been registered. A result which was influenced, as mentioned at the beginning, by the chip crisis which, as ACEA points out, has occurred. made to feel especially during the second half & agrave; of 2021.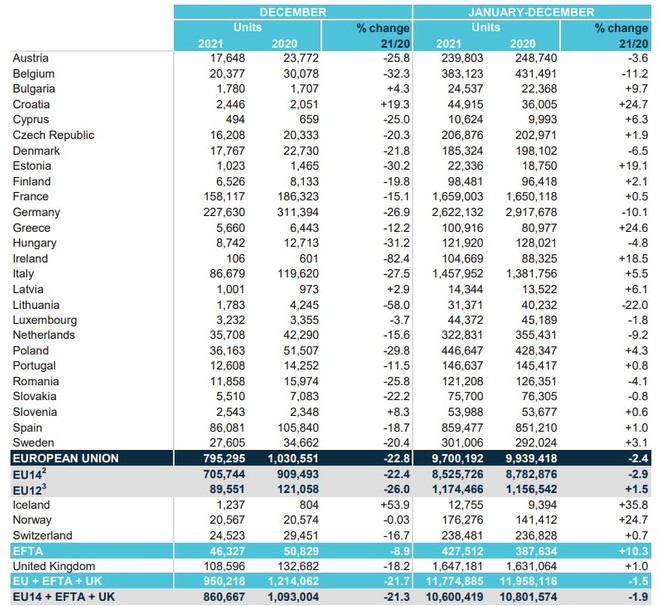 The crisis has hit all national markets of the area which in 2021, compared to 2019, are all down with the sole exception of those, very small, of Iceland and Norway. The five major markets were certainly not saved, that is; those of Germany, United Kingdom, France, Italy and Spain which absorb 70% of registrations in the area. The worst result was recorded by Spain which in 2021 compared to 2019 shows a decrease of 31.7%, closely followed by the United Kingdom (-28.7%), by Germany (-27.3%), by France (-25.1%) and from Italy (-23.9%).
Returning to the overall European data 2021, in the last month of December, they always consider the European Union, the United Kingdom and In EFTA countries, 950,218 cars were registered, equal to a decline of 21.7% over 2020. These numbers show a situation that is certainly not positive for the automotive sector. We will see what happens next. in the course of 2022 but the signs are not encouraging given that the chip crisis is not; has yet to be resolved and the pandemic is once again affecting the economy more and more; than you could imagine.
[Data source: ACEA]
108MP at the best price? Realme 8 Pro, buy it at the best price from Amazon at 279 euros .