Baidu , the Chinese Internet giant, has long been present within the automotive world and from September 2021 it had also entered the heavy vehicle sector through the joint venture DeepWay established together with Lionbridge, presenting the new Xingtu self-driving electric truck . Now, more details have been provided of this model whose design is; it was edited by Pininfarina and precisely by Pininfarina Shanghai, the Chinese studio of the Italian design house.
This truck has a very high technological content as it is; equipped with 11 on-board cameras, an infrared detector, millimeter wave radar and a LIDAR sensor.
MAXIMUM AERODYNAMIC CARE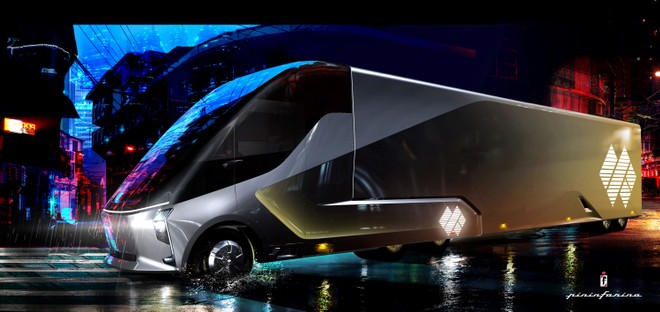 For the design of this truck it can & ograve; be seen as a competitor of the Tesla Semi, si & egrave; a great deal of attention has been paid to aerodynamics to improve efficiency and therefore fuel consumption. According to what has been declared, Xingtu, with a load of 49 tons, is; able to travel a distance of 300 km thanks to its 450 kWh battery . Accumulator which according to the company & agrave; can & ograve; be reloaded in an hour.
I wait even more; Interestingly, DeepWay has developed a quick battery replacement system. It will take 6 minutes to replace a flat battery with a fully charged one. A solution, therefore, which allows, on paper, to reduce the stop of the truck to a minimum. Obviously, it will serve; a special station for battery swap.
Thanks to its architecture, the vehicle & egrave; much more; easy to control, more stable and more safe to use. Pininfarina has also paid great attention to the interiors of this model, creating a & quot; smart & quot; environment that can represent a sort of & quot; second home & quot; for truckers. The cab adopts the concept of separate spaces for the driver's driving, work and leisure. The electric truck is also equipped with an intelligent voice assistant, a large touchscreen infotainment system and seats and beds.
One of the strengths of this new vehicle is; its autonomous driving platform which takes advantage of the hardware highlighted at the beginning. The underlying technology is; the one that Baidu has been developing for a long time and that we also find inside its robotaxis. Last December 2021, DeepWay completed the dynamic tests of the autonomous driving technology and the model reviews and finalized the specifications of the truck that will soon enter; in the product validation phase.
In the future, the company will continue & agrave; to focus on research and development and the production of smart alternative energy heavy trucks and in the coming years will promote & agrave; the commercialization of Level 4 autonomous driving technology (here we explain the meaning) in the truck freight sector in China. The market launch of Xingtu is expected to take place around 2023.
108MP at the best price? Realme 8 Pro, buy it at the best price from Amazon at 279 euros .