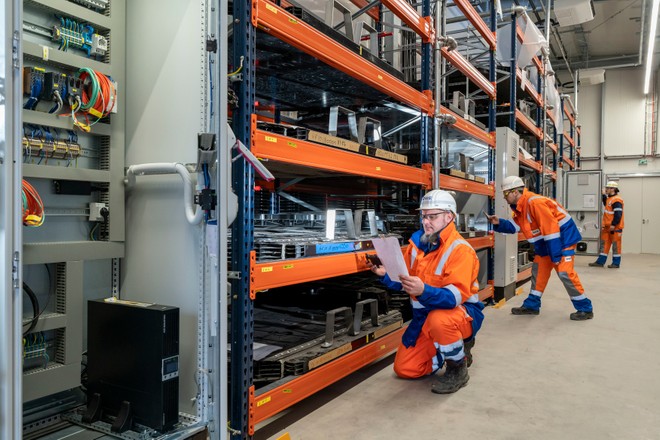 We often talk about the reuse of batteries at the end of the life of electric cars . If they are still in good condition, instead of being recycled they can be reused in areas other than the automotive one, such as, for example, in storage systems. Audi which has an ambitious electrification program for its fleet of cars is also working on giving a second life to the batteries of its electric cars.
In this regard & egrave; very interesting is the pilot project that the house of the 4 rings has started together with the German provider RWE , which distributes energy to over 120 million people in Europe and North America.
PILOT PROJECT
These two companies have decided to work together to give batteries a second life. RWE, in fact, has inaugurated a stationary energy storage facility in Herdecke, Germany, which uses accumulators previously used by Audi's electric SUVs. Specifically, 60 battery modules were used which allowed the system to have a capacity; of energy storage equal to 4.5 megawatt hours.
In October 2021, RWE completed a gigantic & ldquo; case & rdquo; 160 square meters to house 60 Audi battery modules, weighing approximately 700 kilograms each, at the Herdecke hydroelectric pumping plant in North Rhine-Westphalia. L & rsquo; installation & egrave; active since last November and RWE expects to integrate the storage center within the distribution network in the short term, initially to support stability; of the network at peak times of demand and subsequently experimenting with avant-garde energy marketing strategies.
According to Audi, after a first life inside its cars, batteries have still a capacity; residual over 80% and can therefore be safely used for energy storage. The German manufacturer adds that the second life of the batteries can & ograve; have a duration of more than 10 years. Extending the life of the batteries & egrave; it is possible, at the same time, to reduce the carbon footprint along their entire life cycle.
If the pilot project gives & agrave; the expected results, RWE announces that in the future it will realize; larger storage systems, always using batteries that come from the automotive world and a specific technology that provides for the series connection of the modules, thus; to increase the operating voltage.
The best Apple Smartphone? Apple iPhone 12, buy it at the best price from eBay at 719 euros .