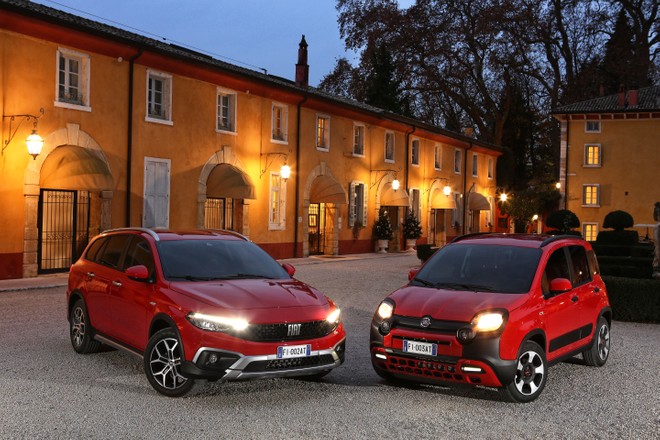 The collaboration between Fiat and (RED), a non-profit founded by Bono and Bobby Shriver in 2006 that is in charge of raising funds, expands thanks to collaborations with various companies that are donated to the Global Fund for the fight against AIDS, tuberculosis and malaria. From this partnership, the (500) RED range was born in September 2021which is characterized by having a red body color.
Now, thanks to the expansion of this collaboration, the special versions (Tipo) RED and (Panda) RED arrive . These new models, as well as the cars of the (500) RED range, have some specific accessories to keep the passenger compartment sanitized . This is a very important detail given the delicate moment on the health front. In fact, the cars can count on a cabin filter of the air conditioning system treated with a highly effective biocide substance (> 99.9% at the time of treatment) against bacteria, which prevents the re-aerosolization of the air conditioning system. interior of the passenger compartment.
In addition, the steering wheel and seats, which are more & ugrave; subject to contact with people, they received treatment with a highly effective biocide substance (up to 99.9% depending on the components) against viruses and bacteria. Upon delivery, customers receive a Welcome Kit which includes a personalized dispenser and dedicated key cover.
FIAT (TIPO) RED

< img src = "/wp-content/uploads/ebeaf7e0a34d3bcdc4376b8960f7ffa9.jpg" />
This special version is; available on both the Cross Station Wagon and the hatchback . It can be recognized by the (RED) logo on the uprights and by the red color called Rosso Passione with matching mirrors. (Type) RED & egrave; also available in Colosseum Gray, Gelato White and Cinema Black with red mirrors. Speaking of the interior, the seats are made with SEAQUAL MARINE PLASTIC and feature the FIAT monogram and red stitching. Prices from 25,450 euros .
FIAT (PANDA) RED

The (PANDA) RED & egrave; proposed only in the City Cross specification which offers as standard a 7-inch touchscreen radio with Apple CarPlay and Android Auto, automatic climate control, body-colored bumper shields, longitudinal bars, 15-inch style wheels, fog lights and daytime running lights LED. In addition, it features the same color combinations described above for the Tipo. The car is equipped with a unit & agrave; Mild Hybrid. Prices from € 17,950 .
As for the (500) RED range, the car manufacturer says that the cars now have & quot; Sanitizing Glove Box & quot ;. This is a new system that provides for the integration of a UV-C ray lamp inside the glove box of the dashboard. This accessory allows you to sanitize the surface of your smartphone, house keys and other small objects of daily use.
The best Apple Smartphone? Apple iPhone 12, buy it at the best price from eBay at 719 euros .