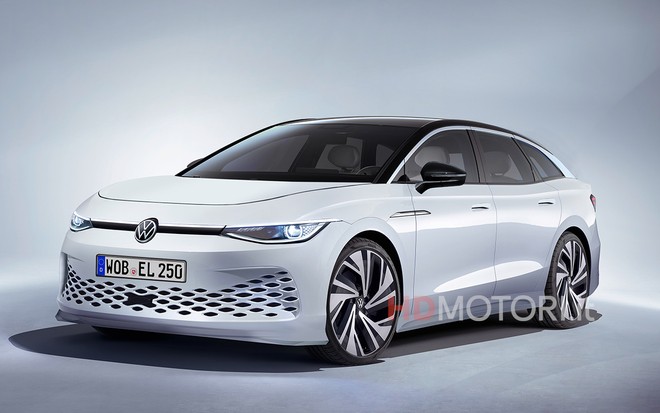 In the next few years, Volkswagen will bring & agrave; several new electric models to debut. In particular, the German brand is working on a battery-powered sedan , also based on the MEB platform, which in the end could be called Volkswagen ID.7 . For the moment, we know it by the name of Aero B . The debut, according to what we know so far, should take place in the course of 2023.
This car will be based; on the concept car ID. Vizzion and sar & agrave; also available in station wagon version (inspired by the ID. Space Vizzion concept). Given the size, the Volkswagen Aero B can ideally be; be seen like the future electric Passat . This model is already been intercepted on the road several times and the spy photos have allowed us to appreciate already; some first details of its design. Furthermore, last year, Volkswagen also showed the concept of the Space Vizzion again by communicating that the car would be produced inside the Emden plant .
Starting from all this initial information, we tried to imagine what the station wagon version could be like. The result is; in the render that you can see.
LONG AUTONOMY
The design has many points in common with that of the concept car, always maintaining an overall sporty look. Shapes are a bit more soft and the front hood appears less elaborate and more & ugrave; traditional. The front has clear references to that of the other electric units in the German brand's ID range. We find very thin headlights equipped with LED IQ Light technology and a closed grille due to the absence of the internal combustion engine.
In addition, the door handles are flush with the bodywork. The car also features a long wheelbase and very short overhangs. Thanks to the presence of the MEB platform , designed only for electric, the space on board should be abundant. The alloy wheels adopt a design designed to improve aerodynamic efficiency.
And the powertrain? At the moment there is no precise information. In the past, speaking of the Aero B, Volkswagen had stated that the car could have a range of up to 700 km . The concept had an 82 kWh accumulator for 590 km of autonomy but to really offer the mileage declared by Volkswagen, it will probably be; a larger capacity accumulator is required. Recent rumors, in fact, spoke of batteries with at least 100 kWh of capacity; Still talking about the Space Vizzion concept, the most popular variant; performance had a double 340 hp (250 kW) electric motor.
Will we also see this powertrain on the final model? Soon to tell. All that remains is to wait for more information on the development work that Volkswagen is carrying out.
The best value for money 5G Smartphone? Redmi Note 9T, buy it at the best price from Amazon at 220 euros .