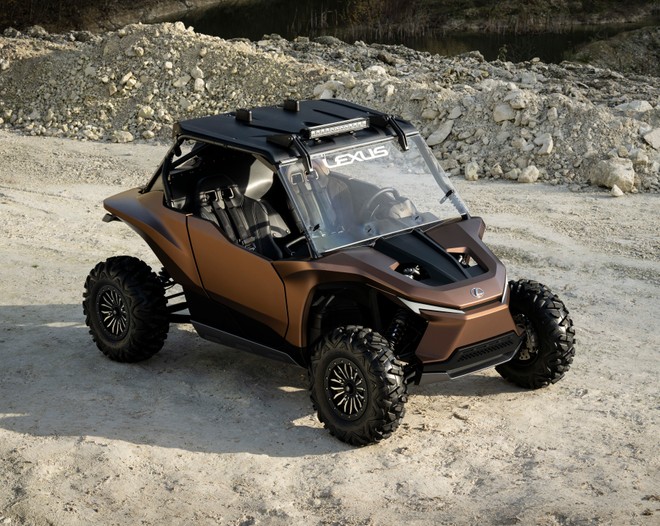 Lexus presented a particularly curious concept. It is called ROV (Recreational Off-highway Vehicle) and is basically a sort of Dune Buggy . Another peculiarity of this model, its engine. In fact, & egrave; powered by hydrogen to make its use more sustainable. Attention, however, we are not talking about a Fuel Cell system, but a combustion engine that uses hydrogen instead of petrol.
DRIVING FUN
Unfortunately, the Japanese brand did not want to provide many details on this novelty. We only know that this is a one liter engine, with a high pressure reservoir for compressed hydrogen that is delivered directly from a specific hydrogen injector. Lexus, however, is keen to emphasize that the engine produces emissions close to zero , with a quantity of; negligible amount of engine oil burned while driving.
This Hydrogen Dune Buggy & egrave; It was designed by Lexus to entertain people along off-road routes but in an environmentally friendly way. Its dimensions are 3,120mm long x 1,725mm wide x 1,800mm high. Lexus ROV offers exposed suspension, protective cage and specific tires for driving on mud. The Japanese brand has designed the bodywork to best protect passengers.
In addition, the front fenders have been designed to offer protection against any stones thrown when driving on rough roads. All while maintaining a certain style. Frontally, in fact, it is; present the classic grille of Lexus models.
The suspension cover, connected to the rear hydrogen tank, protects the functional parts, as well as conveying a sense of robustness common to Lexus SUVs. The light bodywork, characterized by the dark bronze color, is; carefully crafted and the suspension has been designed for both comfort and off-road enjoyment. The front and rear lights with Lexus pattern a & quot; L & quot; and the LEXUS rear logo reflect the latest Lexus design language.
Although we are talking about a concept of a kind of Dune Buggy, it is still a Lexus. The Japanese car manufacturer, therefore, still wanted to include some premium elements. For example, we find a leather steering wheel and seats upholstered in synthetic leather that have suspension elements that reduce bumps while driving. Is not serious; clear if in the future Lexus will carry; his ROV is in production, but such a model could really appeal to off-road lovers.
The biggest problem would be the hydrogen engine. As we have seen in the case of the hydrogen GR Yaris, this technology is not; still ready. Spiros Fotinos , Head of Lexus Europe, commented:
The Lexus ROV & egrave; our response to the growing passion for the outdoors and the adventurous spirit of premium consumers. As a concept, it merges our desire to also develop lifestyle-oriented products with our ongoing search for new technologies that contribute to neutrality; carbon. In addition to offering an exciting concept to drive, it has near-zero emissions thanks to its hydrogen-powered engine.
The best value for money 5G Smartphone? Redmi Note 9T, buy it at the best price from Amazon at 220 euros .