CoronaCheck as most popular app
December is the month of lists and Apple is responding to this with the Apple App Awards 2021 and the announcement of the most popular apps per country. Earlier we already let you know what the most popular apps have been in the US, but it is of course more interesting which apps were popular in the Netherlands. The number 1 is not entirely surprising: CoronaCheck, the app you need to enter all kinds of places. The number two is also a 'mandatory number': with DigiD you can log in to government sites and to all kinds of services.
Many mandatory numbers
We also see with the iPad apps that people mainly use it to make video calls and to watch streaming video. With Netflix, YouTube, Videoland, Disney+ and Ziggo GO, the video apps are well represented. In terms of video calling, Zoom and Microsoft Teams proved popular. The only question is whether users downloaded this app on their own initiative, or whether they simply needed the app to consult with colleagues.
A non-mandatory app that did not make the top 10 is the controversial CoronaMelder app that has been in the spotlight quite a bit over the course of 2021. This app is arguably the most talked about app, but it didn't lead to a hit on the App Store. With paid apps, prospective parents appear to be fanatically looking for apps. For years now, two Dutch apps have been at the top of the top 10. People also seem to have money to spare for measuring sleep, weather forecasts and mountain bike routes.
Do you live in Belgium? Then you can see your national list by opening the App Store app and looking at the home screen. There you will find great promos for both lists: apps and games.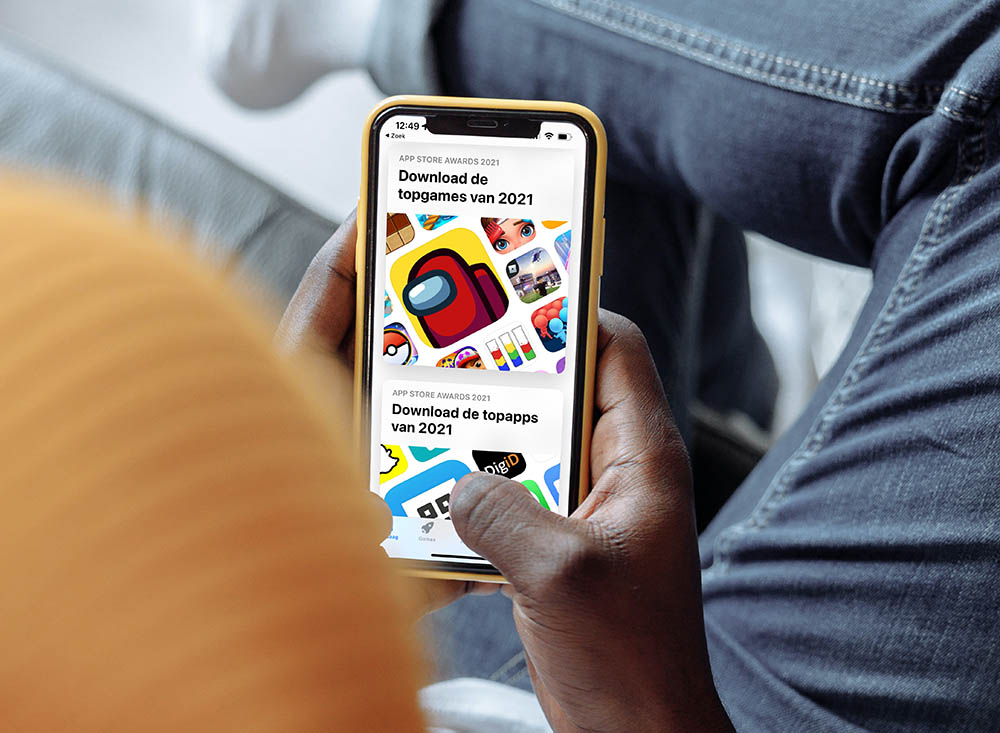 Most Popular free iPhone apps 2021
CoronaCheck
DigiD
WhatsApp
Microsoft Teams

< li>Google Maps

Instagram
YouTube
TikTok
Scanner for CoronaCheck
Spotify
Most popular paid iPhone apps 2021
Oh, I'm growing!
Baby monitor 3G
Forest – Your Focus Motivation
MTBroutes
AutoSleep sleep tracker
WeatherPro
Procreate Pocket
Threema

< li>TouchRetouch

Braintoss
Most Popular Free iPhone Games 2021
Among Us!
Project Makeover
ROBLOX
Count Masters
Water Sort Puzzle
Subway Surfers
Brawl Stars
Pokémon GO
Staky Dash
Happy Printer
Most Popular iPhone Paid Games 2021
Minecraft
30 Seconds
Bloons
Monopoly
Plague
Football Manager 2021
Bike Race Pro< /li>
EK Pool 2020
Pou
My Child Lebensborn
Most Popular Free iPad Apps 2021
NOS
Microsoft Teams
Zoom
Netflix
YouTube
Disney+
Videoland
Google Chrome
DigiD
Ziggo GO
Most popular paid iPad apps 2021
Procreate
GoodNotes 5
Duet Display
Affinity Designer
forScore
Affinity Photo
PAW Patrol
LumaFusion
WeatherPro
Nomad Sculpt
Most Popular Free iPad Games 2021
Among Us!
ROBLOX
Brawl Stars
Project Makeover
Phone Case DIY
Hair Challenge
Count Masters
DOP 2
Homescapes
Shortcut Run
Most popular iPad paid games 2021
Minecraft
Bloons
Monopoly
RollerCoaster Tycoon
Ticket to Ride
Bike Race Pro
Plague

< li>Stardew

Football Manager 2021
Geometry Dash
More lists? Then check out the App Store Awards 2021!