Apple has been presenting the App Store Awards for about a decade, an annual list of the 'best' apps and games for your iPhone, iPad, Mac, Apple TV and Apple Watch. Usually these are relative newcomers to the App Store, who have made special use of Apple technologies such as ARKit, or who have received special attention in some other way. But in 2021 Apple has opted for an old-timer: app maker Toca Boca has been around for more than ten years and has since released more than forty apps for children. They are going to take home the most important award, 'iPhone app of the year'. Apple praised the award winner for "continuing to masterfully reinvent children's play and self-expression" even after ten years.
Here are the main winners:
Apps:
iPhone App of the Year: Toca Life World, by Toca Boca
iPad App of the Year: LumaFusion, by LumaTouch
Mac App of the Year: Craft, by Luki Labs Limited
Apple TV App of the Year: DAZN, by DAZN Group
Apple Watch App by the year: Carrot Weather, by Grailr

Games:
iPhone Game of the Year: League of Legends: Wild Rift, by Riot Games
iPad Game of the Year: MARVEL Future Revolution , by Netmarble Corporation
Mac Game of the Year: Myst, by Cyan
Apple TV Game of the Year:: "Space Marshals 3, by Pixelbite
Apple Arcade Game of the Year:: Fantasian, by Mistwalker
The full list can be found in Apple's press release.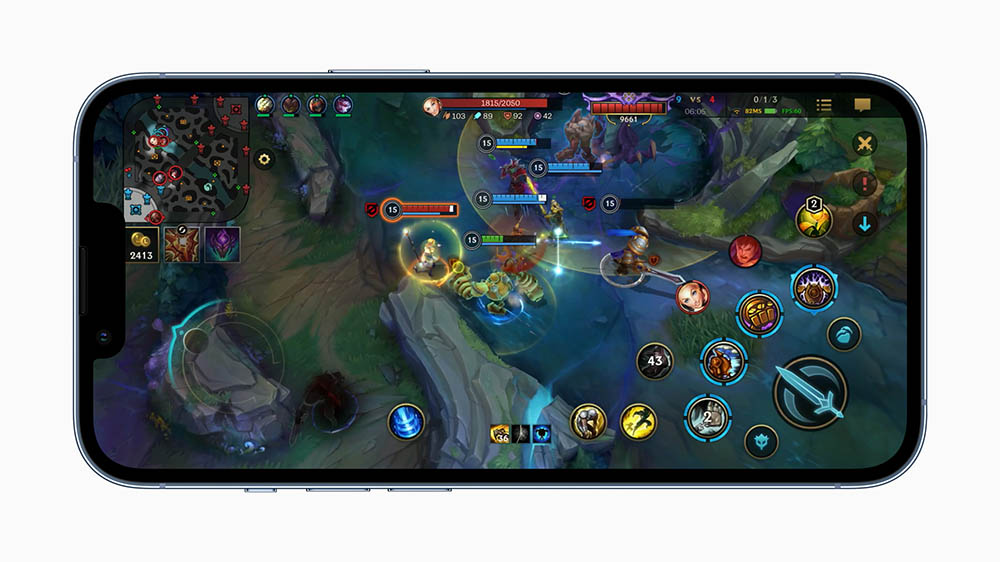 Apple also praised other winners, such as Carrot Weather, which is a direct competitor to its own Weather app, and Dark Sky, which Apple previously acquired. Apple may want to show that it is also open to competing apps, now that the company is increasingly under fire. Apple recommended LumaFusion as a video editing app, while in-house has iMovie and Final Cut Pro. And the word processor Craft has been praised for its efficiency and artistry, while competing with Pages.
Trend of the Year: Connection
In addition to the 'best' apps and games for your Apple devices, Apple has also identified a trend. This is a development that had a major impact on people's lives. This year it's easy to choose: we are less likely to meet up due to lockdowns and COVID restrictions, and the trend for 2021 is, according to Apple, 'Connection'. The winners brought people together in meaningful ways, socially, personally and professionally.
Among Us! (game), by Innersloth
Bumble (dating), by Bumble Inc.
Canva, by Canva
EatOkra, by Anthony Edwards Jr. and Janique Edwards
Peanut, by Peanut App Limited

The winners will receive a physical App Store award, which resembles the blue App Store icon in the image. It is made from 100% recycled aluminum that is also used to make MacBooks and other Apple products. The winner's name is engraved on the back.
Most downloaded apps of 2021
In addition, Apple has released a list of the most downloaded apps. That list varies from country to country. For the Netherlands, the list of most popular apps has not yet been announced, but in the US it is the (not very surprising) top 5:
Top free iPhone apps:
TikTok
YouTube
Instagram
Snapchat
Facebook
Top paid iPhone apps:
Procreate Pocket
HotSchedules
The Wonder Weeks
TouchRetouch
Facetune
Top Free iPhone Games:
Among Us!
Roblox
Project Makeover
Call of Duty: Mobile
Subway Surfers
Top Paid iPhone Games:
Minecraft
Heads Up!
Bloons TD 6
Monopoly
Geometry Dash
< /p>
Top Free iPad Apps:
YouTube
ZOOM
Disney+
Netflix
TikTok
Top paid iPad apps:
Procreate
GoodNotes 5
Notability
Duet Display
Toca Kitchen 2
Top Free iPad Games:
Among Us!< /li>
Roblox
Project Makeover
Phone Case DIY
Subway Surfers
Top paid iPad- games:
Minecraft
Bloons TD 6
Geometry Dash
Monopoly
Five Nights at Freddy's
Top Apple Arcade games:
The Oregon Trail
NBA 2K21 Arcade Edition
Sneaky Sasquatch
Sonic Racing
SpongeBob: Patty Pur suit