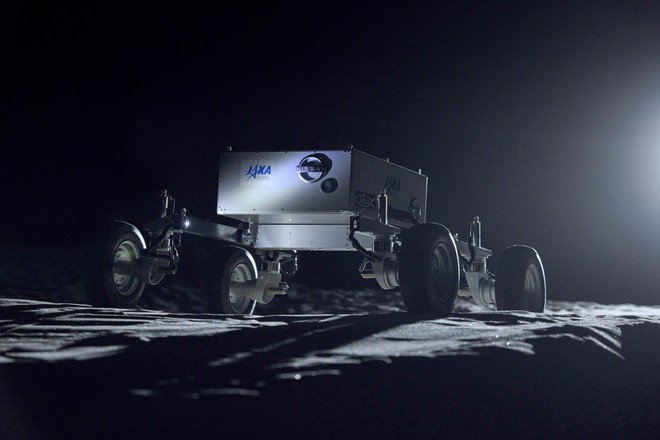 The technology developed by Nissan for its electric & egrave; adapted to be used on a lunar rover . The Japanese car manufacturer, in fact, during the & quot; Nissan Futures & quot; event, unveiled the prototype of a lunar rover made in collaboration with JAXA (Japan Aerospace Exploration Agency).
The Japanese Aerospace Agency is pursuing the development of these particular means which will be very important for future space missions. Since January 2020, he has also been actively collaborating with Nissan on control systems for rovers. Such vehicles must be able to move smoothly on dusty, rocky and uneven terrain. Furthermore, they must be able to make the most of the few energy resources available.
To build this lunar rover prototype, Nissan applied LEAF's engine control technology and Ariya's e-4ORCE technology. In particular, the technology of the new electric crossover that offers independent wheel drive control has allowed to increase the lunar rover's performance on rough terrain.
While working with JAXA, Nissan says it has < strong> further developed its e-4ORCE technology to improve its performance on the most difficult terrain; impervious. Rovers, for example, during their explorations, can have problems traveling along sandy stretches. The Japanese manufacturer has developed power control systems that minimize wheel slip based on the conditions of the surface on which the vehicle is moving. The car company will exploit & agrave; what he learned from this collaboration to improve his cars.
Nissan, however, is not; the only car manufacturer that collaborates with space agencies in this particular field. For example, Toyota has developed with JAXA a pressurized lunar vehicle capable of accommodating crew on board. General Motors in partnership with Lockheed Martin is also working on similar technology. Toshiyuki Nakajima , General Manager Advanced Vehicle Engineering Department Nissan, responsible for the development of e-4ORCE control technology, said:
Our goal is; achieve the best driving performance in every situation and we believe that the know-how gained from this joint research with JAXA will bring & agrave; innovations in our vehicles, which will translate into benefits for customers.
Ikkoh Funaki , Director of JAXA's Space Exploration Innovation Hub Center, added:
JAXA intends to apply the results of this research to future business; of space exploration. We are collaborating with several companies, universities and research institutes on projects that have commercialization potential. Nissan's experience in electrified technologies can bring us help develop more lunar rovers; performing.
The TOP of the range more? little? Samsung Galaxy S21, on offer today from Smarterstore for 665 euros or from Amazon for 718 euros .