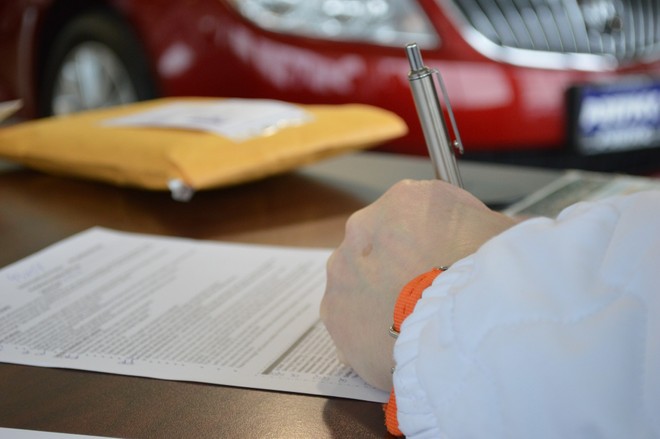 The black period continues for the Italian car market. According to the data communicated by UNRAE, in November 2021 104,478 cars were registered in Italy against 138,612 units & agrave; in 2020. This is a decrease of 24.6% . Wanting to make a comparison with 2019, the contraction is; even 30.8%. Looking at the data for the first 11 months of the year, over 400,000 registrations were lost compared to the pre-pandemic period (2019), equal to a decrease of 22.8%.
To condition this result, certainly both the effects of the pandemic and the chip crisis that is limiting availability; of new cars on the market. It is worth noting, however, that the month of November is; concluded with a better result than October when the market had collapsed by 35.7% (101,015 registrations). On the situation of the Italian market, Michele Crisci , President of UNRAE, commented:
You can not & ograve; accompany the transition towards decarbonisation in an effective and sustainable way if no action is taken by supporting demand with a structural and multi-year plan also for the replacement of the fleet in circulation. For a greater diffusion of new technologies, incentives are also needed in the face of scrapping, otherwise we will nullify the actual environmental benefits.
For UNRAE, therefore, Italy lacks a strategy to accompany the energy transition in the car and commercial vehicle market. But even in the absence of a strategy, it would be possible for UNRAE & quot; to immediately prepare a capillary and homogeneous development plan for the national territory, guaranteeing interoperability; of the same and with high-power recharging points on the motorway & quot ;.
THE LOSS OF PETROL AND DIESEL CONTINUES
Returning to the data for November 2021, in terms of users, there is a decline in private individuals who can count on a share of 64.1%. Self-registrations yield 1/4 of volumes, with a 9.4% share. Heavy double-digit drop, on the other hand, for long-term rental which in November can be; count on a share of 18.6%. Shoulder bag for short-term rental which has a market share of just 1.4%. The companies recorded the smallest decline between channels and rose to 6.5% share.
Looking at the data relating to power supplies , in November 2021 the contraction of petrol and diesel models which can count on a market share of 26.9% and 19% respectively. LPG stops at 9.2% and methane at 1.8%. The electrified cars are affected by the shortage of product, with shares undergoing slight overhaul over the past few months, albeit growing in volume: hybrid cars, in particular, have a 31.4% share in November, with & ldquo; full hybrid & quot; all & rsquo; 8.6% and the & ldquo; mild hybrid & quot; to 22.8%. The Plug-ins, on the other hand, can count on a share of 5.2%, while the 100% electric ones of 6.5%.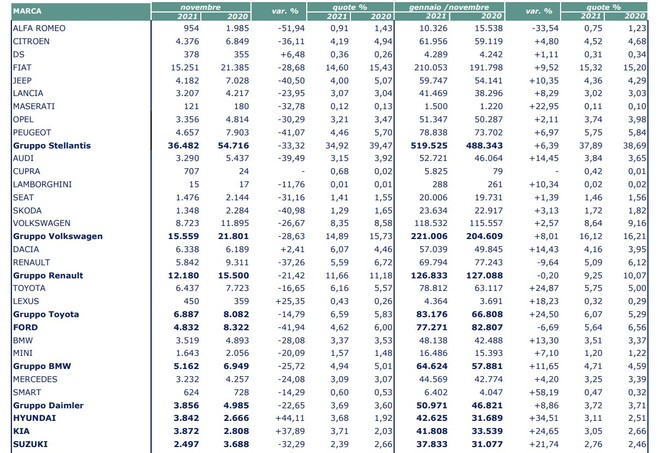 As for the Automotive groups there is; little to say. The results are mostly negative with a few exceptions. Stellantis, for example, closed the month of November 2021 with a decline of 33.32%. The Volkswagen Group, on the other hand, loses 28.63%. The Renault Group ends the month with -21.42%.
[Data source: UNRAE]
little? Samsung Galaxy S21, on offer today from Leonphone for 662 euros or from Amazon for 718 euros .