In a press release, Telenet announces that it will start rolling out their 5G network on 6 December. Customers with a suitable device and subscription can use the technology in certain regions.
Telenet starts rolling out 5G network
The first region' The places where Telenet will equip its cell towers with 5G technology are Leuven, Antwerp and the coastal area. Depending on your subscription, you can achieve a download speed of up to 1 Gigabit per second at no extra cost. Telenet will use the frequencies between 3.6 GHz and 3.8 GHz for high speeds, but with a limited range. Relatively more masts are therefore required. The following plans are supported for 5G:
ONE (up to 150 Megabits per second)
ONEup
CLICK
KING
KONG Business
In the spring of 2022, customers with a BASE subscription and all other Telenet subscriptions will be provided with 5G, including Telenet Business.
< p>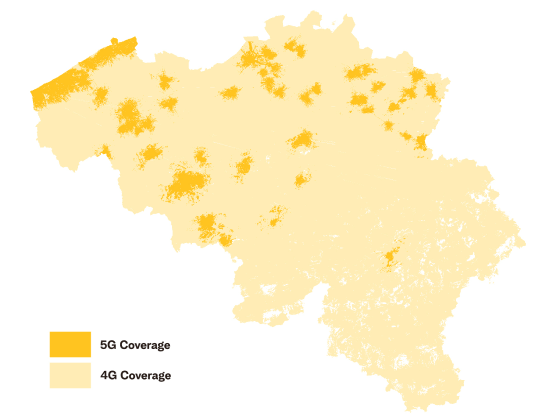 Telenet has 5Gs for these regions roll-out on the schedule.
The roll-out of 5G will be phased. Telenet wants to expand the network along highways in large Flemish cities in the coming years. The rollout should be completed in 2025. An advantage of 5G at Telenet is that you don't have to pay anything on top of your subscription costs. Of course, you must have a suitable 5G device, such as the iPhone 12 or iPhone 13.
For Telenet, provider Proximus was the first Belgian provider to start rolling out a 5G network, although that network is not exactly nationwide yet. Would you like to know more about 5G at Telenet? Check the provider's website.