Elago makes all kinds of accessories from silicone material. They are best known for the AirPods and Apple Watch holders, for example in the form of a retro Macintosh. If you prefer to stick your AirTag somewhere, the options are very limited. Elago has something for you: this Elago AirTag Silicone Pad is intended for sticking inside a suitcase, under a skateboard, on your iPad, on the bike, camera, remote control, headphones, drone or other places. Actually on all items that you would rather not lose. You can buy two pieces for €11.99.
This holder has a self-adhesive sticker on the bottom that allows you to stick it on all kinds of objects. According to the manufacturer, you can also simply take it off and stick it somewhere else, without leaving any glue residue behind. One problem with this adhesive holder is that the sticker may not be strong enough. For example, if you are rough with your skateboard, it can just let go at some point. But even then there is no man overboard, because an AirTag is meant to be found quickly.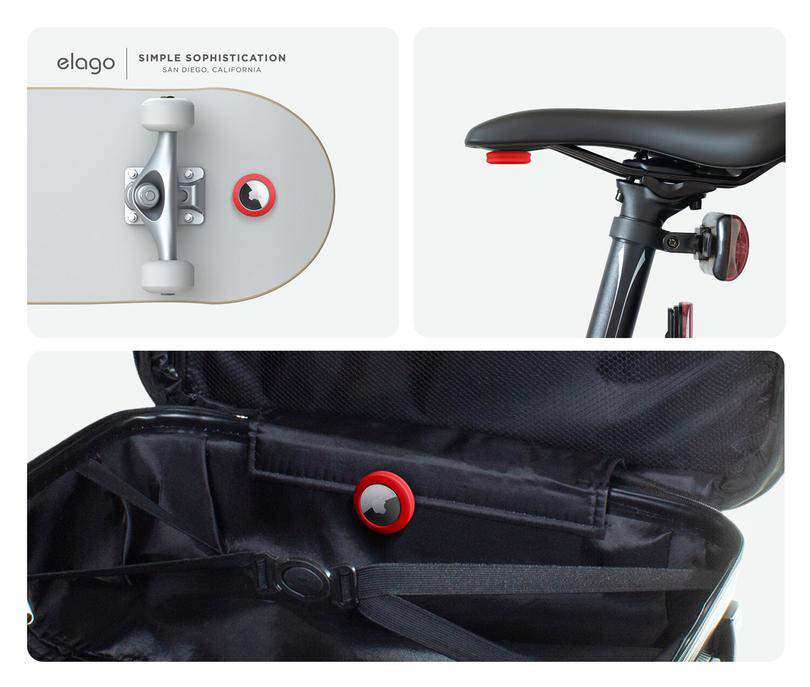 You can choose from two colors: discreet black or striking red. The back features a reusable adhesive that adheres to almost any flat surface. Because it is made of silicone, your AirTag will not be damaged. If you are looking for a similar holder that you can hang on your key ring, take a look at the Belkin pendant (€13.99 at Apple) or get an unbranded model at the bargain shop.
The Elago sticker is also available from Amazon (2 pieces for £11.99) and direct from the Elago shop ($12.99). In the latter case, you have to take shipping and import costs into account.
See our overview of AirTag holders and accessories for more inspiration.