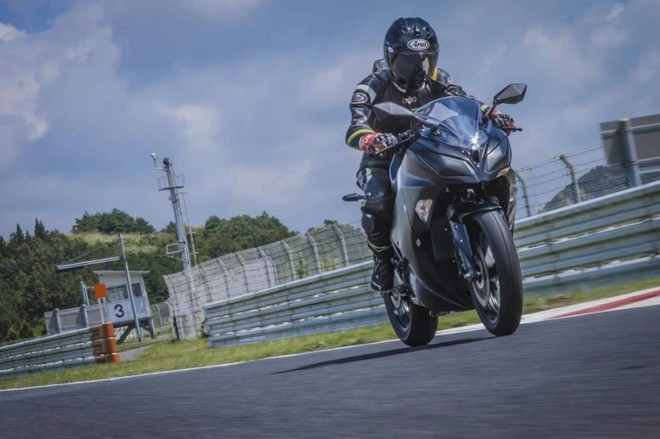 Kawasaki porter & agrave; to debut three new electric models in 2022 . At EICMA 2021, the CEO of the Japanese brand Hiroshi Ito , discussing the future of his company, also spoke about the debut of the new battery-powered models.
I would like to share with you now a new commitment: next year, in 2022, we will show a minimum of three electric vehicles globally. This is; a promise.
Unfortunately, the CEO declined to add any further details. Many hoped that the Kawasaki Fair would bring its first electric model which it has been developing for some time and which we have had the opportunity to talk about more; times. Unfortunately, this prototype did not make an appearance. However, the presentation should not be missing much since for next year Kawasaki aims to unveil three battery-powered models.
Certainly more details in this regard will emerge over the next few months. After all, we know very well that the Japanese brand is focusing a lot on alternative engines . In October, it announced that it would launch 10 electric or hybrid motorcycles on the market by 2025. This is a very important step to reach the goal of making its main models electric or hybrid by 2035.
At EICMA, the CEO also said that his company is working also on other forms of propulsion. For example, he is both working on a hydrogen powered engine in collaboration with Yamaha. The manufacturer added that other alternative fuels, such as biofuels and eFuels, will be evaluated.
Sar & agrave; therefore it is very interesting to find out what Kawasaki intends to present in the coming years, starting already; from 2022 when the first battery-powered models will debut. At EICMA we have seen how electric is becoming a viable solution for scooters and small city bikes. For long-distance motorcycles there & # 39; & egrave; much work still to be done. We will see what solution the Japanese brand has found for its electric two wheels.
VIDEO
The best Xiaomi for photos without 5G? Redmi Note 10 Pro, on offer today by Dronex Rome at 400 euros or by Amazon at 492 euros .