Also in the Netherlands and Belgium; a lot of interesting apps are created. In this monthly overview we bring the best Dutch iPhone apps to your attention. It's a nice addition to our weekly App Missed section, where you'll find apps from all over the world. Most apps are new, but sometimes you will also find one that has received a major update.
Discussed earlier last month on iCulture:
Flitsmeister renews PRO version: more functions, higher price
Payconiq payment app stops in the Netherlands
Have you developed a fun or interesting app yourself? Send us an email via [email protected] or keep us informed via the contact form!
iCulture App of the Month: time to momo While this period may not be the best time to travel, this app is definitely worth downloading. In 'time to momo' read everything you need to know before going on a city trip. Read what Dutch-speaking locals have to say about the city and see which neighborhoods you should not miss. Currently the app provides information for 43 cities including Amsterdam, Copenhagen, Paris, New York and London.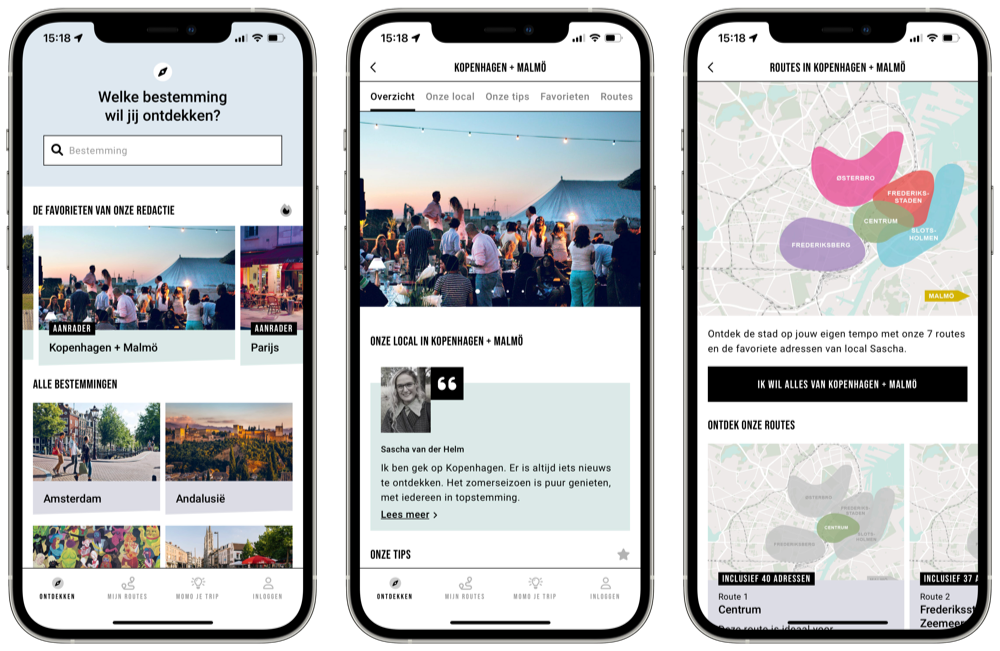 With 'time to momo' you can also find and book hotels. This is done via Booking.com, so we still advise you to check the hotel site for a possible lower price. If you make a booking from 'time to momo', you will receive a free travel guide of your choice from the app's web shop. You can also purchase individual guides in the app to view all 'premium' information quickly at hand.
Kilowatts
It is already quite cold again and drivers of electric vehicles will have noticed it: you have to charge a little more often. Your battery performs less well under cold weather conditions. With the Dutch Kilowatt app you can see how long you need to charge to reach a certain percentage. The app has built in the charging curve of many electric vehicles, so that the charging time actually corresponds to how your vehicle behaves. In a new update, Kilowatt can also show estimated driving range.
A nice feature of Kilowatt is that you can choose not only DC fast chargers (CCS and CHAdeMO), but also slow AC chargers at all kinds of different kilowatts. You have to set this yourself, while it is not always clear how much kW a charging station can provide in the case of AC piles. To find out, use apps for electric cars.
The Bookcase for Tolerance
This app, developed by the Anne Frank House, aims to create more tolerance towards others. Anne Frank wrote her diary while she was in hiding. Hidden behind a bookcase. Today, not everyone still has the feeling that they can be completely free. That is why The Bookcase for Tolerance takes you on a tour through not only Anne Frank's room and stories, but also those of people from "our" time. In the tour you will learn how others experience the consequences of racism, anti-Semitism, inequality and prejudice.
The Bookcase for Tolerance has put several rooms in a 3D render. You can tap on different objects to learn more about them. What does it mean to this person? The app is completely free and contains no ads. See more information on the website.
Pomodoreau
Anyone who has ever taken a productivity course is undoubtedly familiar with the Pomodoro technique. Applying these, you will work in sets of 25 minutes, followed by a 5 minute break. It is a proven effective technique. The Dutch Pomodoreau app is specially made for your Apple Watch. The approach is simple: you can start and track a session from your wrist. There's also a complication for your watch face so you can get to the app quickly. Do you have an Always On screen on your Apple Watch? Then Pomodoreau offers support for that, provided you have watchOS 8.
PostNL
Okay, this idea isn't completely new, but it's still fun! It is clear that the holidays are approaching. PostNL responds nicely to this by building in a minigame. You will find a 2D platform game in the app where you have to let the van catch as many presents as possible. Make the bus jump by tapping your screen and watch out for obstacles!
The minigame is a bit hidden. Swipe down as if to refresh the package list. Then quickly tap on the van and the game opens. Too late to tap? Then try again.
Speedy
We've been writing more about apps from Jordi Bruin (@jordi Bruin) lately and the developer will again come up with new apps this month. Speedy allows you to quickly check your internet speed from the menu bar of your Mac. This test takes 10 seconds and shows your download speed, upload speed and delay. Apple servers are used for the tests, so your privacy is good in that regard. That is a different story via well-known platforms such as Speedtest.
You can download Speedy on Gumroad. You decide how much you pay.
Cooldown
We will continue with useful apps from Jordi Bruin: with Cooldown you get a button in the menu bar of your Mac. This allows you to easily switch to power saving mode on the Mac. This is handy because without this app, you have to dig all the way through System Preferences to enable it. We secretly hope that Apple will just adopt the idea of ​​this app, but until then Cooldown is a nice solution.
macOS Monterey has a Low Power Mode that can help you save battery while on the go. Cooldown adds a simple toggle to your menu bar for easy switching throughout the day.

Get it now at https://t.co/4L6FeKZZUe and use code 'joshisthebest' for 66% off 🥳

— Jordi Bruin (@jordibrown) November 5, 2021
In fact, Cooldown is a shortcut to an assignment that you can also find in the Assignments app. You still have to set this up during the first use, but that is easy. The advantage of Cooldown is that there is a special icon for it that indicates whether the energy saving mode is active.
You can download Cooldown on Gumroad. You choose how much you pay for this handy app.
Didiyo
Looking for the tastiest products from a Turkish, Moroccan, Polish or Surinamese supermarket in your area? With Didiyo you can have these products delivered to your front door. This app distinguishes itself from supermarkets by partnering with local entrepreneurs who sell specialized ethnic products. You find out what you want and you indicate what time it can be delivered. Payment is made via iDeal or your credit card.
Taxation
Wondering what a home is worth? Taxatio will find out for you. This free app lets you search for addresses and give you a peek at the estimated value. This is of course no guarantee of the actual price that you get or pay for a house. The estimated mortgage costs and the price per square meter are also stated. We have noticed that not all houses are in the app yet. You can search for unlimited free.
Read on for our main overview Best Dutch apps for iPhone and iPad!