In the weekly App Missed section you can read which apps from the past week are worth checking out. We always discuss about five apps for iPhone, iPad and Mac. These could be apps that you may not have known about or that are useful or just fun to try. And that can also be veterans who have received a major update and therefore receive some extra attention.
iCulture App of the Week: Wdgts 2 What was once new in Windows Vista (2007) disappeared from many computers for a long time: widgets on your desktop. The Mac now has widgets in the Mac Control Panel, but you can't put these small applications directly on your desktop. With Wdgts 2 you can. Years ago, Wdgts was one of the first apps that could put widgets on your iPhone. Now it's the Mac's turn.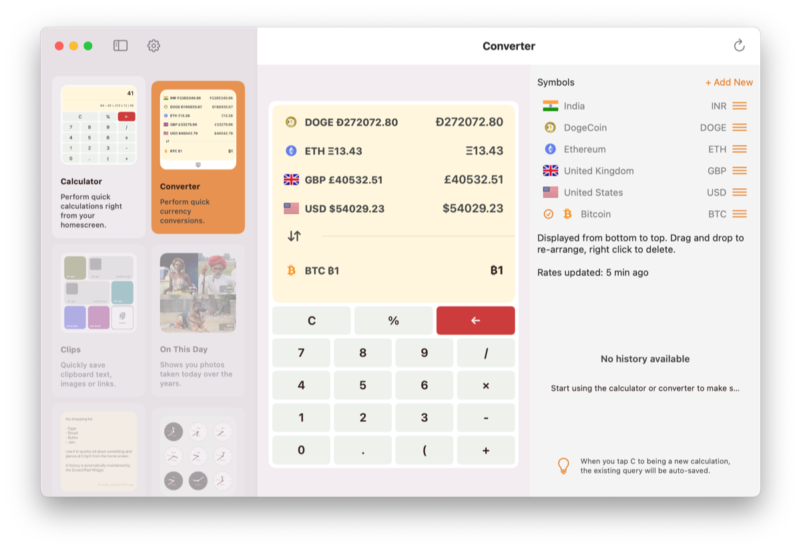 In Wdgts you get two free widgets for your Mac desktop: a calculator and a currency converter. The paid subscription of €6.99 per year or €9.99 per year also includes widgets for time zones, quick notes, music, saved media and photo review. Except for music, these are all available on your iPhone or iPad and everything is synced. You can set the widgets to be visible all the time or only on your desktop on the Mac.
The Bookcase for Tolerance
This app, developed by the Anne Frank House, aims to create more tolerance towards others. Anne Frank wrote her diary while in hiding. Hidden behind a bookcase. Today, not everyone still has the feeling that they can be completely free. That is why The Bookcase for Tolerance takes you on a tour through not only Anne Frank's room and stories, but also those of people from "our" time. In the tour you will learn how others experience the consequences of racism, anti-Semitism, inequality and prejudice.
The Bookcase for Tolerance has put several rooms in a 3D render. You can tap on different objects to learn more about them. What does it mean to this person? The app is completely free and contains no ads. See more information on the website.
PostNL
Okay, this idea isn't completely new, but it's still fun! It is clear that the holidays are approaching. PostNL responds nicely to this by building in a minigame. You will find a 2D platform game in the app where you have to let the van catch as many presents as possible. Make the bus jump by tapping your screen and watch out for obstacles!

The minigame is a bit hidden. Swipe down as if to refresh the package list. Then quickly tap on the van and the game opens. Too late to tap? Then try again.
Tasks
Do you sometimes forget to do a job or do you always miss emailing that one colleague? Then a reminders app can be very useful. For those who want something more than what Apple's Reminders app has to offer, Tasks might be a good option. This app lets you sort in much more detail in a way that you can find tasks faster. This is especially useful if you have a lot of them, of course.
A lot has been added in a new update, including Smart Lists. Apple also has smart lists for reminders, but Tasks takes things a step further. Especially the way you create smart lists is better. A smart list ensures that certain tasks are automatically sorted and grouped so that you no longer have to do that yourself. Another handy function is that you can indicate whether you are already working on a task. The task is then marked as such.
Tweetbot 6
Are you already in the party spirit and using Tweetbot for Twitter? This app now contains all kinds of new themes and app icons that fit nicely with the month of December. For example, you can turn the famous blue bird into a snowman and make your timeline as green as a pine tree. If you are not yet familiar with Tweetbot, you can use this nice update to give it a try. Many users prefer this app over the default Twitter app because of its better performance.
A new version of Tweetbot 6 for iOS is live on the App Store. Get it now for some festive holiday icons and new themes.https://t.co/qAN6btag7D pic.twitter.com/N25b36TXEg

— Tapbots (@tapbots) November 22, 2021