Mit der AMD Radeon RX 6900 XT Halo Infinite Edition feiert der Hersteller die exklusive Hardwarepartnerschaft mit den Xbox Game Studios bei der Realisierung des von 343 Industries und SkyBox Labs entwickelten Ego-Shooters, welcher Mitte November für PC, Xbox One und Xbox Series X|S (Test) erscheinen wird.
Die Technologiepartner haben angekündigt, dass das Spiel, wenn es am 15. November erscheint, sowohl auf die Zen-3-Architektur von AMD Ryzen 5000 (Test) als auch auf die RDNA-2-Architektur der Radeon-RX-5000-Serie mit der AMD Radeon RX 6900 XT (Test) an der Spitze hin optimiert sein wird. Beide Mikroarchitekturen kommen zudem in Microsofts Next-Gen-Spielkonsolen zum Einsatz. Zudem wird auch AMD FreeSync Premium Pro im vollen Umfang unterstützt. Gefeiert wird das Ganze mit einer limitierten RX 6900 XT, die im Rahmen eines Gewinnspiels verlost wird.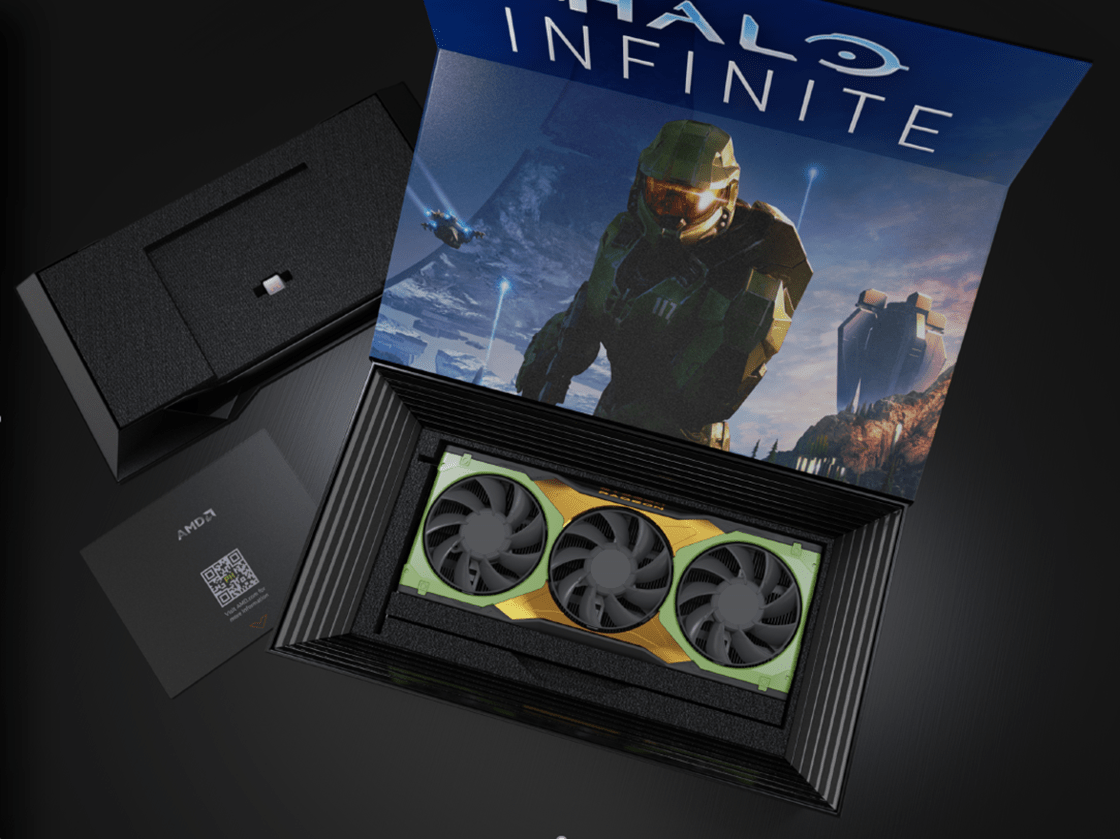 Limitierte Radeon RX 6900 XT im Gewinnspiel
Wie Spieler die AMD Radeon RX 6900 XT Halo Infinite Edition gewinnen können, möchte AMD später im Laufe des Tages über den offiziellen Twitter-Kanal @Radeon bekanntgeben.
Rest assured, while the Limited Edition Halo Infinite AMD Radeon 6900XT won't be going on sale, AMD, Halo and other partners will be offering players multiple opportunities over the coming weeks to get their hands on one.

Stay tuned for an announcement later today on your first opportunity to enter and win!

AMD
For over two years, our teams have been working together to bring gamers the best Halo ever. Halo Infinite was designed to take full advantage of the ultra-high performance AMD Radeon RX 6000 Series and #RDNA2 architecture. pic.twitter.com/Q59inYaa6N

— Radeon RX (@Radeon) October 21, 2021
Neben neuer Peripherie von Razer, die ebenfalls im Design von Halo Infinite gehalten ist und die Maus Razer DeathAdder V2, die Tastatur Razer BlackWidow V3, das Headset Razer Kaira Pro for Xbox umfasst, erhalten Spieler beim Kauf einer qualifizierten CPU oder Grafikkarte ab dem 28. Oktober den Xbox Game Pass kostenlos für einen Monat angeboten, um Halo gratis spielen zu können.
Weitere Informationen haben 343 Industries und AMD in einer Bekanntmachung zusammengefasst und sollen im Laufe des Tages auf den Twitter-Accounts von 343 Industries, AMD und Radeon folgen.