Gigabyte's spearhead for the 12th generation of the Core i series alias "Alder Lake-S" with the Intel Core i9-12900K at the top, the Z690 Aorus Extreme is in the sweeping E- Represent ATX format. In addition to a very powerful cooling solution with numerous heat pipes, the cover of the DDR5 main memory catches the eye.
Air-cooled spearhead hides the DDR5
After the Gigabyte Z690 Aorus Master with a slightly larger PCB and a strong cooling solution leaked, the VideoCardz website, known for such publications, has now received the first image material from its own sources for the (for the time being) spearhead of Gigabyte's Z690 portfolio.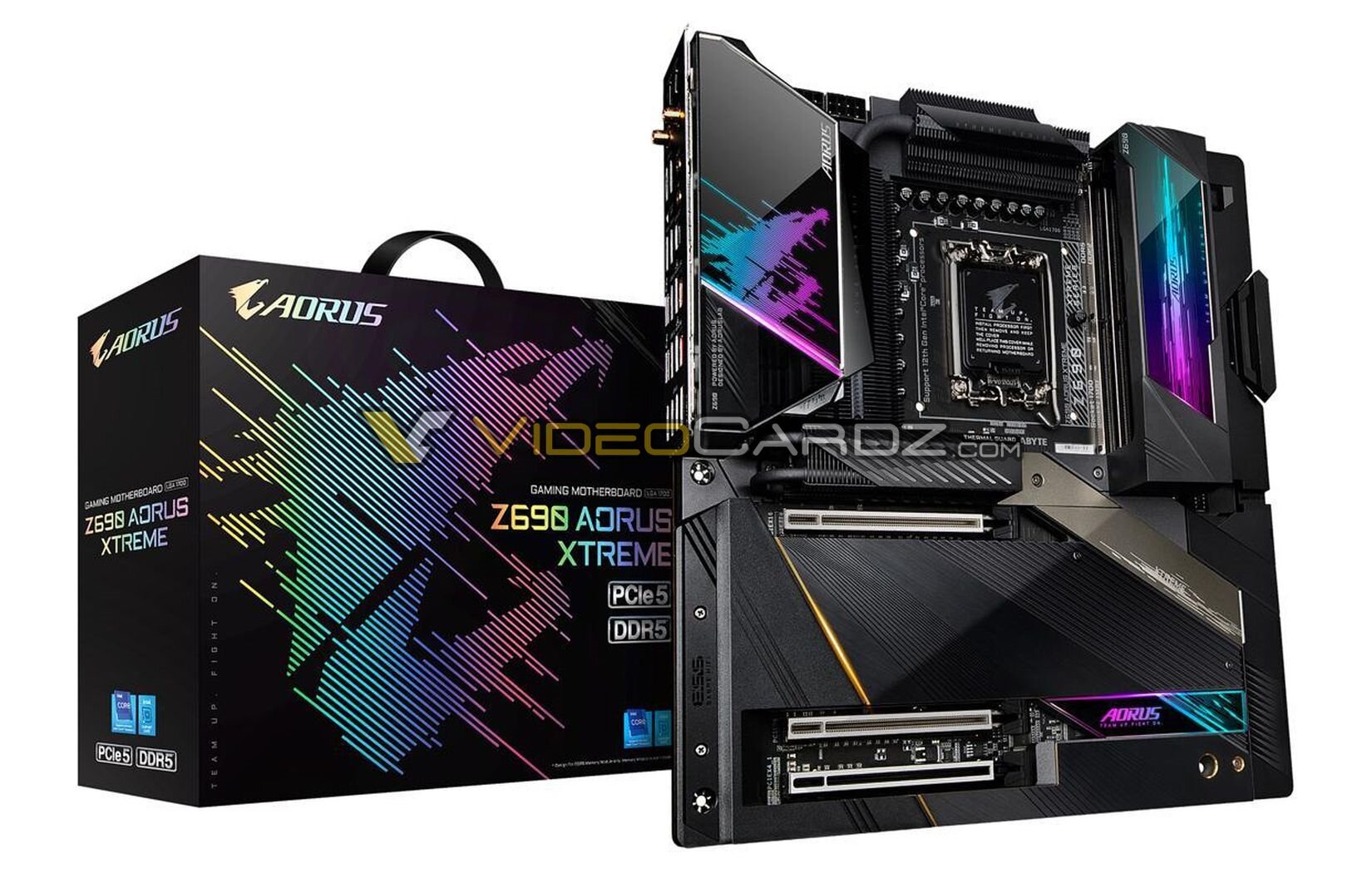 In addition to the numerous massive heat sinks and heat pipes, for which the Gigabyte Aorus X570 Extreme and the Gigabyte Aorus Z590 Extreme were already known, as well as a potent power supply and regulation with more than 20 phases, the so-called "Digital Power Stages", it is above all the Cover over the four DIMM slots for officially up to 128 GB DDR5-4800 is a real eye-catcher. As in many other places on the circuit board, the now mandatory RGB lighting should not be missing. The other specifications are:
According to VideoCardz, Gigabyte is expected to be above the Z690 Aorus Extreme with the Z690 Aorus Extreme WB bring an even sharper spearhead into position with water cooling.
DDR4 and DDR5 make for a huge portfolio
Since Alder Lake-S will support both DDR4 and DDR5, the Gigabyte portfolio with the Z690 chipset is expected to include 27 models.
Z690 AORUS XTREME WB
Z690 AORUS XTREME
Z690 AORUS MASTER
Z690 AORUS TACHYON
Z690 AORUS ELITE
Z690 AORUS ELITE STEALTH
Z690 AORUS PRO
Z690 AORUS ULTRA

< li> Z690 AORUS ELITE AXT

Z690I AORUS ULTRA
Z690 AERO G
Z690 AERO D
Z690 GAMING X
Z690 UD
Z690M DS3H
Z690 UD AX
Z690 UD AC
Z690 AORUS ELITE DDR4

< li> Z690M A ELITE DDR4

Z690 AORUS PRO DDR4
Z690 A ELITE AX DDR4
Z690M A ELITE AX DDR4
Z690I A ULTRA DDR4
Z690 AERO G DDR4
Z690 GAMING X DDR4
Z690 UD DDR4
Z690 UD AX DDR4
The start of Alder Lake-S in the desktop is expected for late October/early November.