Nvidia's cloud gaming service GeForce Now is making the biggest leap since it was launched six years ago with the new "RTX 3080" performance level. New servers with the name "GeForce Now SuperPOD" provide performance for gaming in 1440p with 120 FPS and on Shield even in 4K with 60 FPS and HDR.
The highest quality level for GeForce Now has so far been 1080p with 60 FPS and support for ray tracing and DLSS, provided that a subscription of the "Priority" level has been taken out, the sessions of up to six hours for 9.99 euros per month or 49.99 euros for half a year. With "Free", a free version without RTX features with a maximum of one hour long sessions and longer waiting times without priority until access to the service is offered.
RTX 3080 costs 100 euros per half-year
Nvidia is not making any changes to this structure of the two lower tariffs today, but with "RTX 3080" an even larger subscription is being added to the upper end, which costs 99.99 euros for six months of use and can now be pre-ordered by previous priority subscribers before it is the public's turn a week later. In December, "GeForce Now RTX 3080" will finally be launched for European customers, and the corresponding servers are currently being put into operation. There is no monthly instead of half-yearly subscription for the new level, but this could follow at a later date, Nvidia explained when asked. There are no concrete plans yet.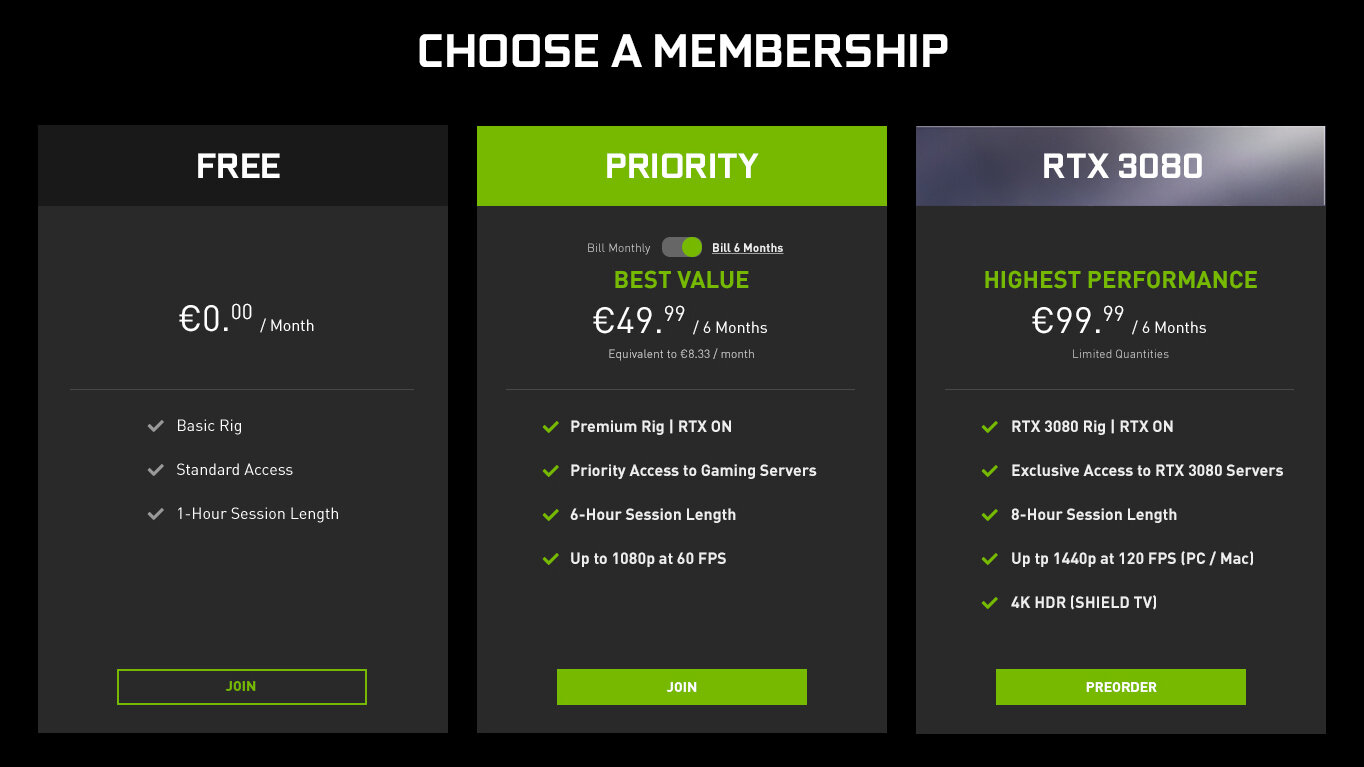 Rendering is done on the GeForce Now SuperPOD
The upgrade to "RTX 3080" ensures that users are provided with significantly more powerful hardware from Nvidia, which is used in new servers called "GeForce Now SuperPOD". At Nvidia, the name SuperPOD is mainly known from the DGX systems with A100 accelerators, but Nvidia is now building similar servers for its own cloud gaming service and thus for gamers. A GeForce Now SuperPOD provides 39,200 TFLOPS of computing power gained from almost 11.5 million CUDA cores and 8,960 CPU cores.
Threadripper Pro meets "RTX 3080 with 24 GB"
For each individual subscriber to the new performance level there is 35 TFLOPS of computing power, which is made up of a CPU with 8 cores and 16 threads, 28 GB DDR4-3200, an "ampere GPU of the server class", which offers a "comparable gaming experience like an RTX 3080 on the desktop "and a PCIe Gen 4 SSD. In the cloud, however, the "GeForce RTX 3080" trumps with 24 GB GDDR6X for each player and thus significantly more memory than on the desktop, where it is only 10 GB (3080) or 12 GB (3080 Ti) and 24 GB is the only one only the flagship GeForce RTX 3090 (test) offers. The GeForce Now version could be derived from this graphics card. In the end, however, the clock rate and consumption should be lower, so that the designation RTX 3080 fits the performance better than a higher designation.
For the CPUs, Nvidia relies on AMD Threadripper Pro with Zen-2 architecture and provides each user with a CCD with two CCX and dual-channel memory connections, which means that the Ryzen Threadripper Pro 3975WX.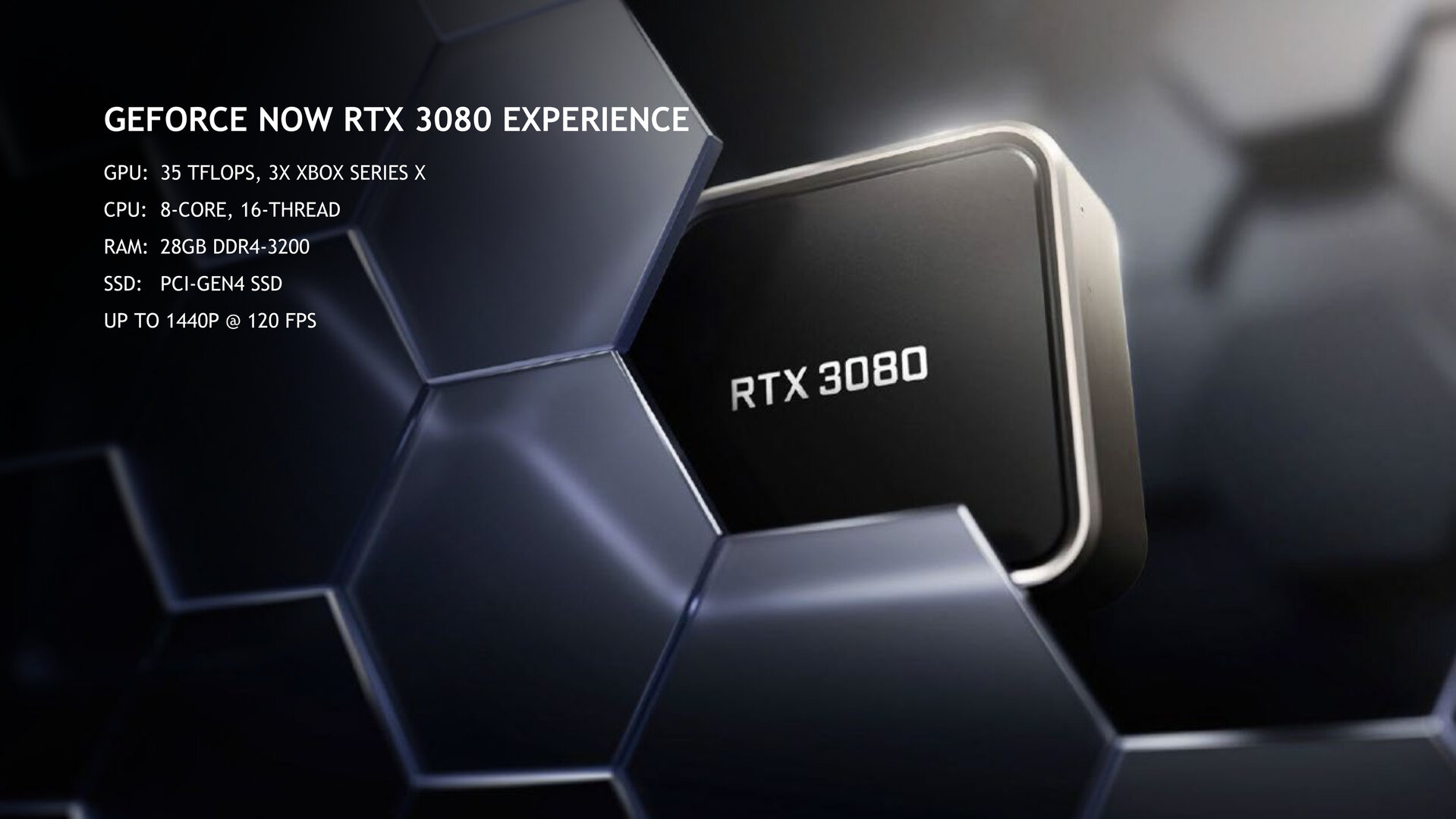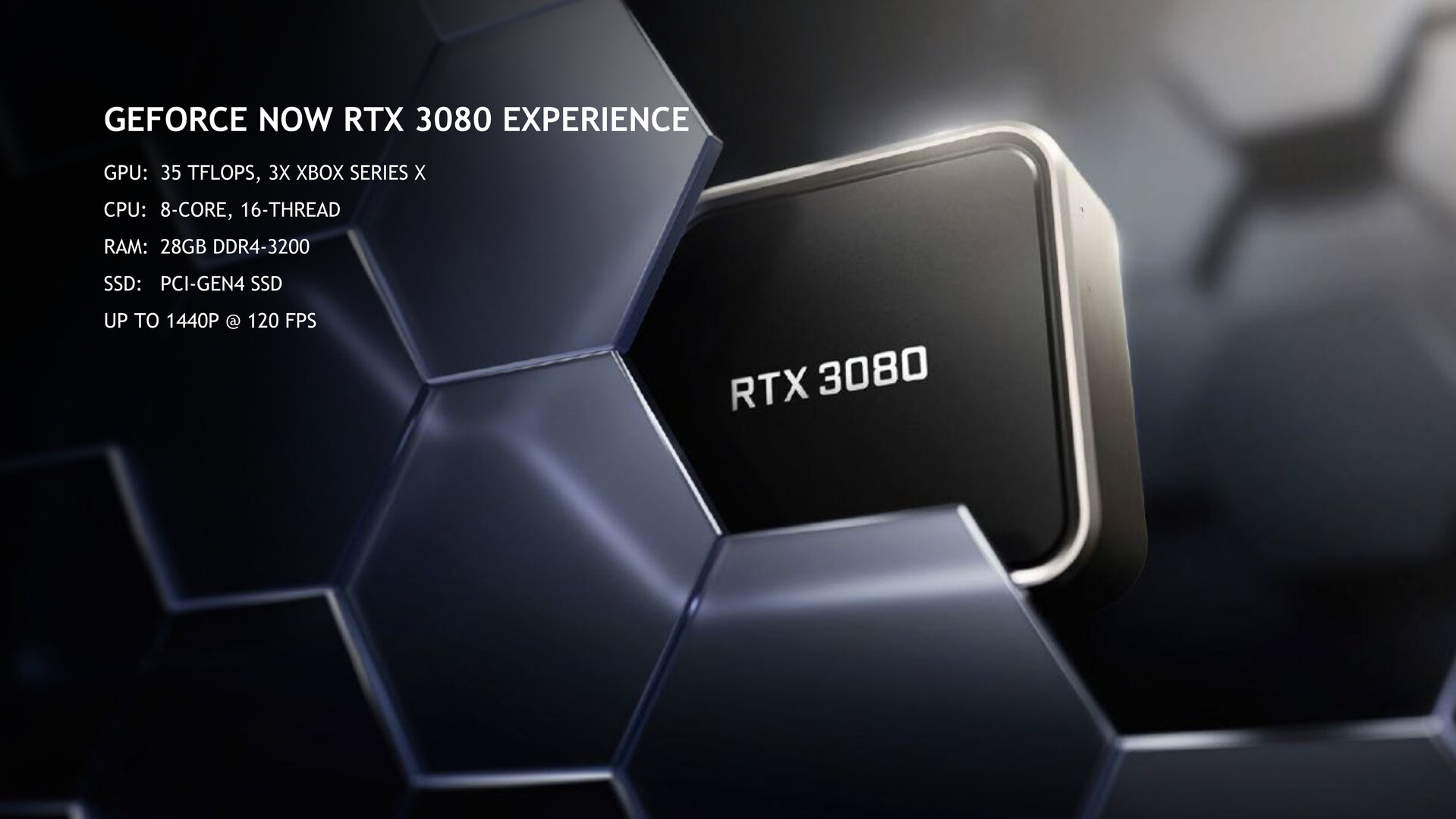 Up to 1440p with 120 FPS or 4K with 60 FPS
The significant increase in performance with GeForce Now enables higher resolutions, higher frame rates and higher graphics settings in games. Specifically, 1440p with 120 FPS is now supported on the PC and Mac platforms, after 1080p with 60 FPS was previously the limit. 120 FPS is also available for mobile devices such as smartphones and tablets with a 120 Hz display. 4K with 60 FPS and, for the first time, HDR is also available exclusively for Nvidia's own shield console.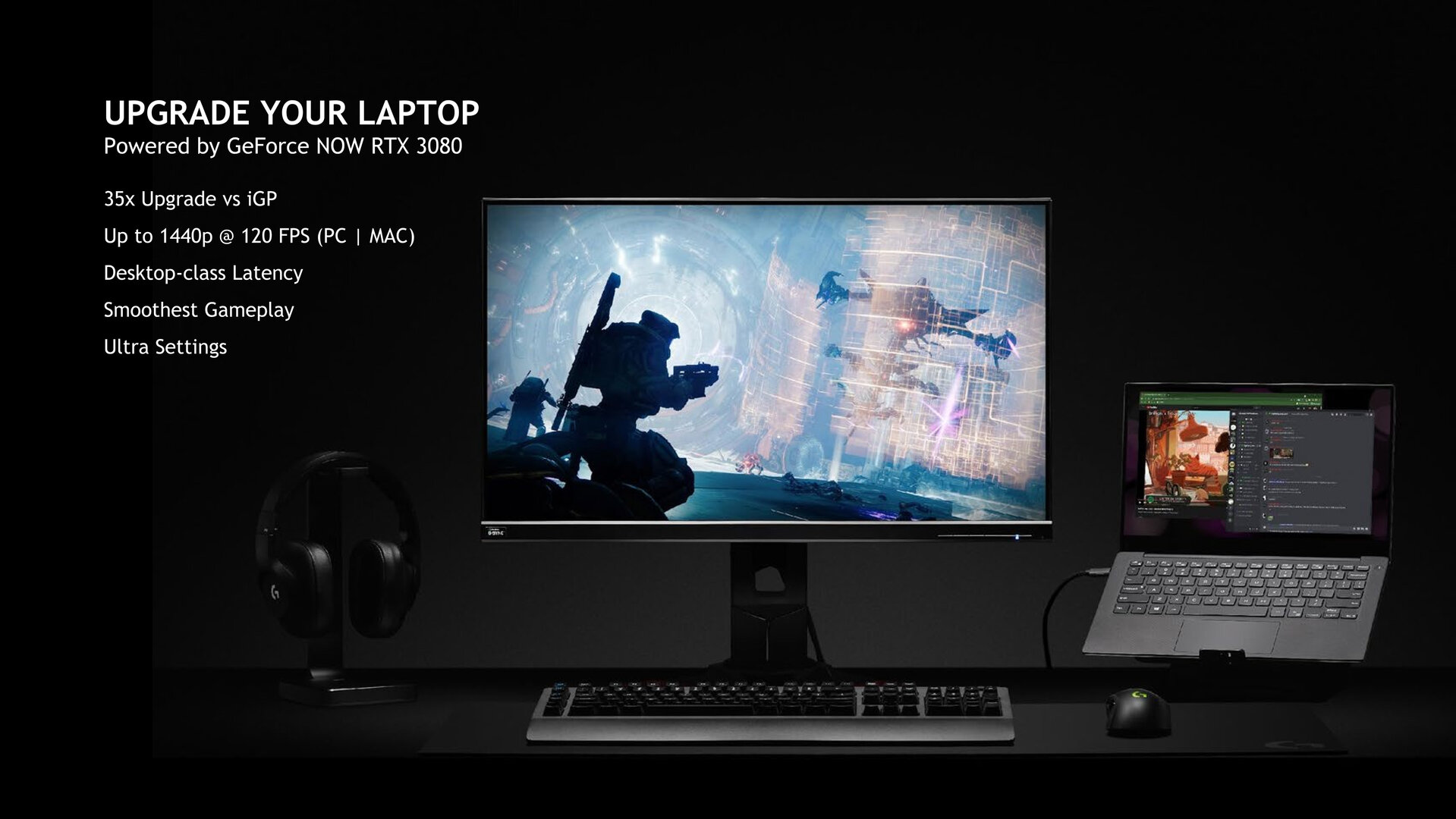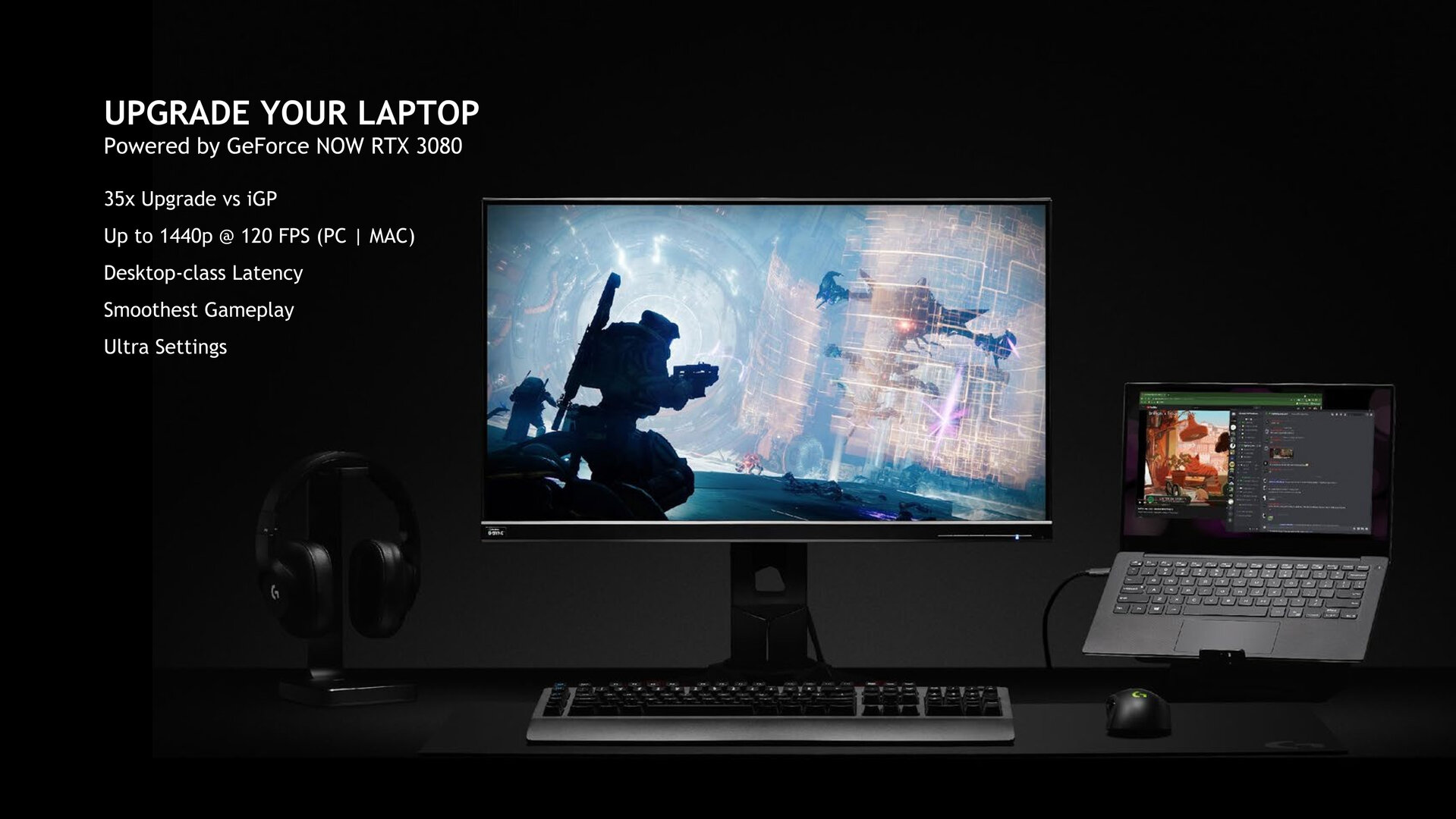 GeForce Now remembers graphics settings
The graphics quality of games can now be found in the "Ultra" range at 1440p. Changes to the graphics settings are saved with the RTX 3080 subscription after closing the game and restored with the next session. With the previous subscriptions, the service behaves in such a way that Nvidia allows changes to the preset optimized settings, but the settings of Nvidia are loaded again with the start of the next session.
Latency falls further below local level
In addition to higher resolutions, more frames per second and HDR with the Shield, the hardware upgrade has a positive or, to be more precise, negative effect on the latency from the click of the player to the display of the pixel on the home screen. GeForce Now RTX 3080 should only need 56 ms for this process in Destiny 2 at 1440p with 120 FPS, after the previous priority version based on the GeForce RTX 2080 still needed 81 ms. With the lower latency, Nvidia sees itself better positioned than local game consoles and competing cloud gaming services. For the Xbox Series X (test) Nvidia gives a value of 93 ms for Destiny 2, for Xbox Cloud Gaming of 175 ms and for a notebook with iGPU of over 200 ms. Laptops with integrated graphics have so far been the largest customer base for GeForce Now, followed by macOS, Chromebooks, smartphones and tablets as well as Shield at the bottom of the list.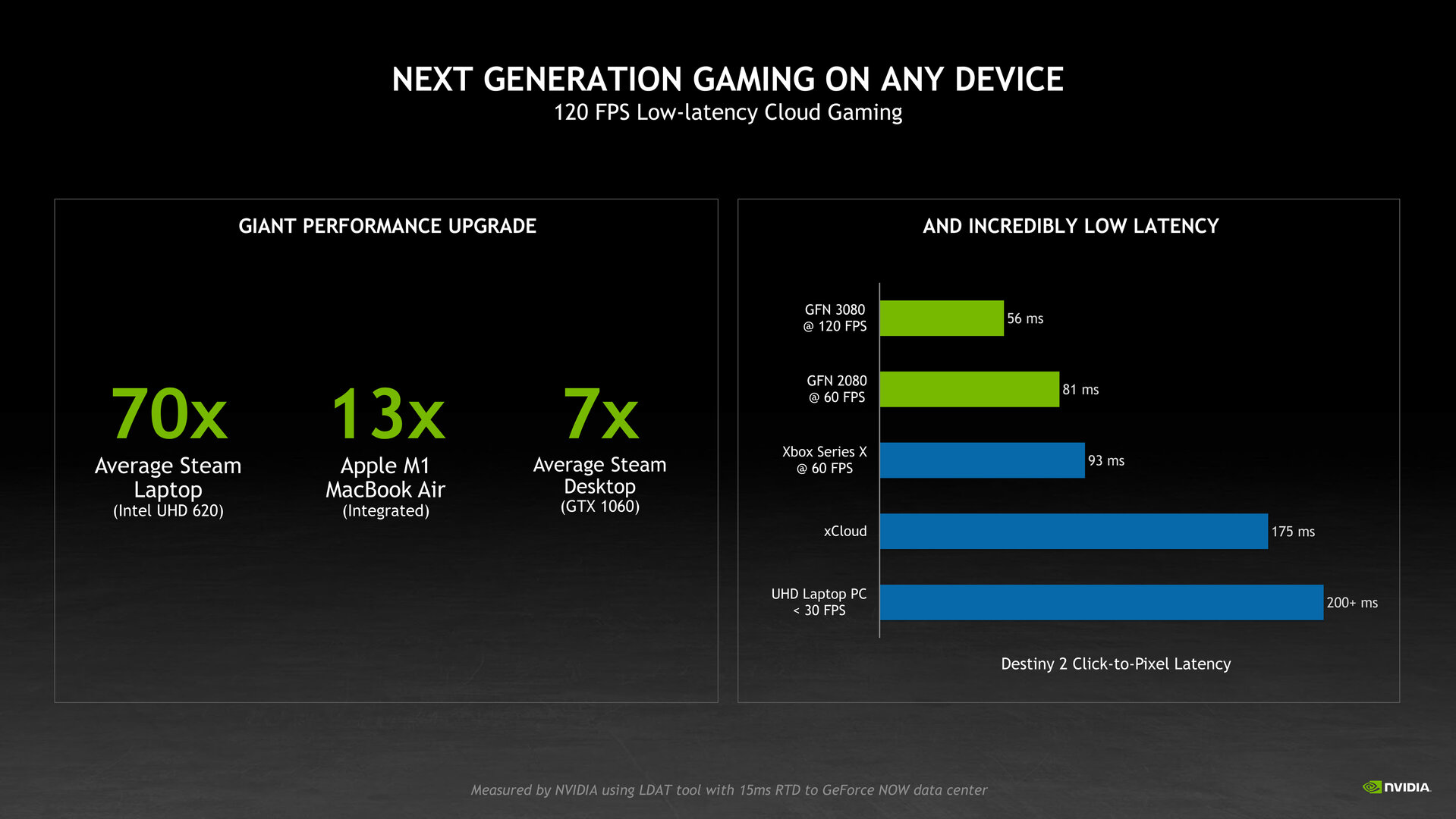 Adaptive Sync for GeForce Now
Part of the smoother gameplay is the introduction of Adaptive Sync technology, now also for cloud gaming. Nvidia switches a feedback loop between the server and the client screen, which should completely eliminate dropped and repeated frames and ensure synchronized operation without stuttering.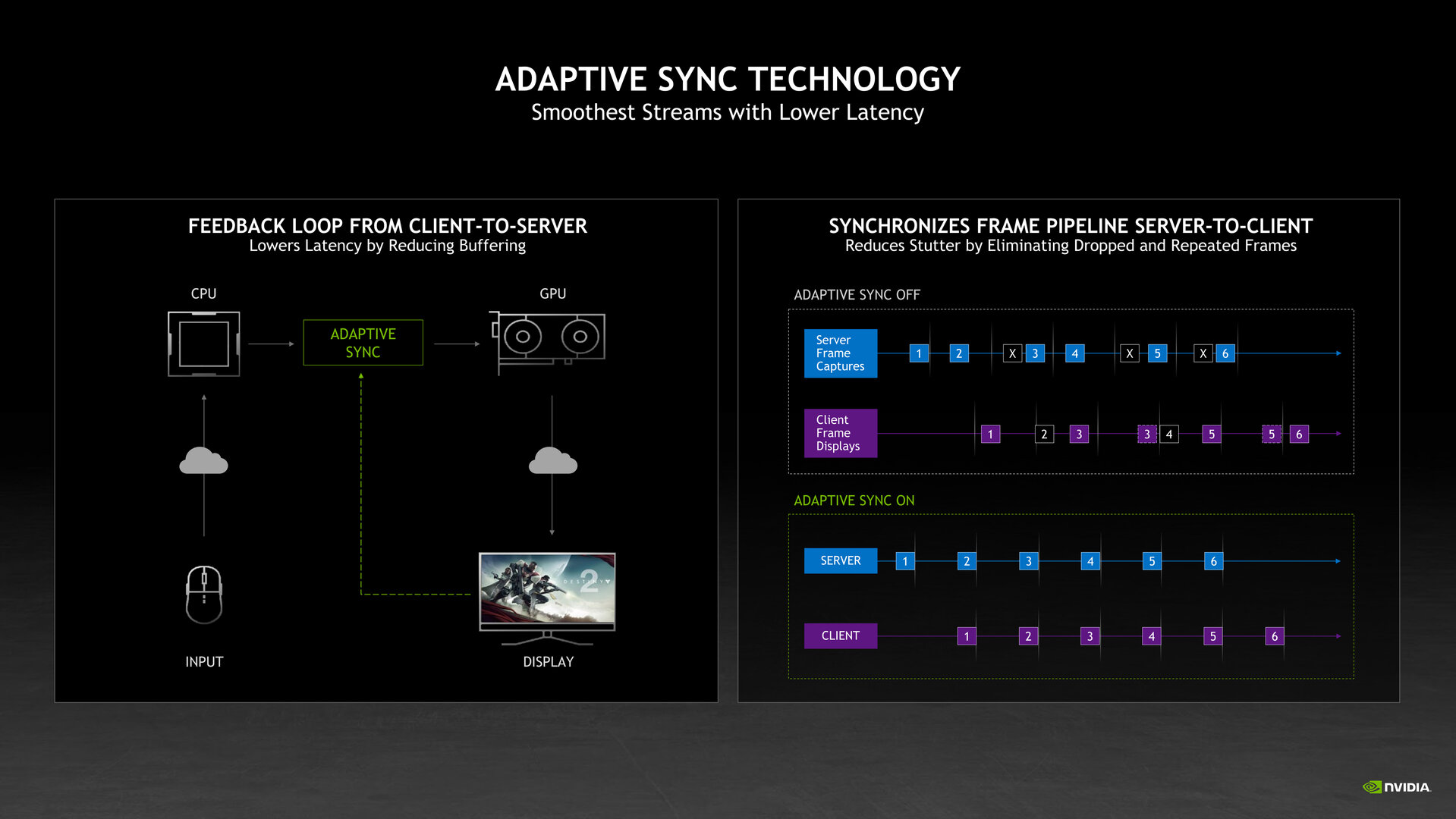 40 Mbit/s is needed for 4K60
In the requirements for "GeForce Now RTX 3080", Nvidia names a connection with 35 Mbit/s for 1440p with 120 FPS and 40 Mbit/s for 4K with 60 FPS and HDR on the shield, on the H.265 for the transmission of the stream is being used. GeForce Now is currently being played by 30 data centers for 80 countries, with recently added data centers in South America, Singapore and two in Australia. In general, an Ethernet connection is recommended for using GeForce Now, but WLAN can also be used if ideally at least Wi-Fi 5 at 5 GHz is used, with Wi-Fi 6 offering even more room for improvement. With the appropriate bandwidth, GeForce Now also works in the cellular network, for example via LTE or 5G.
ComputerBase has received information about this article from Nvidia under NDA. The only requirement was the earliest possible publication time.