Traditionally, a new generation of memory costs significantly more to start with than the previous one. With DDR5 the price premium could be even higher. MSI assumes that DDR5 will initially cost 50 to 60 percent more than DDR4. Additional components would lead to higher costs.
Higher costs also through power management?
MSI made the forecast for the price premium for DDR5 in a blog article on the new memory generation. There the mainboard manufacturer writes that otherwise a surcharge of around 30 to 40 percent was usual for a generation change. This is different with DDR5, however. Reference is made to "additional components" that are intended to contribute to higher costs.
Historically, newer memory technology has always commanded close to a 30-40% premium over the previous generation. However, this time, DDR5 includes additional components that have driven the costs up further. As a result, we expect a 50-60% price premium compared to DDR4 at launch.

It typically takes around 2 years to reach price parity with previous generations, and we expect trends to remain similar with DDR5 modules as well.

MSI
With DDR5 there is actually not only the usual speed upgrade and a further reduced operating voltage. In addition to an error correction (On-Die ECC) built into the memory chips, the power management (power management) also migrates to the memory bars. Instead of passive circuits and external controllers on the mainboard as with DDR4, there is an active circuit on the DDR5 DIMM, which is intended to improve energy efficiency. The new solution is called Power Management Integrated Circuit (PMIC). It is to be assumed that MSI thinks this as an additional price driver.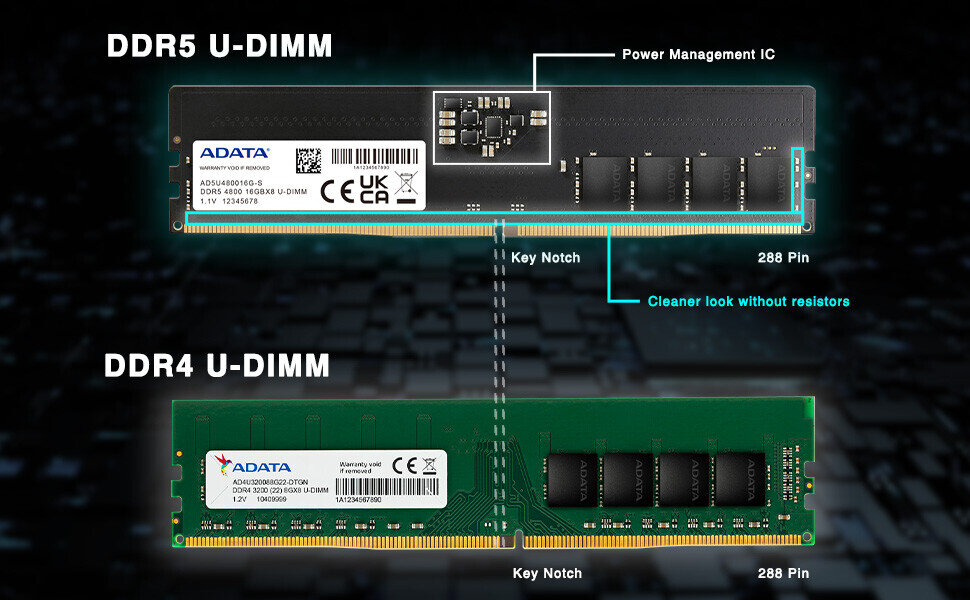 However, MSI's rough estimate has to be put in relation and depends on the viewing angle. When DDR4 was launched, there was already a 50 percent surcharge, provided the absolute minimum price for DDR3 bars was used as the basis. It also depends on whether modules with the same or a different cycle are compared. It also plays a role whether the manufacturer's RRP or the usually significantly lower retailer prices are used as a benchmark.
Calculation example and a first price
If you take the currently lowest DDR4 prices in free trade of around 3 to 4 euros per gigabyte as a basis, then DDR5 at 50 percent surcharge would be 4.50 to 6.00 euros per Gigabytes lie. With the same clock rate it looks quite different: DDR4-4800 memory costs at least 7 euros per gigabyte, twice as much as slow DDR4 memory. DDR5-4800 would then cost more than 10 euros per gigabyte at 50 percent surcharge.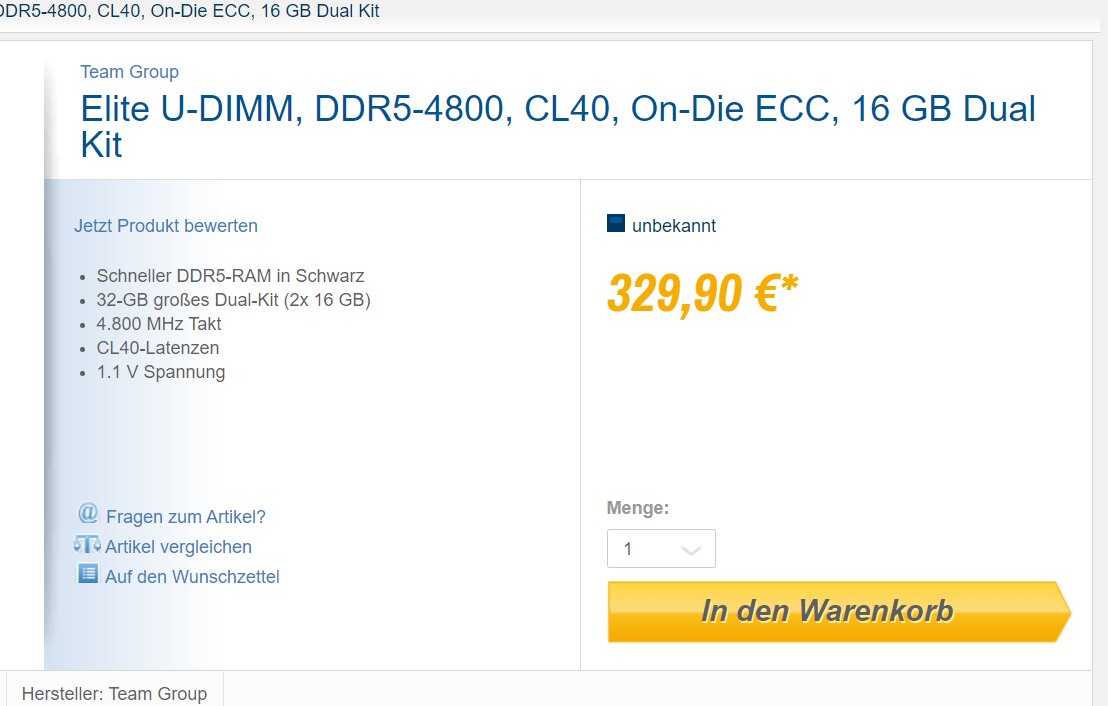 At a price level in the range of 10 euros per gigabyte, the first listing of DDR5 in the price comparison also matches: The 32 GB kit DDR5-4800 from Team Group is available for around 330 euros or 10.3 euros per gigabyte advertised.
DDR4 not yet scrapped
The likely high prices for DDR5 should also be the reason for the fact that not just a few, but very many motherboards for Intel Alder Lake with DDR4 -Slots are equipped. At least that's what the numerous "leaks" about the upcoming Z690 mainboards say.
(仮) pic.twitter.com/snrcD2oFs9

& mdash; 188 号 (@momomo_us) October 17, 2021
But if you want to make a future-proof upgrade, you still buy a mainboard with DDR5 and have to accept the high memory price.
Soon there will be certainty about the prices for DDR5 and the new Intel platform. Everything indicates that Intel will present the new platform on October 27th. The market launch is expected for November 4th. The first price lists for the processors are also already available.